All Offices
Personal Injury Lawyers in Missouri
Based on 1506 reviews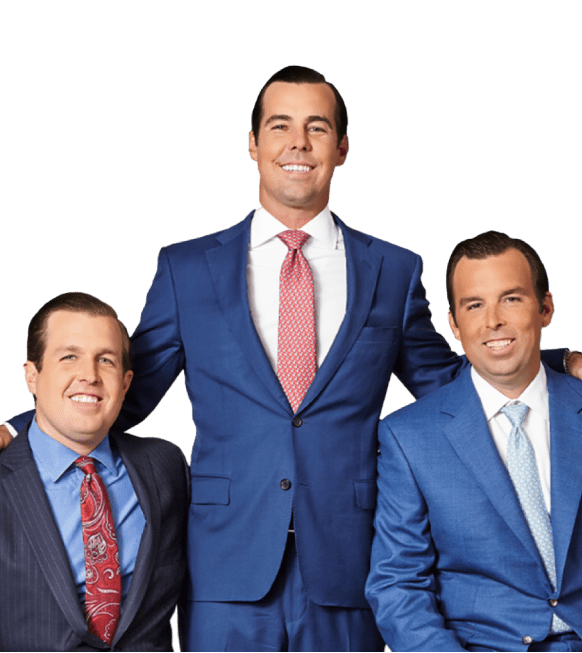 Missouri Personal Injury Lawyer
Have you already been hurt in an accident? Your decision to get help from a legal professional is an important one, and it can have significant influences over the remainder of your case. If you've already been hurt in an accident, get the right legal counsel from the team at Morgan & Morgan.
We have extensive experience in working on behalf of personal injury victims in settlement conversations or in court. Our track record often precedes us and many other law firms are familiar with our background in this area of the law. Having a Morgan & Morgan attorney at your side can give you a great deal of confidence and peace of mind in how your case unfolds and it can also show the other side that you are serious about recovering full and fair compensation for your injuries. 
We believe that every victim is entitled to their day in court or in a settlement hearing. Since 1988 we have worked hard on behalf of victims who are coping with life-changing consequences of personal injury accidents like motorcycle crashes, car accidents and slip and fall injuries. One of the most important things you can do for yourself is to get legal counsel right away by taking advantage of a no-risk free case evaluation. Our personal injury attorneys understand Missouri laws and spring into action to represent victims whose lives have been forever changed.
If you need to hold another party accountable, time is of the essence. The sooner that you sit down with our attorneys for an initial consultation, the faster they can get to work researching the causes of your injuries and filing the necessary paperwork for court. If you're already having difficulties working with the insurance company, bring on our team to fight for your rights. Our law firm's reputation often precedes us when we file a lawsuit, so use this reputation to your advantage when you're in need of compensation for your case. We're here to fight for you and get you the justice you deserve whenever we can. 
At Morgan & Morgan, we provide high-quality legal representation for injury victims in Missouri and all across America. Since our founding more than 30 years ago, we've won upwards of $15 billion for people just like you.
Although we're bigger now than we once were, our firm has remained committed to what's made us successful: Treating every client like family. From start to finish, you can count on us to handle your case with the care and attention it deserves.
No matter the cause of your injury – car crash, slip and fall, motorcycle accident, or something else – the attorneys in our Missouri offices are here to help. Schedule a free, no-risk case evaluation today.
Estamos aquí en Missouri: Vivimos y trabajamos en Missouri. Nuestro sitio de web en Español, abogados.com, ayuda la población latina de Missouri. Complete una evaluación de caso gratis hoy.
Scroll down for more
How it works
It's easy to get started.
The Fee Is Free™. Only pay if we win.
Results may vary depending on your particular facts and legal circumstances.
Step 1

Submit
your claim

With a free case evaluation, submitting your case is easy with Morgan & Morgan.

Step 2

We take
action

Our dedicated team gets to work investigating your claim.

Step 3

We fight
for you

If we take on the case, our team fights to get you the results you deserve.
Practice Areas
Legal representation for a wide range of practice areas
We fight to get you what you deserve.
Results may vary depending on your particular facts and legal circumstances.
15 Billion +

recovered over 35 years

800+

attorneys at Morgan and Morgan

5,000

daily calls

110,000+

total verdicts and settlements
Client success
stories that inspire and drive change
Explore over 55,000 5-star reviews and 800 client testimonials to discover why people trust Morgan & Morgan.
Results may vary depending on your particular facts and legal circumstances.
---
FAQ
Get answers to commonly asked questions about our legal services and learn how we may assist you with your case.
Why Should I Speak With an Attorney?
You might assume that you can handle your personal injury case on your own. After all, you have a car insurance policy and the facts of the case might seem relatively simple to you. Unfortunately, however, your life may be significantly changed because of this accident and you cannot always anticipate how the actions of the other party involved and the insurance adjusters could affect you. Emotional scars and physical pain are just two small components of your bigger personal injury claim. You might also be unable to go back to work after the accident because of the severity of your injuries which makes it difficult for you to receive the income needed to pay your expenses and medical bills. We know just how hard it is to cope with life after a personal injury accident and it is not uncommon to feel overwhelmed and stressed out. This is when Morgan & Morgan steps in to handle your case. A Missouri personal injury lawyer is a crucial component of your ability to fight for maximum compensation. Not only does it show the insurance company that you are fighting for what you deserve, but it gives you the opportunity to focus on what is most important during this time. For many personal injury victims, that is getting better and healing as much as possible. We work with you from the moment that you contact us to prepare your case for settlement negotiations or for trial. We handle all aspects of the case as soon as you hire us, including;
Evaluating the causes of your injury
Gathering all evidence like police reports, eyewitness statements, and other details from the accident or scene
Evaluating all of the factors that led to the accident and your medical records to arrive at a true value of your claim
Working with the insurance company to handle communication and settlements
Preparing your case to go to court in the event that you are not able to get a full and fair settlement offer
You have enough to think about as a personal injury victim. Let a Missouri personal injury lawyer handle the legal aspects of your claim so that you can proceed confidently.
What Kinds of Compensation Can I Recover?
Missouri personal injury laws protect victims who have been hurt as a result of another person's negligence. This also requires that you file a lawsuit as soon as possible because waiting too long and exceeding the statute of limitations will block you from getting the compensation you deserve. Sitting down with a Missouri personal injury lawyer during an initial consultation will give you an overview of the different types of damages to which you might be entitled. The specifics of your case and the severity of your injuries will both impact this underlying number but the kinds of compensation you can receive include;
      Reduced earning capacity payments if you are not able to earn as much as you did prior to the accident
      Lost wages if your injury blocks you from being able to go to work
      Medical expenses, such as surgery, hospital bills, medications and therapy
      Emotional damages if you are now coping with the psychological impact of your injury
How Long Does My Case Take?
Personal injury cases can be very complex, as any Missouri personal injury lawyer can tell you. The initial step of drafting a complaint is only stage one but there are many different steps in between involving depositions, evaluation of evidence, hearings, and more. The road to getting a settlement or a verdict can be a long one and our Missouri personal injury lawyers are there to support you every step of the way. It can take months or even years to arrive at a resolution but your selection of the right Missouri personal injury lawyer is definitely influential in your ability to get the right compensation.
Can I Afford a Personal Injury Lawyer?
In coping with the rising medical bills and other expenses and issues like lost wages, you don't want to have to worry about paying for legal help. You might recognize the value of hiring a Missouri personal injury lawyer but are hesitant to take action because you are concerned you will not be able to pay them. It is our belief that all injury victims who have been hurt due to another person's reckless or negligent behavior deserve to get help. We operate on a contingency fee basis which means that you do not pay anything out of pocket up front to get your case started. Our lawyers take on cases where we believe injured victims have a chance of recovering compensation and on a contingency fee basis, we are only paid when we succeed in recovering those funds through a settlement offer or a verdict. This means that you get the peace of mind that someone is working hard on all legal aspects of your case without having to suffer financially in the short term.
Contact a Missouri Personal Injury Lawyer
No matter how you got hurt, you should not be the one facing the consequences for another person's actions. You deserve to have the support of a dedicated and knowledgeable personal injury lawyer at your side. Our Missouri personal injury lawyers are there to help you at each phase of your case and this all starts with an initial consultation to discuss the specifics of your accident. Contact a lawyer as soon as possible to learn more.       
Missouri has a five-year statute of limitations for filing a personal injury lawsuit. This means that you have no longer than five years from the date that the accident or incident occurred for you to open a legal claim. While this might actually seem like plenty of time for you to think through your options, waiting too long makes it all too easy to forget about the possibility of filing a case. You could be blocked from ever filing a case despite the fact that you may have ample elements to argue about the other person's negligent behavior. Make sure that you do not miss any important filing deadlines for retaining the services of an experienced Missouri personal injury lawyer sooner rather than later.
There is another major benefit of retaining a Missouri personal injury lawyer.  The sooner that you can file your case, the sooner it is that you will be able to put this challenging chapter behind you and move forward in your life. It can take a long time for the wheels of Justice to turn, especially in more complicated personal injury cases. You owe it to yourself and to your family to take this situation seriously and to file a claim right away. This also shows that your life has been forever changed by the accident and gives you the best possible opportunity to argue for full and fair compensation for your injuries.
If you've been injured and want to take your next steps, fill out our online form for a free, no-obligation case evaluation to get started.
Scroll down for more
Load More