The Fee Is Free™. Only pay if we win.
America's Largest Injury Law Firm
Protecting Families Since 1988
$15 Billion+ Won
800+ Lawyers Nationwide
Free Case Evaluation
Tell us about your situation so we can get started fighting for you. We tailor each case to meet our clients' needs.
Results may vary depending on your particular facts and legal circumstances.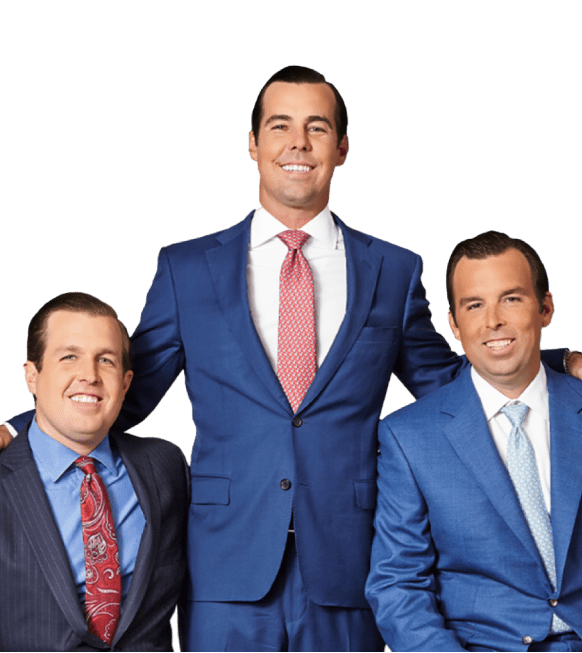 Personal Injury Lawyers in St. Louis
Proud Partner of the St. Louis Cardinals.
The metropolitan area of St. Louis is home to more than 2.7 million residents. The city boasts many major tourist attractions, drawing hundreds of thousands of visitors annually. 
With so many people, it's not surprising that accidents and injuries happen every day. If you or a loved one has been hurt in an accident in St. Louis, you may be entitled to financial compensation. 
Motor vehicle accidents, slips and falls, and other mishaps can result in catastrophic injuries, and victims often suffer long-term health consequences and devastating financial losses. Worst of all, many personal injuries are entirely avoidable. Victims are understandably frustrated and angry when the damage they experienced was a result of another person's actions. 
Fortunately, a team of experienced personal injury lawyers in St. Louis can help you pursue the financial compensation you need to move forward. When you need premier legal representation following an accident, reach out to the attorneys at Morgan & Morgan.
You don't deserve to be stuck dealing with the costs and losses of an injury you didn't cause on your own. Our lawyers are standing by to review the facts of your case and pursue maximum compensation on your behalf. 
Do not settle for less. As America's largest personal injury firm, Morgan and Morgan has secured positive outcomes in more than a million cases nationwide. 
Complete our brief online contact form to schedule a free consultation with one of our personal injury lawyers in St. Louis.
Scroll down for more
Recent verdicts & settlements
How it works
It's easy to get started.
The Fee Is Free™. Only pay if we win.
Results may vary depending on your particular facts and legal circumstances.
Step 1

Submit
your claim

With a free case evaluation, submitting your case is easy with Morgan & Morgan.

Step 2

We take
action

Our dedicated team gets to work investigating your claim.

Step 3

We fight
for you

If we take on the case, our team fights to get you the results you deserve.
---
Client success
stories that inspire and drive change
Explore over 55,000 5-star reviews and 800 client testimonials to discover why people trust Morgan & Morgan.
Results may vary depending on your particular facts and legal circumstances.
FAQ
Get answers to commonly asked questions about our legal services and learn how we may assist you with your case.
Morgan & Morgan
What are Common Types of Personal Injury Cases?

Every personal injury case involves unique factors and circumstances. And In big cities like St. Louis, there are many hazards that people encounter each day.

The skilled team at Morgan & Morgan has experience overseeing every type of personal injury case imaginable. While all of them are different, some categories of injuries are more common than others. 

Contexts in which injuries often take place include:

Motor Vehicle Collisions

Car accidents are one of the leading causes of personal injuries across the country each year. Collisions often happen at high speeds and involve enormous impacts. 

Because of this, drivers and passengers are at a distinct risk of harm. Even with modern automotive safety features, car crash injuries are extremely common. 

Some typical categories of car accidents in St. Louis include: 

Sideswipe accidents
Head-on collisions
Rear-end accidents
T-bone crashes
Rollover accidents 

No matter what type of car accident you've experienced, it's important to seek legal counsel, especially if another party was responsible for the collision.

The knowledgeable car accident attorneys at Morgan and Morgan will work hard to obtain ample remuneration for you in your St. Louis collision case.

Medical Malpractice

Anytime you visit a medical care provider, you should be able to take it for granted that you'll be treated at a high professional standard. Most doctors, nurses, and surgeons are indeed highly skilled and provide reliable treatment.

Unfortunately, some providers fail to live up to their duty of care. When a doctor or other medical professional is careless or negligent, patients may suffer harm as a result.

If your physician made an error that resulted in an injury to you, you have the right to seek legal recourse. With a medical malpractice attorney, you can pursue compensation to cover the costs associated with your injury. 

Many medical malpractice injuries result from: 

Misdiagnosis or failure to diagnose
Incorrect prescription or dosage
Failure to check the patient's medical history
Avoidable surgical errors
Lack of follow-up or post-surgical care 

Physicians have a duty to provide high-quality care to their patients. If you've been injured due to a doctor's recklessness, carelessness, or negligence in St. Louis, you have options. 

Secure reliable legal guidance by contacting Morgan & Morgan's personal injury lawyers in St. Louis.

Falling Accidents

Slipping and tripping are also common accidents. While many people think of falls as minor inconveniences, they can be devastating. 

When you slip and fall on private or public property, you may be able to recover damages for the resulting injuries.

In many cases, negligent property owners are at least partially to blame for falls. If the premises they oversee are unreasonably dangerous or hazardous, they can be held legally and financially liable.

For example, business owners are responsible for maintaining a reasonably safe environment for their customers and visitors. If you trip on a damaged or uneven piece of flooring and hurt yourself, the business owner may be at fault. 

A skilled attorney can help you pursue a property liability claim after a falling accident. If you've been hurt in a slip and fall because of another person's carelessness, make sure you seek the services of the premier personal injury lawyers in St. Louis.

Product Liability 

American consumers have the right to trust that the products they purchase are reasonably safe. As such, there are regulations in place to ensure that dangerous goods don't make their way to shelves.

Unfortunately, mistakes happen, and defective products can cause grievous unforeseen harm.

Some flaws are introduced during the manufacturing phase. Manufacturing defects usually only affect a few items in a product line. Other products feature flaws at the design level. By nature, design defects often affect the entire product line.

Without the help of a skilled legal professional, it can be difficult to know who's responsible for your product-related injury.

Morgan and Morgan boasts a team of skilled personal injury lawyers in St. Louis with plenty of experience in product liability claims. We'll review the facts of your case and determine who is legally liable for the damage you've suffered. 

These are only a few of the most common kinds of personal injury cases. The accomplished litigators at Morgan & Morgan are qualified to handle any type of accident or injury claim, including those in which liability is difficult to determine.

What is The Role of Negligence in St. Louis Personal Injury Claims?

In most accident and injury cases, the claimant must provide evidence that the defendant was negligent in some way. The legal concept of "negligence" involves several factors. 

A person may be considered negligent because of their actions or failure to act. The plaintiff in a personal injury case must prove the following four elements to demonstrate negligence:

Duty of Care

To establish liability for the resulting damages, the plaintiff must show that the opposing party had an obligation to prevent injury. Many situations require people to exercise a reasonable standard of care to prevent foreseeable injuries.

For example, motorists have a legal duty to operate their vehicles in a safe and legal manner. This entails following the rules of the road and driving at an appropriate speed.

Breach of Duty of Care

After establishing a duty of care, the plaintiff must show that the opposing party breached this duty. When a defendant has violated an applicable standard of behavior, they may have breached their duty of care. 

Suppose that a driver is texting while operating their vehicle and gets into a serious collision. This would constitute a breach of the motorist's duty to keep other motorists safe, as it's reasonable to conclude that a safe driver wouldn't engage with digital distractions while operating a vehicle.

Cause

Next, the claimant must provide evidence that the defendant's action or inaction was the cause of the damage. Unless you can prove that the negligent behavior caused the accident or injury, you won't be eligible to receive financial compensation. 

The liable party's carelessness or recklessness must be either the direct or proximate cause of the victim's injuries. If another factor is found to be the cause of the accident or injury, you'll be unable to successfully pursue financial recovery. 

Speak with a team of seasoned personal injury lawyers in St. Louis to get help proving the direct or proximate cause of your injuries.

Actual Harm

Lastly, to prove that the defendant was negligent, the claimant must provide evidence that they suffered actual damage from the breach of duty. Many actions can constitute potential harm, but potential damage isn't sufficient for a successful personal injury claim in the state of Missouri.

One silver lining of the fact that victims of accidents and injuries typically sustain financial, physical, and personal harm is that these losses entitle you to pursue helpful financial compensation.

Our firm can arrange a no-cost consultation regarding your case. We'll review the facts and help you determine—and prove—liability for the injuries you've experienced.

What Types of Damages Are Available to St. Louis Injury Victims?

Successful personal injury cases in the state of Missouri typically result in two types of compensation for victims. These are known as  "general" and "special" damages. 

General damages are payments compensating the injury victim for intangible losses. Because of this, they're typically difficult to quantify without the help of an attorney. 

Some common examples of general damages are: 

Physical pain and suffering
Loss of quality of life
Disability, scarring, and disfigurement
Emotional turmoil and anguish
Post-traumatic stress disorder (PTSD)
Embarrassment and ostracization  

On the flip side, special damages are losses that are easily calculable. Typically, special damages are meant to make up for direct monetary losses. Common examples include:

Property damage costs
Current medical bills
Anticipated expenses for future medical treatment
Loss of income or wages resulting from an inability to work
Inability to earn money over the long term

In some cases, victims of personal injuries may be awarded punitive damages. This type of payment is only possible in instances where the defendant is found to be deliberately malicious or extremely negligent or reckless.

Talk to an attorney at Morgan & Morgan to determine the value of your St. Louis personal injury claim. You deserve to have the full extent of your injuries acknowledged, and you should never feel pressured to accept a lowball settlement.

How Much Will I Pay Upfront to Pursue a Personal Injury Claim?

When you work with Morgan and Morgan, you pay nothing upfront. Our expert legal specialists are compensated through contingency fees.

During your consultation, we'll agree to a specific portion of the financial winnings from your case. When our team successfully recovers the money you're owed, that agreed-upon percentage will go toward covering your legal fees.

In other words, you don't pay a penny unless we win or settle your case.

Contact the Personal Injury Lawyers at Morgan & Morgan

If you've sustained an injury in St. Louis through no fault of your own, reach out to the largest tort law firm in America, Morgan & Morgan.

Just fill out our simple online contact form and our friendly staff will arrange your free consultation. With Morgan and Morgan on your side, you stand to gain more than just financial assistance—we can help you get your life back.
Scroll down for more
Load More