The Fee Is Free™. Only pay if we win.
America's Largest Injury Law Firm
Protecting Families Since 1988
$15 Billion+ Won
800+ Lawyers Nationwide
Free Case Evaluation
Tell us about your situation so we can get started fighting for you. We tailor each case to meet our clients' needs.
Results may vary depending on your particular facts and legal circumstances.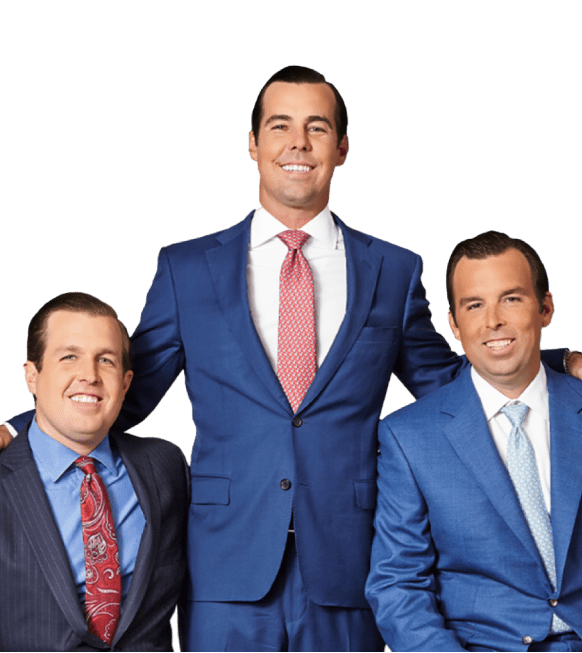 Jackson Mississippi Car Accident Lawyers
Most people leave for work in the morning without thinking about the risk they're taking by getting behind the wheel, and even if you're the most careful and experienced driver, the motorists on the road around you might make a mistake that causes them to lose control and become a hazard on the road. Suddenly, the road in front of you changes into chaos, and you have to act quickly to maneuver your vehicle to safety. In some cases, you might be able to escape without harm to your vehicle or person, but there's always a chance that you wind up injured or with significant damage to your vehicle. These situations often leave the victim to pick up the pieces on their own, but why should you be forced to carry the burden of an accident you didn't cause?
Anyone who's involved in a car accident should seek medical attention following the wreck, regardless of how severe the crash was. Unfortunately, this is often an expensive task, and you can sustain a significant amount of debt without rightful compensation. You'll likely file a claim with your insurance company, but for some reason, many insurance companies choose to act unethically when paying out their client's claims. They'll say that your injuries were pre-existing or possibly try to blame you for the accident, all of which can prevent you from receiving the compensation your contract entitles you to. Although this can be frustrating, you do have one competitive edge against these negligent insurance companies: an experienced car accident lawyer.
By teaming up with an attorney, you're making a proactive effort to protect your compensation from being diminished or denied by a third party. Your attorney will work with you every step of the way, ensuring that the opposing party truly understands how much the accident has affected you. However, you should know that not all law firms are the same, as Morgan & Morgan has the experience, resources, and reputation to uniquely handle car accident cases of any size or complexity. 
At the end of the day, you just want to move on from the accident to live a normal life. Our attorneys can help you do just that, all for no out-of-pocket costs. Contact us today to get started.
Scroll down for more
Recent verdicts & settlements
Results may vary depending on your particular facts and legal circumstances.
Scroll down for more
Results may vary depending on your particular facts and legal circumstances.
How it works
It's easy to get started.
The Fee Is Free™. Only pay if we win.
Results may vary depending on your particular facts and legal circumstances.
Step 1

Submit
your claim

With a free case evaluation, submitting your case is easy with Morgan & Morgan.

Step 2

We take
action

Our dedicated team gets to work investigating your claim.

Step 3

We fight
for you

If we take on the case, our team fights to get you the results you deserve.
---
Client success
stories that inspire and drive change
Explore over 122,576 5-star reviews and 800 client testimonials to discover why people trust Morgan & Morgan.
Results may vary depending on your particular facts and legal circumstances. Based on Select nationwide reviews
FAQ
Get answers to commonly asked questions about our legal services and learn how we may assist you with your case.
Morgan & Morgan
Do I Need to Hire a Car Accident Lawyer?

Once you've removed yourself from the accident scene and assessed the damage, you'll have a good idea of what expenses are coming your way and can make a decision regarding your next step. Without a legal background, this decision is often complicated, as you might be unsure of how much risk you're taking by attempting to handle the situation on your own. In some cases, car accident victims without attorneys by their side have been taken advantage of by their insurance companies when it comes time to pay their claim. They'll take your decision to move independently as a weakness, which prompts them to offer you a compensation package that's less than what you truly deserve. Without an attorney, you might not realize that this is happening right before your eyes, and you can potentially lose out on thousands of dollars worth of restitution without ever knowing it. This is an unfortunate situation, to say the least, but you can avoid all these adverse consequences by reaching out to Morgan & Morgan's Jackson car accident attorneys. 

Although some people might believe that they can handle the legality of their accident on their own, no one can 100% predict the future, and these individuals are essentially gambling with a serious aspect of their future. Even minor accidents can become complicated quickly, and having an attorney by your side can assure that you don't get lost along the way, your compensation is protected, and that your legal situation moves along as quickly as possible, allowing you to return to the life you once lived. While it's not necessary to hire an attorney, the decision to do so is an investment in your future, one that we're sure you won't regret down the line.

How Can Morgan & Morgan's Jackson Car Accident Lawyers Help Me?

At Morgan & Morgan, we fight For the People, never the powerful, and we're committed to helping our clients recover the compensation they need to get back on their feet. If you're involved in a car wreck, we understand how traumatic the situation can be. You're likely still shaken from the experience, confused about your next step, and worried that you'll be shackled with the mountain of expenses looming on the horizon, but that's what we're here for. Our attorneys are ready to advocate for you and your situation in front of the insurance company or within the courtroom, always ensuring that your interests are put first and foremost.

Once we've received your call, our attorneys will:

Investigate your situation and confirm you have a case: Our team will begin to review the situation surrounding your case to determine the liability. Once it's determined that you weren't at fault for the accident, we can start planning for the negotiation phase and establish a solid foundation for the future.
Gather evidence: We'll collect all applicable documents and records, including eyewitness testimony, medical records, photo/video of the accident, and police reports, to ensure that your case is as strong as possible. Additionally, our attorneys work closely with subject-matter experts who can use their testimony to bolster your case even further. 
Negotiate with the insurance company or at-fault party: Once we've built up your case as strong as possible, we'll be ready to negotiate. Your car accident attorney will bring forward all the evidence we've gathered to show how the situation affected you, display your damages, and advocate for rightful compensation. These situations are often required before the case goes to court, as most jurisdictions require you to attempt to settle the issue outside of the courtroom, but they most often result in a settlement for the victim.
Prepare for trial: However, there is a chance that no agreement can be reached during the negotiation phase. The opposing party could double down and claim that they weren't at fault, or they'll try to persuade you into believing your situation isn't worth as much as you're asking for. Once you've teamed up with a Morgan & Morgan car accident attorney, you'll know exactly how much your case is worth, allowing you to see through the ruse and continue to advocate for what you truly deserve. If neither party can agree on a settlement, the issue will have to move into the courtroom, and unlike other law firms, our attorneys are always prepared for that scenario. 

All of our attorneys are taught to build up cases the right way, meaning that we always plan for the case to go to trial even when there's a low chance. We want to be prepared for everything, so we ensure that all aspects of the case are ready for any unforeseen circumstance that arises in the future. 

Car accidents are like snowflakes, meaning that each one is completely unique from one another. The compensation that each victim will receive is dependent on the circumstances surrounding their accident, with more severe accidents warranting more significant compensation. However, here are a few common damages that car accident victims seek for recovery:

Past and future medical expenses: Anyone who's involved in a car accident should seek medical treatment. Unfortunately, this treatment isn't free, and the expense can quickly become more stressful than the accident itself. In fact, medical expenses are often the most costly expense that car accident victims are stuck with after their accident, but by teaming up with an attorney, you can ensure you're compensated for your treatment, including surgeries, medications, therapies, rehabilitation treatment, and hospital stays.
Lost wages: If your accident prevents you from earning a paycheck, it makes it very difficult to stay on top of your car accident expenses and traditional finances. Fortunately, many car accident victims are entitled to recover lost wage benefits, which are financial benefits used to offset the burden of not returning to work.
Pain and suffering: Many victims of car accidents walk away from the scene with injuries that will plague them for the rest of their lives, which is especially unacceptable when the accident wasn't their fault. Our attorneys can advocate for you to receive the compensation necessary to help you cope with the condition in the future. Although money won't be able to reverse the damage, it can help you live comfortably and give you the ability to afford treatments and therapies that help you live a normal life.
Emotional Damage: Everyone can agree that car accidents are jarring experiences, no matter how minor. In some cases, car accident victims have sustained mental and emotional damage that prevents them from getting behind the wheel again, which no one should have to experience. You could be eligible to recover compensation based on that damage, but it's often difficult to advocate for harm that another person can't see with their own eyes. However, our Jackson car accident attorneys have a proven track record of recovering the full extent of emotional damages for our clients, making us an undeniable asset in your pursuit of restitution. 
Funeral Expenses: No monetary amount will ever compare to having your loved one in your life, but it can allow you to recover from the situation and help you move forward. Our attorneys understand how upsetting it can be to lose a loved one when the accident could have been avoided, which is why we're prepared to advocate for what you deserve until the very end. 

Although you might be eager to recover the aforementioned damages and get your life back on track, you should know that a negligent insurance company can prevent you from recovering any or all of these damages. Much like other businesses, insurance companies have to turn a profit to survive, but their method is much different from most. These organizations make money by paying out less in claims than they receive in premiums, meaning that they might have to make shady decisions to prevent their profit margin from falling into the red after paying out sizable claims. However, no one should have their rightful compensation denied or diminished for the sake of their insurance company's profits, and we're here to ensure that you receive every penny your contract entitles you to.

Can I Afford a Car Accident Attorney?

You may have heard the stigma that lawyers are exorbitantly expensive to hire, with many firms charging you hundreds of dollars before you even walk in the door. While this is often true, we've never really understood this, as many people are in need of an attorney because they're going through a financially restrictive situation. The firms that go this route likely make the majority of their money from their client's retainer fees rather than earning their paycheck through successful negotiation and litigation, which is the opposite of how it should be.

At Morgan & Morgan, we chose to take the path less traveled by. We want everyone to be able to afford our proficient assistance in their time of need, so we've made it easy for anyone to join our team, regardless of their financial status. When you choose to fight for your compensation with our firm, you pay nothing out-of-pocket, and we're only paid when we win your case. Not only does this keep the costs low for you, but it also keeps everyone motivated towards one goal: getting you the best possible results for your legal challenge. 

When Should I Contact a Car Accident Lawyer?

Car accident attorneys exist to help you mitigate the consequences of an unforeseen accident, no matter how large or small. Once you've removed yourself from the scene of the accident and received medical treatment, you'll want to file a claim with your insurance company to begin the recovery process. However, this involves complicated paperwork and legal jargon that most people will have difficulty understanding, so it's a good idea to have a lawyer by your side from the very beginning until the case is closed.

Your attorney can help you file your insurance claim, and once your provider has responded, they can review their paperwork and determine whether their offer reflects the compensation you should receive. Having an attorney at the early stages of your case can also prevent future problems from arising, allowing you to navigate through the process with ease and find success. Not only that, but their involvement can give you some much-needed time to relax, recover, and spend time with loved ones, which can be a priceless opportunity for some individuals.

If you're attempting to handle the negotiation phase of your case, and the opposing party refused to agree on a settlement, you should definitely retain an attorney if you haven't already. Insurance companies prey on people in these situations, as most people don't have an extensive legal background and won't know that they're being taken advantage of, so they can act unethically without consequence. Having an attorney by your side prevents you from this behavior, and by having one of Morgan & Morgan's attorneys by your side, the opposing party won't ever consider it. Insurance companies across the nation know how relentlessly we advocate for our clients, and they know that if they can't offer low ball settlements, we'll see them in court.

What Jackson Neighborhoods Does Morgan & Morgan Serve?

Morgan & Morgan has offices from coast to coast, but we serve the people of Jackson in the following neighborhoods and more:

Brandon (39042)
Clinton (39056)
Flowood (39232)
Fondren (39216)
Greater Belhaven (39202)
Jackson (39201)
Madison (39110)
Pearl (39208)
Ridgeland (39157)
Tougaloo (39174)
Woodsville Heights (39212)

Why Choose Morgan & Morgan?

There is no shortage of law firms and car accident lawyers online. If you google "car accident lawyer," you'll come up with hundreds of results, but how do you know which one will give your case the best possible chance of success? It's a very precarious situation, as making the wrong choice could cost you thousands of dollars and leave you without the compensation you need to overcome your car accident. Although you might be nervous, don't worry; we've made the decision easy for you.

At Morgan & Morgan, we pride ourselves in helping clients recover compensation that blows away the pre-trial offer. In fact, our attorneys have a proven record of reaching settlements and verdicts that are exponentially higher than the offer they received at the beginning of the litigation. For example, we worked on one car accident case where our client was offered $200 at the beginning of their case, which didn't begin to compensate them for the harm they endured at the hands of the at-fault party. Our attorneys worked diligently, and in the end, we recovered $3 million on behalf of the client, allowing them the financial freedom to pay off her expenses and return to the life she once lived.

We have many stories just like that one. Our success over the last three decades has earned us the title of America's largest personal injury firm, but we've never sacrificed the aspects of our firm that made us who we are today. When you team up with Morgan & Morgan, you get the best of both worlds: a compassionate and responsive law firm with the resources of a corporate giant. Other firms might have one or the other, but we have both, and we use our unique ability to ensure that our clients have the best possible chance of success starting on day one. Although it might be difficult to choose which law firm will handle your car accident, it's easy to see the benefits of teaming up with Morgan & Morgan, especially when you have a complicated case that might go to trial. We're here for you, and if you're involved in a car accident, our Jackson office can give you the competitive edge that you need to find success.

Contact Morgan & Morgan's Jackson Office Today

In the most difficult moments of your life, Morgan & Morgan has your back. Our firm started when John Morgan hired the wrong lawyer for his brother, Tim, sending them on a long journey of complicated legal battles that could have been avoided if their original lawyer had acted rationally. Although that was many years ago, it shaped how we operate at Morgan & Morgan, as we never want to see a client go through what the Morgan family went through all those years ago. Since then, we've learned a few things, and we use our experience to tailor our service to better fit the needs of clients everywhere.

At the end of the day, we understand that the consequences of a car wreck extend far beyond the accident itself. Without rightful compensation, you could be forced to pay for your accident out-of-pocket, which isn't fair when you weren't acting negligently at the time of the crash. Our attorneys are here for you, much like a tool in a toolbox, to prevent you from going through a situation like that. With over 700+ trial-ready attorneys, a network of team members across the nation, and resources that other firms can only dream of, it seems that there's only one choice of firm to handle your car accident: Morgan & Morgan.

If you were involved in a car accident, our attorneys are ready to take your call. Contact us today to get started.
Scroll down for more
Load More