The Fee Is Free™. Only pay if we win.
America's Largest Injury Law Firm
Protecting Families Since 1988
$15 Billion+ Won
800+ Lawyers Nationwide
Free Case Evaluation
Tell us about your situation so we can get started fighting for you. We tailor each case to meet our clients' needs.
Results may vary depending on your particular facts and legal circumstances.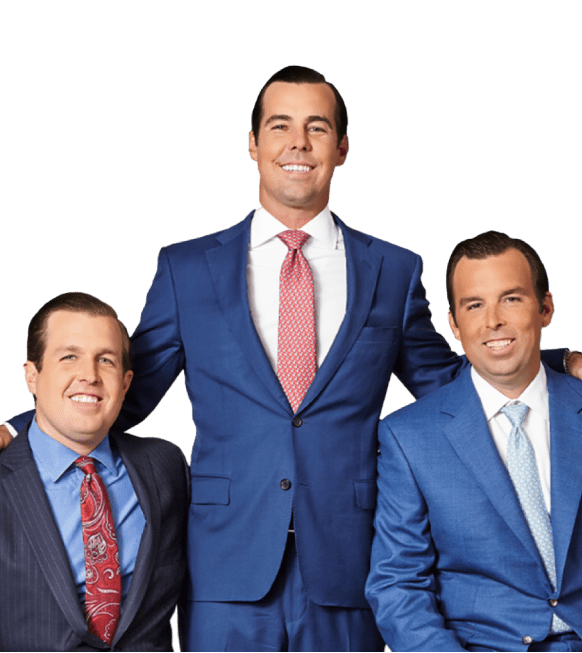 Car Insurance Claims Disputes Lawyers in Jackson
In Jackson, Mississippi, a car insurance dispute may require the help of a lawyer to resolve successfully. At Morgan and Morgan, our car insurance claims disputes lawyers in Jackson have the knowledge and expertise you'll need to have a winning outcome. For decades, we've fought to protect our clients that get caught up in insurance disputes with less-than-helpful insurance companies and their adjusters.
When we enter into contracts with insurance companies, we entrust our financial future and security and expect to be treated fairly and with respect should we ever need to make a claim. Consumers are entitled to be given due consideration, and insurance companies are bound by Mississippi's "good faith and fair dealing" covenant to operate in good faith.
When we're treated unfairly during an insurance dispute, we're often caught off guard, and it's a natural reaction to be angry and to feel cheated. This is why our car insurance claims disputes lawyers in Jackson do what they do. Our motto is "For the People" because we believe regular people just like you deserve first-rate legal representation when unexpected problems arise.
Jackson, Mississippi, Bad Faith Insurance Lawyers
In a car insurance claims dispute dilemma, our Jackson car accident attorneys might be able to bring a bad faith claim against your insurance company. Should the problem be with the other driver's insurance company, we can tackle that, too. In either scenario, to pursue a bad faith insurance lawsuit, we must demonstrate that the company purposefully refused to process or unduly denied a legitimate claim submitted by you. Mississippi law requires insurance companies to treat their customers fairly, including issuing payments that are legitimately due to consumers.
Although Mississippi has yet to codify an "Unfair Claims and Settlement Act" that many other states use, insurance policies are contracts and, as such, are subject to contract laws. Without laws like these in place to protect the public, consumers might be burdened with paying unnecessary legal expenses or may have no other option than to abandon their legitimate claims.
Still, it's important to understand that not every claim that doesn't go your way constitutes bad faith dealings. But when it does, Morgan and Morgan is here to represent people who have been unfairly denied or mistreated by an insurance company.
Scroll down for more
Recent verdicts & settlements
Results may vary depending on your particular facts and legal circumstances.
Scroll down for more
Results may vary depending on your particular facts and legal circumstances.
How it works
It's easy to get started.
The Fee Is Free™. Only pay if we win.
Results may vary depending on your particular facts and legal circumstances.
Step 1

Submit
your claim

With a free case evaluation, submitting your case is easy with Morgan & Morgan.

Step 2

We take
action

Our dedicated team gets to work investigating your claim.

Step 3

We fight
for you

If we take on the case, our team fights to get you the results you deserve.
---
Client success
stories that inspire and drive change
Explore over 122,576 5-star reviews and 800 client testimonials to discover why people trust Morgan & Morgan.
Results may vary depending on your particular facts and legal circumstances. Based on Select nationwide reviews
FAQ
Get answers to commonly asked questions about our legal services and learn how we may assist you with your case.
Morgan & Morgan
What Are Some Examples of Unfair Tactics Car Insurance Companies Use to Frustrate Consumers?

Bad faith insurance tactics are essentially dishonest dealing with legitimate claimants and encompass a wide range of practices, including the following:

Denial of a claim without giving a reason - An insurance company should always provide a reasonable explanation for claim denials. If your claim was denied without a valid reason, you might have cause for legal action to recover compensation.

Failure to conduct a prompt and complete investigation - Anytime a policyholder files a claim, the insurance company is supposed to launch an investigation to determine the merit of your claim. This usually entails sending out a claims adjuster whose role is to gather and evaluate evidence so a claim can be paid. These investigations are generally time-sensitive, as evidence may be lost or altered. For example, in a car accident, both parties will need their vehicles repaired or replaced as soon as possible.

Investigations that are half-hearted or nonexistent are an example of bad faith insurance. An insurance company is obligated to consider the insured's interests as much as its own, which would require an attempt to find any evidence of liability and damages. When large sums are at stake, as in the case of severe injuries, an insurance company operating in bad faith may fail to investigate all possible causes of the accident in order to renege on its responsibility to the policyholder.
 
Offering less than what your claim is worth - While getting a lowball settlement offer doesn't necessarily constitute bad faith dealings, it can be highly frustrating. However, some insurance companies use the tactic of denying first and defending later. Some of these offers may be automatic, which means a proper investigation was not executed. If we can prove an investigation did not take place, they failed in their duties to the consumer.

Denying or delaying decisions on valid claims or requests for medical treatment approval - Deny and delay is an aggravating scheme that some insurance companies use to put off valid claims. They do it because it often works. The longer they have their premium money, the more they can use it for investments rather than paying out for valid claims. Sometimes they may delay until you're desperate and willing to take whatever they offer. However, this is not how an upstanding business operates.
 
Refusing to pay legitimate claims - This is one of the most common ploys insurance companies use to protect their own interests over their policyholders. It's often accomplished by not providing a legitimate reason or confusing a policyholder with complex legal language about clauses that supposedly absolve them of paying for the claim.

Making threatening statements - Any legitimate insurance business should never threaten their customers over filing a claim. Some examples may include accusing you of attempting insurance fraud and threatening to call the police. Obviously, if there are valid signs of fraud, they would be in the right to do this, but using it as a tactic to intimidate a valid claimant is against the law.

Misrepresenting policy language or Mississippi laws - Most people do not have legal expertise. If you've read any contracts, they are full of terms and legal nuances that are difficult to interpret. Misrepresentation of policy language and insurance law is an effort to subvert the process and deny legitimate claims. A policyholder without legal knowledge may just accept the decision that their claim is not valid and, thus, unworthy of reimbursement.

Delaying payment of a valid claim - If your claim has been approved, there is no good reason to delay issuing payment. If you fail to pay your premiums, there are consequences, and so should there be consequences for putting off paying out on a claim.

Denying reasonable requests for documentation - Just as an insurance company must provide a reasonable cause for denying a claim, they must also provide documentation that justifies the denial. They must comply if you ask for documentation that provides a reasonable excuse for the denial. Failure to do so constitutes bad faith insurance dealings.

Why Should You Be Wary of Talking to an Insurance Adjuster Without a Lawyer's Input?

When you file an insurance claim after a car accident, one of the first people you'll hear from is the insurance adjuster. Their job is to investigate and come up with a sum for your settlement. Minor car accident claims are usually straightforward and can be resolved quickly with little fuss. More serious accidents can be complicated because large sums of money are at stake. In instances like this, it may be tempting to work with the insurance adjuster with the expectation that you'll be reimbursed more quickly. However, another role of the insurance adjuster is to protect the company they work for, which means making sure you get as little as possible.

Suppose you've been involved in a severe accident in the local area. In that case, we recommend talking to one of our car insurance claims disputes lawyers in Jackson before further communicating with the insurance company in question. The attorneys at Morgan and Morgan can handle all contact with the adjuster moving forward and provide you with the legal advice you need for a successful resolution.

Is Mississippi a No-fault Auto Insurance State?

No, Mississippi falls under at-fault insurance law meaning that whoever is responsible for the accident is liable to pay for damages. This includes medical expenses, damaged property, lost income, pain and suffering, and more.

You may find yourself in a dispute with the other party's insurance company if there is a question of fault. Likewise, you may have issues if they argue you have some responsibility in the accident because Mississippi has a pure comparative negligence rule. This rule means that whatever percentage of fault you have in the accident reduces your payout according to your share of the negligence. For example, if your claim is worth $250,000 and you're judged to be 30% at fault, the total you could pocket would be reduced by 30%.

How to Dispute Fault in a Jackson Car Accident?

Some car insurance claims disputes arise out of determining fault. It can be a devastating financial blow when you've been unfairly judged to be at fault or mostly at fault for a car accident. You'll need to make a solid argument to reverse this decision. The first step is to alert the insurance company that you'll be fighting their findings and next, contact Morgan and Morgan. We will work to uncover new evidence and present a different picture that the insurance adjuster may have overlooked.

How Long Does an Insurance Company Have to Settle a Claim in Mississippi?

Mississippi insurance companies have 40 to 50 days to make a decision on a claim and make a payment once a claim is filed. They must acknowledge receipt of a claim within 15 days of submission and have 25 to 30 days to make a final payment upon approval. Unfortunately, there is no specific timeframe under Mississippi law in which an insurance company has to investigate and evaluate a claim to come to a decision. However, the law stipulates that it must be done in "reasonable time." The term "reasonable" is often a point of contention in car insurance claims disputes.

How Long After a Car Accident Can You Sue in Mississippi?

Mississippi has a three-year statute of limitations to file a lawsuit after a car accident. The statute of limitations is the deadline to pursue legal action after an incident of personal injury. The deadline is set in stone, so quick action is critical. We understand that time can get away, especially after serious injury or loss of life. However, once the deadline is passed, you will have virtually no chance of recovering compensation. That's why, even if you don't have all the evidence or documentation ready, it's essential to at least have us file a claim with the courts to stop the clock.

Can You Contest a Car Insurance Claim?

Yes, if you feel there is an error, you can contest a car insurance claim through an appeals process. However, to be successful, you'll likely need to provide new information that was not made available to them in the initial proceedings. Here are the steps to appealing the results of an insurance claim:

Collect evidence - Review all documentation and reasons for the denial. You'll need to counter their argument by offering evidence that contradicts their findings. Morgan and Morgan can help by conducting our own thorough investigation.

Draft an appeal letter - This letter needs to specify why you don't agree with their decision. Be as detailed as possible, citing new evidence and providing any missing information that may have played a part in the denial.

Contact our car insurance claims disputes lawyers in Jackson - When you need an expert opinion, Morgan and Morgan Law Firm can review all elements of your case and help you submit a demand letter that will compel the insurance company to respond and defend why your claim was denied. When we perform case evaluations, we determine whether your claim has merit. When we find evidence of wrongdoing on behalf of insurance companies, you don't pay anything upfront for our services. Instead, we take a percentage of your claim payment or verdict award after a successful fight. If we do not prevail, you owe us nothing.

Contact us today for a free, no-obligation case evaluation.
Scroll down for more
Load More