The Fee Is Free™. Only pay if we win.
America's Largest Injury Law Firm
Protecting Families Since 1988
$15 Billion+ Won
800+ Lawyers Nationwide
Free Case Evaluation
Tell us about your situation so we can get started fighting for you. We tailor each case to meet our clients' needs.
Results may vary depending on your particular facts and legal circumstances.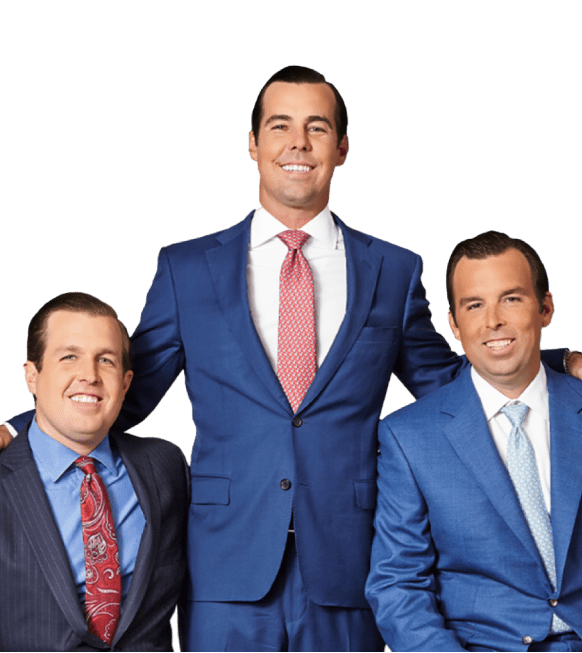 Rear End Collision Attorney in Jackson
Once a sleepy town located in the Deep South, Jackson, Mississippi has morphed into one of the major economic hubs in the United States. Referred to as the "best of the new South," Jackson is the state capital of Mississippi that attracts a wide variety of businesses. From agricultural equipment companies to financial services firms, Jackson's diverse economic base insulates the city from deep economic downturns.
As the largest city in Mississippi, Jackson is home to more than 170,000 residents, with an additional 350,000 residents comprising the population of the central section of the state. Two major interstates connect Jackson to Dallas and New Orleans, while an innerbelt makes travel easier for area residents. With rapid growth comes numerous benefits, but one negative stands out.
Car accidents, especially rear-end collisions, are on the rise in Jackson and its suburbs. Despite a high-profile media campaign promoting safe driving, auto collisions can happen anywhere in Jackson. Busy intersections such as Interstate 220 and Hanging Moss Road have significantly contributed to the increase in car accidents. Rear-end collisions can unfold in parking lots, at intersections, and in your neighborhood.
If you sustained injuries caused by a rear-end car accident, you should contact an experienced personal injury attorney to help guide you through the insurance claim process. A Mississippi-licensed car accident lawyer also reviews your case to determine whether the other party committed one or more acts of negligence. If your legal counsel can demonstrate fault, you might have a strong enough case to file a civil lawsuit that seeks monetary damages.
At Morgan & Morgan, we have spent more than three decades helping clients recover from the financial losses associated with a personal injury incident. In fact, we have reached settlements and won legal judgments worth more than $14 billion for our clients. We understand rear-end collisions can do more than cause physical harm. They also can leave behind mental and emotional scars that last for years to come.
To learn more about how to proceed with a car accident claim, schedule a free case evaluation with one of the highly-rated personal injury attorneys at Morgan & Morgan.
Scroll down for more
Recent verdicts & settlements
Results may vary depending on your particular facts and legal circumstances.
Scroll down for more
Results may vary depending on your particular facts and legal circumstances.
How it works
It's easy to get started.
The Fee Is Free™. Only pay if we win.
Results may vary depending on your particular facts and legal circumstances.
Step 1

Submit
your claim

With a free case evaluation, submitting your case is easy with Morgan & Morgan.

Step 2

We take
action

Our dedicated team gets to work investigating your claim.

Step 3

We fight
for you

If we take on the case, our team fights to get you the results you deserve.
---
Client success
stories that inspire and drive change
Explore over 122,576 5-star reviews and 800 client testimonials to discover why people trust Morgan & Morgan.
Results may vary depending on your particular facts and legal circumstances. Based on Select nationwide reviews
FAQ
Get answers to commonly asked questions about our legal services and learn how we may assist you with your case.
Morgan & Morgan
What Are the Most Common Causes of Rear-End Collisions?

Three primary factors cause rear-end collisions in Mississippi: Human error, mechanical error, and poor road conditions.

Human Error

According to the National Highway Traffic Safety Administration (NHTSA), Nearly 95 percent of all serious car accidents are connected to the poor choices made by drivers. The Mississippi Department of Transportation released a study indicating that during a recent year, drunk driving fatalities accounted for 18 percent of all traffic deaths in the state. Distracted driving remains a huge problem, especially when it comes to causing rear-end collisions. For example, a driver talking on a phone or reading a text message does not pay enough attention to prevent the driver's car from rear-ending a vehicle stopped at a traffic signal. Aggressive driving, such as speeding or changing lanes without signaling, also causes a considerable number of rear-end collisions.

Mechanical Error

If you sustained injuries caused by a mechanical failure, you might qualify to file a product liability lawsuit. Motor vehicles rely on thousands of interconnected parts to operate smoothly. Just one part failure can cause a car to move in a direction that places the driver and passengers in danger.  Some of the most common faulty parts include brakes, tires, suspension, and steering system. A tire that blows out prevents a vehicle from stopping in time, which can produce a result called a rear-end accident.

Poor Road Conditions

The Jackson Public Works Department and the Mississippi Department of Transportation are responsible for maintaining the roads and highways that run to and from Jackson, Mississippi. Large potholes, lack of signage, and slow response to clearing debris after a storm can all be factors that cause rear-end collisions. If poor road conditions caused a rear-end car accident that resulted in one or more injuries, you should contact one of our personal injury lawyers to conduct an investigation into your case.

What Are the Most Common Injuries Caused by a Rear-End Collision?

Rear-end collisions cause many of the same types of injuries motorists and passengers sustain for other types of auto crashes. However, a rear-end car accident produces three types of injuries that do not develop as often for other types of car accidents, such as a T-bone vehicle collision.

Whiplash

Whiplash is known as a flexible cervical injury, which means it is caused by a sudden backward motion of the head and neck, followed by an equally powerful forward movement. The powerful back and forward motion can produce tears in neck muscles, tendons, and ligaments. Excruciating pain and stiffness in the neck represent the two most common symptoms that develop because of whiplash. Victims also can suffer from migraine headaches, as well as numbness in both arms and shoulders.

According to the European Spine Journal, you can sustain a whiplash injury when traveling less than 10 miles per hour. Some whiplash injuries do not develop symptoms until a few hours after a rear-end car accident. This means that even if you feel fine after a rear-end crash, you should seek medical attention as soon as possible after the accident.

Herniated Disc

As one of the most common injuries sustained because of rear-end collisions, a herniated disc generates such incredible pain that it can be difficult to stand straight.  If a soft disc located between two vertebrae ruptures, the two vertebrae no longer have ample protection. Also called a slipped disc, a herniated disc makes contact with surrounding nerves, which can trigger numbness at first, followed by intense pain. The pain can travel along additional nerves that run through the arms and legs.

Migraine Headaches

The trauma caused by whiplash can trigger a series of debilitating migraine headaches. Migraines that result from rear-end collisions sometimes do not begin until weeks, even months after a rear-end car crash. You might feel a few dull headaches at first, before experiencing migraines that force you to take prescription medications to alleviate the agonizing pain. Although whiplash is called a neck injury, a violent enough collision can force your head to make a strong impact with the dashboard or steering wheel.

What Is the Statute of Limitations for Filing a Car Accident Lawsuit in Mississippi?

Each state has established a deadline for filing a civil lawsuit for a car accident case, including rear-end collisions. Referred to as the statute of limitations, the deadline typically runs between two and four years, although some states go as low as one year and as high as six years. The personal injury attorneys at Morgan & Morgan remind our clients that the statute of limitations does not apply to filing a car insurance claim.

In Mississippi, you have three years from the time of an auto accident to file a civil lawsuit that seeks just compensation. This means the clock starts ticking on a civil lawsuit on the day when you got involved in a rear-end car crash. Although three years seems like more than enough time to take legal action, you should act with a sense of urgency for several reasons.

First, you want witnesses to present accurate accounts of what they saw. Delaying the filing of a civil lawsuit might diminish the memories of witnesses. Second, you face substantial medical bills, especially if you sustained a serious whiplash injury. Filing a civil lawsuit as quickly as you can after a rear-end car accident can help you recover your financial losses much faster than if you wait a couple of years. Finally, your personal injury lawyer needs time to conduct an investigation that reveals the type of persuasive evidence required to win a favorable legal judgment.

What Does Comparative Negligence Mean for Mississippi Rear-End Collisions?

The key to filing a successful civil lawsuit that seeks monetary damages involves proving the other party committed one or more acts of negligence. For example, if the other driver rear-ended your vehicle while sending a text message, your attorney might gather enough evidence to demonstrate fault. However, proving negligence does not mean the other party is 100 percent at fault for causing your injuries.

According to Mississippi Code section 11-7-15, the state follows a legal principle called pure comparative negligence. This legal principle assigns a percentage of blame to each party involved in rear-end collisions. Let's assume the defendant rear-ended your car at a traffic signal. The driver of the other vehicle failed to notice the light had turned red, which caused you to sustain whiplash. However, you failed to stop at the correct spot in the lane you were in, which means you shoulder a percentage of the blame as well.

If the judge hearing your case awards you monetary damages worth $100,000 and the judge determines you should assume 10 percent of the blame for the accident, then your compensation decreases to $90,000.

What Are the Monetary Damages for a Rear-End Collision in Jackson?

The monetary damages awarded for a rear-end auto accident allow you to pay off costly bills, as well as pay for common daily expenses. However, the monetary damages awarded for personal injury cases cover more than just tangible costs.

Economic Damages

The primary goal of the car accident attorney you hire from Morgan & Morgan is to convince the judge hearing your case that you deserve the awarding of economic damages. Medical bills by far represent the costliest type of economic damages. You have to pay for diagnostic tests, treatment programs, and physical therapy sessions, which can last more than a year if you sustain whiplash injuries. You also have the right to ask the judge to award you economic damages that cover the cost of prescription medications and the use of an assistive device that helps you move around.

You also have to pay for the damage done to your car. A high-impact, rear-end crash can cause significant damage to the back half of your vehicle. You might have to pay for damage done to the suspension system, as well as replace any broken glass that shattered upon impact. If you sustained serious injuries that forced you out of work, you have the right to request compensation for lost wages.

Non-Economic Damages

Non-economic damages do not include a price tag. Instead, receiving compensation for suffering from mental anguish and emotional distress requires your car accident lawyer to calculate a value based on the value of your economic damages. The aftermath of serious rear-end collisions can trigger Post-Traumatic Syndrome Disorder Symptoms that require extensive treatments. The result is another category of medical bills that put you in financial trouble.

You also might suffer from fear of driving, which can happen if the rear-end collision caused you substantial harm. Other mental and emotional issues you might have to address include anxiety, depression, and sudden fits of rage.

Punitive Damages

The judge does not award you punitive damages to take care of economic and non-economic damages. Instead, you receive punitive damages as a financial penalty placed on the defendant. Punitive damages are supposed to deter defendants from committing future acts of negligence that cause rear-end collisions. If the defendant committed one or more acts of gross negligence, such as intentionally rear-ending your vehicle, the award for punitive damages might increase significantly.

Contact Morgan & Morgan

Contacting one of the accomplished personal injury attorneys at Morgan & Morgan can help you collect the physical evidence you need to file a persuasive car insurance claim and possibly a civil lawsuit. You want to work with a personal injury lawyer who specializes in handling car accident cases, preferably rear-end collisions. Getting hit from behind by another car presents unique issues that require the legal support of a lawyer who specializes in litigating similar cases. When you partner with one of our experienced car accident attorneys, you do not have to pay upfront legal fees. Morgan & Morgan charges clients on a contingency fee basis, which means we get paid when you get paid.

Schedule a free case evaluation today to learn more about how to litigate cases involving rear-end collisions.
Scroll down for more
Load More