The Fee Is Free™. Only pay if we win.
America's Largest Injury Law Firm
Protecting Families Since 1988
$15 Billion+ Won
800+ Lawyers Nationwide
Free Case Evaluation
Tell us about your situation so we can get started fighting for you. We tailor each case to meet our clients' needs.
Results may vary depending on your particular facts and legal circumstances.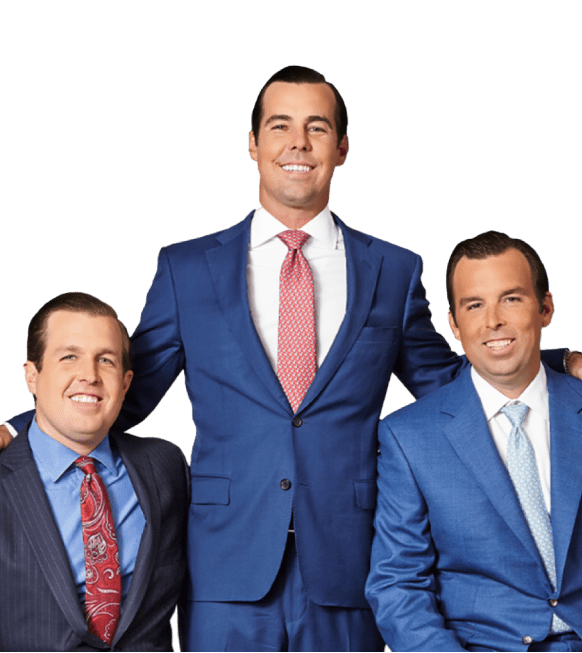 The attorneys featured above are licensed in Florida. For a full list of attorneys in your state please visit our attorney page.
Best Medical Malpractice Lawyers in Waltham
Waltham, Massachusetts, is home to many fine hospitals with highly competent medical professionals working in them. However, as with any service, sometimes things don't go right, even in the medical field, which requires extensive training and copious oversight. 
Mistakes in medicine can lead to a wrong diagnosis, incorrect drug dosage, and delays in treatment. The scary thing is that these mistakes may take a long time to manifest into real harm. In some instances, the discovery of an error may be too late for the patient. If you or a loved one have been harmed by medical malpractice, you may be hunting for the best medical malpractice lawyer. Waltham attorneys at Morgan & Morgan and ready to help you during this difficult time.
Medical malpractice: What is it?
Medical malpractice in U.S. law is imitative of English common law and was refined by various rulings in state courts. Lawsuits for medical malpractice in the United States have become a common occurrence. However, the goal of the courts is to encourage disputing parties to negotiate with each other without having to go to a jury trial. 
Medical malpractice is defined by U.S. law as any act or omission by a medical professional while treating a patient that deviates from the norms of the practice of medicine and causes injury to the patient. Medical malpractice is a form of tort law that falls under professional negligence. A "tort" is a civil wrong, and tort laws create and provide remedies for civil wrongs, which are different from criminal wrongs.
Negligence under the law is typically defined as acts that fall short of the standards and care a reasonable person would take under similar circumstances to protect others from harm.
What are the four elements of medical malpractice?
Proving medical malpractice generally requires four legal requirements to be demonstrated. These elements are:
The existence of a legal duty by the physician to provide care to their patient.
A breach of said duty by failing to provide care or treatment to the patient according to the norms and standards of their profession.
A relationship between the failure to care and an injury to the patient.
The existence of damages that are caused by the injury for which the legal system can provide a remedy.
Element number one is the easiest to prove since there are almost always records showing a professional relationship between a physician and their patient. The idea of a legal duty to take care and not harm others is not exclusive to the medical profession. In fact, it's the bedrock of civilization that we live together and owe each other the duty of reasonable care so that we don't hurt others by our acts or omissions.
If there is no relationship established, then the duty of care doesn't exist. So, for example, let's say you know an acquaintance in the medical field and you ask them to take a look at a mole while at a backyard BBQ, and they think it's fine. Still, you later find out it was skin cancer. In this instance, they cannot be sued for medical malpractice. There was no professional relationship established. However, if you go to see your regular doctor but they have a colleague standing in for them, and that colleague harms you, then you would have grounds for a medical malpractice lawsuit. 
Element number two often requires the help of expert testimony since the concept of breach of duty could only be demonstrated by a professional equal to your doctor. An expert's testimony would also be critical to help a jury understand the subtleties of the standards of care in the medical field. The only exceptions for the need for expert testimony would be in instances where the medical malpractice was so severe that any regular person would recognize it. For example, if the wrong limb was amputated. 
Element number three requires the patient to prove causation. The injured patient must show a direct link between the wrong or omitted acts and their injury. 
The last element is to prove damages. Under medical malpractice law, a calculation in terms of money is required. This is often based upon medical bills to correct the injury, pain, and suffering, any permanent disability the patient has developed, and lost wages. The courts rarely issue punitive damages unless the medical malpractice was particularly threatening to society as a whole. Thus, the punitive damages would serve to deter others from engaging in the same conduct, for example, altering medical records or sexual misconduct. 
Examples of medical malpractice
Medical malpractice comes in many forms. Here are a few examples that could lead to a legal claim.
Failure to recognize symptoms
Unnecessary surgery
Failure to diagnose or misdiagnosis
Poor follow-up or aftercare
Premature discharge
Failure to order the correct testing
Misreading or ignoring lab results
Disregarding or not taking proper patient history
Surgical errors or wrong-site surgery
Improper medication or dosage
Some famous people have made headlines with their own medical malpractice horrors. Here are just a few:
Julie Andrews is famously known for her roles as Mary Poppins and Maria von Trapp and, of course, her singing voice. In 1977 she went to a doctor for a typically low-risk procedure to remove non-cancerous nodules on her vocal cords, but somehow the surgery was botched, and her voice never recovered.
Joan Rivers lost her life to medical malpractice when she went for an endoscopy. The surgeons were found grossly negligent because they opted to perform a laryngoscopy when none was asked for nor consent given. The anesthesiologist on duty warned against it as her patient's oxygen levels were worrisome. And indeed, that is how she died, through the loss of oxygen to her brain.
Funnyman Dana Carvey went for open-heart surgery but the doctor performing the surgery operated on the wrong artery. When Mr. Carvey started experiencing the same symptoms he had pre-operation, he went back, and the mistake was discovered. Fortunately, the mistake was corrected through the less invasive procedure of angioplasty. He settled for $7.5 million, which was donated to charity.
What are some medical malpractice statistics?
According to a 2019 study done by Healthgrades.com, here are some statistics concerning medical malpractice.
Top five reasons patients sue physicians:
A failure to diagnose or delayed diagnosis: 33%
Complications due to treatment or surgery: 29%
Poor results or disease progression: 26%
Failure to treat or delated treatment: 18%
Wrongful death: 16%
Top 5 doctors patients sue:
General surgery: 85% of surgeons who participated in the study reported being involved in one or more lawsuits.
Urology: 84% of urologists reported either having been sued in the past or were currently being sued.
Otolaryngologists: 83% of ear, nose, and throat specialists have or are currently being sued, according to their survey.
Ob/gyns and women's health doctors: 83% of these practitioners reported they have been or are currently involved with a claim.
Specialized surgery: 80% reported they have been or are currently being sued. 
In a shocking 2002 study, Healthgrades.com also revealed an average of 195,000 people died each year in the U.S. due to possibly preventable in-house medical errors. One in four hospitalized Medicare patients had a patient safety incident that caused their death. 
How much does it cost to sue for medical malpractice?
Out-of-pocket fees to bring a medical malpractice lawsuit are paid by your medical malpractice lawyer. Waltham residents who use Morgan & Morgan law firm for their claim pay nothing unless we win your case. Our fee is a percentage of your compensation from your settlement or court award. 
What is my Waltham medical malpractice lawsuit worth?
A medical malpractice lawsuit can help you recover money for a variety of things which may include pain and suffering, medical bills, and a reduced quality of life. The damages can be general, special, and punitive.
For general damages, which is the cost of your suffering, you can recover compensation for loss of enjoyment of life, physical and mental pain and suffering, and a loss of future income. The price for these things may seem incalculable but in practical terms putting a dollar value on them is the only way to move forward. With every case being different, the dollar amount can vary. For example, a very young patient may receive more than a very old patient because the younger person will have their future earnings impacted for a longer period of time. Coming up with a figure often requires expert testimony to attest to the ramifications of the injury.
Special damages are easier to put a price tag on because these damages will include things like your medical bills and lost wages due to missing out on work. However, figuring out the number for future medical expenses requires a bit more work.
Punitive damages may be recovered in certain circumstances. In Massachusetts, punitive damages are only reserved for the most egregious cases. For example, if the physician acted in wanton disregard for your safety, as in a surgeon intentionally leaving an instrument inside you, which would require a second surgery to remove it.  
The state of Massachusetts has a $500,000 cap for non-economic damages in a medical malpractice lawsuit unless you are able to prove you've suffered a substantial or permanent loss or impairment of a bodily function or significant disfigurement. In rare and exceptional circumstances, the cap can be bypassed if it can be shown that the cap deprives you of a just result for your injuries.
How can I get help with my medical malpractice claim?
Medical malpractice claims are some of the most challenging cases because of regulations and rules governing these kinds of legal cases. Having the best legal representation is crucial to get the best results. Morgan & Morgan law firm has been fighting the good fight for people just like you for over 30 years. We've recovered billions for our clients during that time, and results like that just don't happen magically. We're simply very good at what we do. Don't hesitate to reach out for a free case evaluation. We're available 24/7.  
Scroll down for more
Recent verdicts & settlements
Results may vary depending on your particular facts and legal circumstances.
Scroll down for more
Results may vary depending on your particular facts and legal circumstances.
How it works
It's easy to get started.
The Fee Is Free™. Only pay if we win.
Results may vary depending on your particular facts and legal circumstances.
Step 1

Submit
your claim

With a free case evaluation, submitting your case is easy with Morgan & Morgan.

Step 2

We take
action

Our dedicated team gets to work investigating your claim.

Step 3

We fight
for you

If we take on the case, our team fights to get you the results you deserve.
---
Client success
stories that inspire and drive change
Explore over 122,576 5-star reviews and 800 client testimonials to discover why people trust Morgan & Morgan.
Results may vary depending on your particular facts and legal circumstances. Based on Select nationwide reviews
FAQ
Get answers to commonly asked questions about our legal services and learn how we may assist you with your case.