The Fee Is Free™. Only pay if we win.
America's Largest Injury Law Firm
Protecting Families Since 1988
$15 Billion+ Won
800+ Lawyers Nationwide
Free Case Evaluation
Tell us about your situation so we can get started fighting for you. We tailor each case to meet our clients' needs.
Results may vary depending on your particular facts and legal circumstances.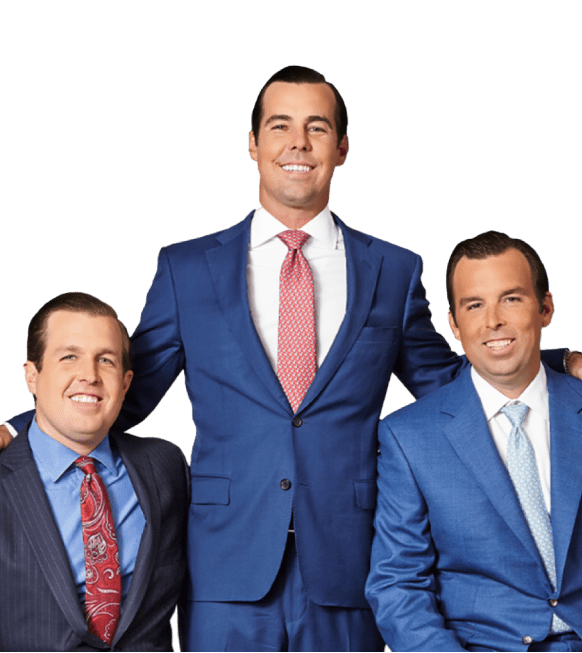 Truck Accident Attorney in Birmingham
Are you or your loved one a victim of a truck accident? Our Birmingham truck accident lawyers may be able to get you compensated for your injuries and losses. All you need is a free case evaluation to determine whether you have a valid claim against the other party. Fill out this form today to get started.
The Importance of Hiring a Truck Accident Attorney 
Understanding the importance of hiring a truck accident lawyer will make you appreciate the role a qualified and experienced legal representative can play in your case. Below, we've covered several key reasons to seek legal counsel if you or a loved one has been injured in a truck accident in this part of the state. 
Insurance Companies Don't Always Play Fair
You can't trust insurance companies to do the right thing in the aftermath of a truck accident. It won't really matter how injured you are. As long as there's a chance for insurance companies to deny liability or minimize their payout, they'll always make the most out of it. 
These tactics leave many people struggling to obtain the compensation they rightfully deserve. You don't deserve to be a victim of a truck accident, and the games insurance providers play. A seasoned truck accident lawyer can step in and advocate on your behalf. This ensures that your rights are protected throughout the legal process. It's also the best way to ensure you receive fair compensation for your injuries and losses. 
Alabama Negligence Laws Are Not Plaintiff-Friendly 
You'd expect the law to be on your side when you get injured or lose a loved one in a truck accident, but not in Alabama. The state follows a pure contributory negligence system, which can make recovering compensation for injuries and damages, particularly difficult.  
This legal principle means you won't recover even a single penny if you are found to have been partially at fault for the accident. In other words, you are not entitled to compensation even if you were only 1% at fault for the accident. 
We understand how unfair such laws can be. In fact, insurance companies tend to take advantage of the broken legal system because all they need to do is establish a way to blame the plaintiff for the accident. That is why in states like Alabama, the importance of hiring a skilled auto accident lawyer should not even be debatable — it is essential.
You Need a Strong Case 
Getting injured in a truck accident is not all it takes to secure the compensation you deserve. On top of your pain and suffering, you still somehow have to come up with a strong case against the other party. That's because Alabama uses the at-fault system, which holds the other party responsible for the injuries and damages the plaintiff has sustained in such an accident. 
You need a well-equipped lawyer to help conduct a thorough investigation into the circumstances that led to the accident. They will help gather evidence and ensure that your case meets all other legal requirements before they even file a claim with the liable party.
You Deserve to Focus On Recovering 
Away from the legal aspect, hiring a lawyer allows you to focus on recovering from your injuries. Dealing with insurance companies alone can prolong your recovery by adding even more pain on top of what you're already going through physically and emotionally. We haven't even discussed collecting evidence and understanding complex legal procedures. 
A skilled truck accident lawyer will take care of everything, from necessary paperwork and negotiations to court proceedings. This allows you to prioritize your physical and emotional well-being.
Your Lawyer Has Your Best Interests 
Many parties cannot be trusted in the aftermath of a truck accident in Alabama. Your lawyer is not one of them. That's because injury lawyers have your best interests at heart. Their goal is to hold the other party responsible on your behalf and achieve the best possible compensation for your injuries and losses.
Simply put, they only win if you do. We'll discuss that shortly.
Truck Accident Cases Can Be Particularly Complex
Unlike other traffic accidents, navigating the complexities of truck accidents can be extremely challenging. That's partly because these accidents often involve multiple parties, such as the truck driver, the trucking company, and potentially other motorists. That makes determining liability and negotiating with each party even more difficult. 
Federal regulations can also influence the trajectory of such a case. So besides learning about state laws, which are already complex, you'll also need a deep understanding of federal laws. These regulations may touch on hours of service, vehicle maintenance, and more, but you won't learn everything you need to know about them overnight.
Injuries Caused By Truck Accidents Are Usually Serious
Most truck accidents often result in severe injuries or fatalities. That makes the stakes even higher for both parties. On the one hand, you want to ensure you receive maximum compensation for your injuries and damages. On the other hand, the other party will want to avoid compensating you. Having a lawyer means you can approach these situations with more confidence.
When To Hire a Truck Accident Lawyer in Birmingham
Understandably, you may be unsure when to seek legal representation after a truck accident. That's partly because people don't wake up every day and prepare for such accidents. They happen unexpectedly. Even so, knowing when to hire an attorney can make a significant difference to your case. Here are a few examples of situations that may require an attorney's intervention.
You Suffered Serious Injuries 
Serious injuries are quite common after a truck accident. Even worse, they tend to have long-lasting effects on your physical, psychological, and emotional well-being, leading to significant medical expenses and other damages.
Liability Is Unclear or Disputed 
In cases where the other party involved in the accident denies liability or tries to shift the blame onto you, a truck accident lawyer should be your first line of defense. These tactics are not uncommon, though. For generations, insurance companies and their attorneys have used such tactics to avoid liability. That's how these companies make money in the first place.  
Remember, the pure contributory negligence laws in Alabama make it extremely difficult and sometimes even impossible for plaintiffs to recover compensation. Having legal representation is the best way to protect your rights by establishing the other party's responsibility for the accident.
Your Loved One Died in the Truck Accident 
In the unfortunate and painful event that a loved one has died due to a truck accident, such a case now becomes a wrongful death case. Understandably, these cases are usually emotionally challenging and legally complex. On one hand, losing a loved one is already too painful, and knowing that they died due to someone else's negligence makes it even worse. On the other hand, these cases tend to involve huge sums of compensation for the loss of a loved one, so you should expect the other party to fight back aggressively, and that's where a truck accident lawyer comes in.
You Don't Know What You Are Entitled To 
Damages in a truck accident or any other personal injury case are not usually that apparent. Without an attorney, you risk settling for less than you deserve. There's no coming back after that, even if you later discover you deserved more than you agreed to. 
Truck accident attorneys in Birmingham can assess the specific details of your case, evaluate the extent of your damages, and ensure you only pursue the appropriate compensation, not just any kind of settlement.
The Accident Involved Multiple Parties 
The sheer size of trucks makes them particularly dangerous on our roads. That also makes it increasingly important for every party, from the truck manufacturer to the driver, to play their roles in making everyone safe. But that's not always the case. 
In a typical truck accident case, there's always a chance that multiple parties may have played a role. It could be the truck driver, trucking company, manufacturers, or maintenance providers. Identifying and assigning liability among these parties can be complex and that's where an attorney comes in. They can investigate the unique circumstances that led to the accident, gather evidence to support their investigations, and then hold all responsible parties accountable.
What To Look For in a Good Truck Accident Lawyer in Birmingham
Many factors will come to play when choosing the right attorney to represent you in such a case. When all is said and done, it all narrows down to the following key factors. 
The attorney you intend to hire should have significant experience handling truck accident cases. Remember, we mentioned that truck accident laws are complex, which makes it even more important to hire someone who understands the tactics used by insurance companies and defense attorneys and can develop effective strategies to protect your rights. 
The attorney's legal resources should also be a factor. Truck accident cases often require extensive investigations, which also take up a lot of resources. If the lawyer has powerful legal resources, they stand a higher chance of building a strong case for you.
Also, consider their track record. Do they have any evidence of successful outcomes in truck accident cases?  
Don't forget to read their reviews from past clients. Are they mostly positive? 
Lastly, can they go to trial if necessary? The answer to this question will depend on the legal resources they have at their disposal. If they don't have powerful legal resources, they might settle for less than you deserve just to avoid taking the case to court because court processes are usually expensive.
Understanding the Costs To Hire a Truck Accident Attorney
Given the complexity of such cases, it's understandable that you may be concerned about the costs involved when hiring a truck accident lawyer in Birmingham, Alabama. The good news is that the contingency payment system is the most common payment arrangement in these types of cases. Here, you'll get legal representation without upfront costs. 
In other words, instead of paying attorney fees out of pocket, a lawyer operating under a contingency fee arrangement will only get paid if they successfully recover compensation for your injuries and losses. This payment system has many advantages, but the most common is that it makes it easier for individuals who may not have the financial means to afford legal representation to access top-notch legal services.
Scroll down for more
Recent verdicts & settlements
How it works
It's easy to get started.
The Fee Is Free™. Only pay if we win.
Results may vary depending on your particular facts and legal circumstances.
Step 1

Submit
your claim

With a free case evaluation, submitting your case is easy with Morgan & Morgan.

Step 2

We take
action

Our dedicated team gets to work investigating your claim.

Step 3

We fight
for you

If we take on the case, our team fights to get you the results you deserve.
---
Client success
stories that inspire and drive change
Explore over 55,000 5-star reviews and 800 client testimonials to discover why people trust Morgan & Morgan.
Results may vary depending on your particular facts and legal circumstances.
FAQ
Get answers to commonly asked questions about our legal services and learn how we may assist you with your case.
Morgan & Morgan
What Are My Chances of Winning the Case With a Truck Accident Attorney?

No lawyer can guarantee a specific outcome, but hiring one significantly increases your chances of winning the case. Studies have shown that individuals who hire personal injury attorneys usually have a higher chance of obtaining favorable results than those who opt for self-representation. That said, it will also narrow down to the attorney's experience and expertise, their ability to conduct a thorough investigation and gather key evidence, their negotiation skills, and more. 

What Damages Can My Attorney Help Me Recover After a Truck Accident?

A seasoned lawyer can help you seek compensation for economic damages, such as medical expenses, rehabilitation costs, property damage, and lost wages. You may also be able to recover non-economic damages such as pain and suffering, loss of enjoyment of life, and emotional stress. 

Note that while you may be able to recover punitive damages if the other party was particularly reckless, Alabama caps these damages at three times the amount of economic damages or $500,000, whichever amount is greater.

How Long Will It Take To Settle My Case?

It depends on several factors, such as the severity of the accident and resulting injuries, the complexity of the case, the willingness of the parties to negotiate, court schedules, and the backlog of cases. 

Hire a Morgan and Morgan Truck Accident Lawyer in Birmingham

Nothing gives you the confidence to fight for your rights better than having Birmingham truck accident lawyers from America's largest injury firm in your corner. We have been fighting for the rights of the injured since 1988 and have recovered more than $15 billion. If you or a loved one is a victim of such an accident, contact us now for a free case evaluation. We may be able to help. 
Scroll down for more
Load More