What Do Employers Look for in a Background Check?
What Do Employers Look for in a Background Check?
The Fee Is Free™. Only pay if we win.
America's Largest Injury Law Firm
Protecting Families Since 1988
$15 Billion+ Won
800+ Lawyers Nationwide
Free Case Evaluation
Tell us about your situation so we can get started fighting for you. We tailor each case to meet our clients' needs.
Results may vary depending on your particular facts and legal circumstances.
Results may vary depending on your particular facts and legal circumstances.
Porter Ranch Gas Leak
After SoCalGas's negligent oversight led to a leak of 5.7 billion cubic feet of gas in 2015, Morgan & Morgan recovered $1.8 billion for the 30,000 affected residents of Porter Ranch.
Jacob T. Rodgers v. City of Gainesville D/B/A Gainesville Regional Utilities
In one of the first personal injury trials since the end of the Pandemic, Morgan & Morgan recovered $120 million for a client that was paralyzed by a city utility vehicle.
Estate of Frank Townsend v. RJ Reynolds, et al.
After a family lost someone to lung cancer, our compassionate attorneys took their case and recovered $91 million in the fight against Big Tobacco.
Morgan Stanley Data Security Litigation
Morgan & Morgan reached a $60 million class action settlement on behalf of those who had their data compromised by behemoth, Morgan Stanley.
Stephen Davis v. Levon Clark, Ricardo Williams, Marty Grifka and Derek Pak
McAdams v. Monier Lifetile, LLC
Morgan & Morgan's attorneys reached a $44 million settlement in a class-action lawsuit against Monier, an organization that made false claims about their faulty roofing tile products.
Coleman v. Martinez
After a delayed C-section caused a newborn to suffer a brain injury during childbirth, Morgan & Morgan recovered $38 million for the affected family.
Gold v. Lumber Liquidators
Our team represented clients who sought to recover damages from Lumbar Liquidators after the company provided faulty flooring materials, resulting in a $28 million settlement on their behalf.
Clemmons v. ECORE et. al, Philadelphia County
Our team secured a $26,202,500 verdict—an enormous victory and a strong message to trucking companies who fail to take the proper precautions when maneuvering dangerous vehicles on our roads.
Brink v. Ruiz
After a long fight for justice, Morgan & Morgan finally obtained a successful, confidential settlement for Dustin Brink with the Defendants' insurance company.
Results may vary depending on your particular facts and legal circumstances.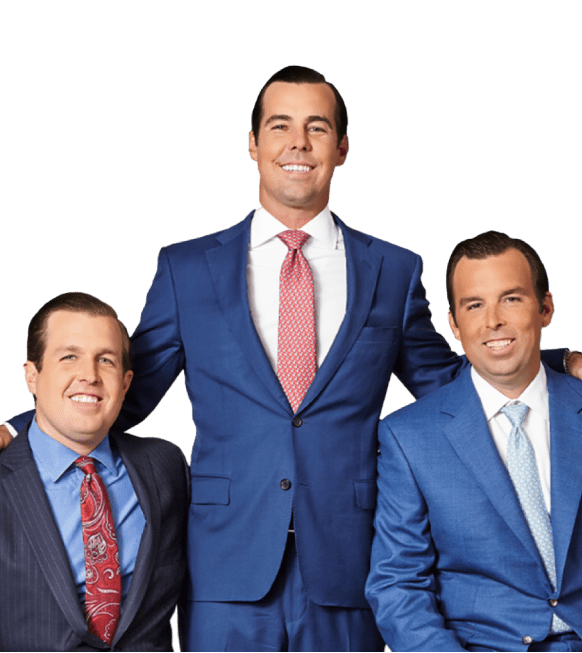 What Do Employers Look for in a Background Check?
If a potential employer wants you to undergo a background check, you may be concerned about what could show up in the test results. You may feel anxious even if you haven't done anything that could jeopardize your chances of getting hired. These are genuine concerns, especially in this era of crimes such as identity theft.
You may never know if someone has stolen your personal information and used it to commit crimes. Unfortunately, some people learn about this after a background check with a potential employer.
If you're concerned about what will show up in your record, below is an overview of what to expect.
Your Criminal History
A background check can review your criminal history. Once a potential employer obtains these results, they will use them to gauge whether or not to hire you. It's also important to note that having a criminal history doesn't necessarily ruin your chances of getting hired. Many people return from prison and seek employment despite having criminal records.
For example, jobs like customer support, web development, computer programming, dog training, etc., won't look too much into your criminal history. Nevertheless, it all depends on the nature of the crimes you committed.
Some jobs are a no-go zone for individuals convicted of certain crimes. For example, individuals convicted of sexual crimes cannot work in jobs involving kids or vulnerable adults. To put things into perspective, it would be negligent of an employer to hire a daycare worker who was previously convicted of sexual offenses against minors.
Your Employment History
If the background check is conducted for the purposes of employment, it will likely show your employment history. Employers use this process to verify that job seekers are truthful about their work experience. This is one of the reasons it's never advisable to lie in a resume. In most cases, potential employers can find out if you're not telling the truth, thanks to the background check process.
When a potential employer establishes that you're telling the truth about your employment history, they'll trust you even more. As a result, your chances of securing that particular job significantly increase. On the contrary, if they find out that you're not being truthful about your work experience, they'll likely not want to work with you. This is due to the assumption that if you can lie in your resume, you'll likely not be truthful about many other things in the workplace if hired.
The results from the background check can also reveal the dates you got hired and when you left your previous employer. For this reason, it's always advisable to keep track of these dates when writing your resume. Understandably, you may not remember the exact date, but knowing the month and year is good enough.
To put things into perspective, here's a real-life example of such a case that made headlines across the country.
In 2019, an employee of Charter Communications, who was operating as a company technician at the time, was sent to a client's residence to help fix her fax machine. The client then discovered that the company technician had stolen her credit cards. An argument ensued.
The employer then used a tool he found in the company's toolbox to stab the client to death. The victim's family then sued Charter Communications after the plaintiff's lawyer had discovered that the company failed to conduct a background check on the defendant.
The plaintiff argued that the company would have noticed certain inconsistencies in the applicant's record by examining the background check results. Specifically, the plaintiff's attorneys argued that the employer, who was sentenced to life in prison, had also lied about his work history in order to get the job.
The court awarded the victim's family $375 as compensatory damages. And then, in a much-publicized ruling, the court also awarded the family of the deceased an additional $7 billion as punitive damages. This is because they had acted negligently by failing to conduct a background check on that particular employee.
Your Credentials and Certifications
Employment-based background checks can also help verify your certification and credentials. This ensures you have the skills and training required for that particular job. Since some job seekers lie in their resumes, many employers usually want to verify this information before deciding whether to hire a particular applicant.
It's important to note that lying in your resume has serious repercussions. It's even worse for employers (if they decide to hire you). Here's why.
The recruiter will likely reject your application when you lie about your credentials and certifications. Chances are they'll not want to pursue the issue further than that. But one thing for sure is that you won't be working for them anytime soon.
On the other hand, employers who don't verify certificates, licenses, and other credentials before hiring job seekers might face a lot of legal trouble. Take the health industry as an example. Healthcare workers are required to observe the highest standards of professionalism when providing healthcare services to their patients. This is because healthcare is one field that has no room for errors.
Suppose an employer in the healthcare field fails to verify the applicant's credentials and licenses. In that case, if that individual gets hired and later makes a serious medical error, such as prescribing the wrong medication to a patient, causing them significant injury or even death, the employer will be held liable.
This could be a case of medical malpractice, which is best handled by a medical malpractice attorney. Where death is involved, such a case would need the attention of a wrongful death attorney.
These lawsuits could cost the employer a lot of money. And in cases where the employer acted extremely negligently, the state might revoke their license.
Your Motor Vehicle Report
Employees might want to find out more about your driving history. This requirement is common in jobs that involve driving company vehicles. Rather than spend a lot of money on repairs or even lawsuits, employers would rather have a copy of your driving history to determine whether you're fit to drive the company's vehicle.
This requirement is also common in jobs that require transporting clients. For example, medical transportation jobs require drivers with a clean driving history, particularly those that involve transporting patients to and from their medical appointments. In addition, a traffic ticket could prompt a potential employer to think twice before hiring you.
However, this doesn't mean that any kind of driving ticket would disqualify you from these jobs—it all depends on the specific circumstances. For instance, if you had a ticket for driving under the influence of alcohol or even a speeding ticket, you may not be the best candidate for a job requiring transporting patients to and from their medical appointments. But, on the other hand, the prospective employer might still want to hire you if you had a ticket for parking at the wrong spot.
Your Identity
During the background check process, your fingerprints will be taken and compared against a broader database. This process is meant to reveal your real identity. The agency will then send the results to your prospective employer.
Employers request background checks to verify that you're actually who you claim to be. This is because identity theft cases are still rising across the country. Some employers use falsified identities to land jobs they can't secure with their true identities. This mostly happens when the applicant has a criminal history that would prevent them from securing that particular job opportunity.
Also, identity theft for the purposes of securing employment occurs when the individual is underqualified for that role. As a result, they might impersonate another individual who is more qualified by stealing their identity.
Scroll down for more
How it works
It's easy to get started.
The Fee Is Free™. Only pay if we win.
Results may vary depending on your particular facts and legal circumstances.
Step 1

Submit
your claim

With a free case evaluation, submitting your case is easy with Morgan & Morgan.

Step 2

We take
action

Our dedicated team gets to work investigating your claim.

Step 3

We fight
for you

If we take on the case, our team fights to get you the results you deserve.
Client success
stories that inspire and drive change
Explore over 122,576 5-star reviews and 800 client testimonials to discover why people trust Morgan & Morgan.
Results may vary depending on your particular facts and legal circumstances. Based on Select nationwide reviews
FAQ
Get answers to commonly asked questions about our legal services and learn how we may assist you with your case.
Morgan & Morgan
How Long Do Background Check Results Take to Show?

In most cases, you should expect your background check results within 24 hours. However, certain factors can delay the process for several days or even weeks. For example, hiring surges, jurisdiction requirements, holidays, court closures, and the amount of information required can delay the process.

Can an Employer Refuse to Hire You Because of an Arrest?

No. It is illegal for an employer to refuse to hire you just because you were arrested on suspicion of a crime. Being arrested does not necessarily mean that you're guilty of that crime. However, the employer might request the potential applicant to explain their conduct before the rest.

The employer will then review that conduct and determine whether to hire that particular individual. In other words, the fact that you were arrested doesn't matter. What matters most is what you did to warrant the arrest and if it would prevent you from getting employed in that particular field.

Can an Employer Refuse to Hire Me If My Criminal Record Is Not Relevant to the Job?

No. You can still get hired even if you have a criminal record. Here's how it works.

Once an employer discovers you have a criminal record, they can't simply refuse to hire you. Instead, they'll consider whether the criminal record is relevant to your job. If it's not, then you might still have a chance of getting hired.

For instance, if you have a DUI record, you may not be able to secure a job as a truck driver. Although driving under the influence is generally considered a traffic violation, it is also a crime in all states.

Before deciding on whether to hire you, an employer will also consider factors such as:

The nature or seriousness of the crime
The time that has passed since you committed the crime
The time that has passed since you served the sentence

Can an Employer Ask About My Criminal Record During a Job Interview?

In most states, employers are not allowed to ask about your criminal record during the initial interview. This is because employers are not supposed to look at your criminal history as the main reason to or not to hire.

Before looking at your criminal history, you expect employers to check whether you are qualified for the job in terms of skills, experience, licensure, etc. Your criminal record should only come up later, usually after completing your background check.

It's also important to note that even if you have a criminal record, you can always discuss it with the employer. Although there's no guarantee that the employer will agree to hire you based on your explanation of the record, some employers might be willing to take the risk. This, however, depends on the nature of the record.

Most importantly, most states follow the 'at-will' employment legal doctrine. This legal concept gives employers the power to hire or fire you for any reason or no reason at all, just as long as they don't break the law by doing so.

Can I Sue an Employer for Failure to Conduct a Background Check?

No federal or state law requires employers to conduct background checks on job seekers. The nature of the job usually determines the need for a background check. However, since the consequences of not conducting a background check are severe, most employers require job seekers to perform a background check before getting hired.

That said, you can sue an employer for failing to conduct a background check, which is a form of negligence. However, for such a lawsuit to be valid, you must have been harmed or injured by an employee who shouldn't have been working.

An experienced personal injury attorney from Morgan and Morgan can help you understand your legal options.

Ready to get started? Contact us for a free case evaluation.
Scroll down for more
Load More