Shortened/display title
Personal Injury Lawyers in Illinois
$15 Billion+ Won

•

800+ Lawyers Nationwide

•

The Fee is FreeTM, Only Pay If We Win

•

America's Largest Injury Law Firm

•

Protecting Families Since 1988

•
Local Lawyers Who Care
At Morgan & Morgan, we provide high-quality legal representation for injury victims in Illinois and all across America. Since our founding more than 30 years ago, we've won upwards of $15 billion for people just like you.
Although we're bigger now than we once were, our firm has remained committed to what's made us successful: Treating every client like family. From start to finish, you can count on us to handle your case with the care and attention it deserves.
No matter the cause of your injury – car crash, slip and fall, motorcycle accident, or something else – the attorneys in our Alabama offices are here to help. Schedule a free, no-risk case evaluation today.
Estamos aquí en Illinois: Vivimos y trabajamos en Illinois. Nuestro sitio de web en Español, abogados.com, ayuda la población latina de Illinois. Complete una evaluación de caso gratis hoy.
Free Case Evaluation
Tell us about your situation so we can get started fighting for you. We tailor each case to meet our clients' needs.
The Fee is FreeTM Only Pay If We Win.
Submit a Free Case Evaluation
You can find out if you qualify immediately.
Get a Call From Us
Our specialists will walk you through your case and collect all the right information to win your case.
Let Us Get to Work
Our specialized attorneys will handle every step of your case from start to finish. You don't pay until we win.
Hear From Our Clients
We've helped over 300,000 families across the United States. See what they have to say.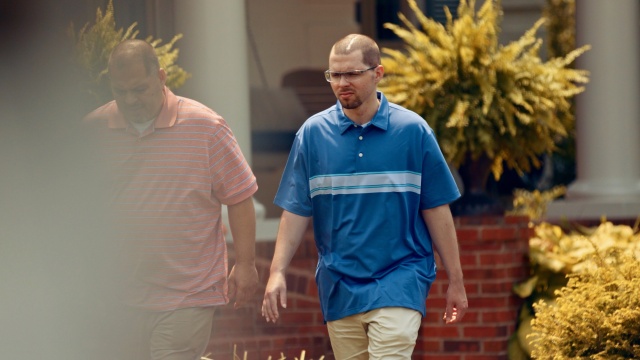 Our Personal Injury Lawyers
Have Over 55,000
5-Star
Reviews
They were caring and concerned about my case. They fought harder then I had intercepted. Communicated in many ways to make sure I understood. Thank you.
Georgia
Workers' Compensation
The staff was amazing, they treated me with the utmost respect and professionalism. Kept me informed every step of the way about my case. Always asked how I was doing and was prompt with responding to any of my questions or concerns. They are a great team!
Antonia
Premises Liability
Morgan and Morgan is truly the best law firm! PERIOD! You could consider yourself blessed when they take your case. Immediately, you can breathe. Anxiety goes from a 10 to 0! I needed them 3 TIMES! I wish I didn't have to hire an attorney but my family and I were blessed. We won every single time! Insurance companies truly know that they will take it to court! I got settlements for all 3 lawsuits. Never stepped a foot into a courtroom. Thank you so much Morgan & Morgan!
The entire Morgan & Morgan team, including my case manager Michelle Hill, have been a blessing! From the first phone call I made to them, they have been extremely compassionate, very helpful, and 100% professional. I would recommend Morgan & Morgan to anyone because THEY CARE!
Results may vary depending on your particular facts and legal circumstances.
See More
See Our Nationwide Results
We've won over $15 Billion for our clients in cases of all types. Let us work hard for you.
120,000,000
Car Accident
28,450,105
Medical Malpractice
820,000
Unpaid Overtime
91,000,000
Tobacco
3,140,804
Slip & Fall
8,800,000
Premises Liability
1,331,245
Social Security
1,800,000
Civil Rights
What Counts as a Personal Injury Case?
A serious accident can change your life in the blink of an eye. Getting badly hurt in an accident that was not your fault can feel unfair and distressing. However, if someone else is responsible, the law is generally on your side, and you could have a personal injury case.
Illinois law generally allows you to hold the responsible party to account for your accident and injuries. You could potentially recover damages such as medical bills, loss of wages, pain and anguish, and other losses.
Suffering an injury and financial losses due to no fault of your own can feel unfair and upsetting. When victims come to us, they are typically unsure of their legal rights and options, still in physical pain, and do not know what to do for the best. 
Our personal injury lawyers in Illinois can help you navigate the legal process and take the weight off your shoulders so you can focus on what matters most: your health and well-being. Contact us now for free to get the process started and determine whether you have a case.
Some Examples of Illinois Injury Cases We Handle
Morgan & Morgan has the capacity to handle all types of personal injury cases. Some of the more common cases we see in our practice include: 
Motor Vehicle Accidents
When a driver acts carelessly or deliberately breaks the law, causing damages and injuries to others, victims can potentially recover a settlement from the at-fault party's insurance company or file a personal injury lawsuit. Whether you suffered injuries as a car occupant, pedestrian, motorcyclist, or cyclist, we could help you file a personal injury lawsuit and recover the compensation you need to rebuild your life.
Slips and Falls 
Severe falls can have tragic consequences, particularly for the elderly. According to the Centers for Disease Control and Prevention (CDC), falls are the number one cause of death from injury among Americans aged 65 and over. Moreover, falls with significant injuries, such as broken bones and head injuries, can prove extremely expensive for victims and cause high medical costs, loss of income, and other losses. 
If you slipped or tripped and fell on someone else's property, whether due to a lack of maintenance or as the result of a hazardous condition, you could potentially hold the property owner to account and receive compensation. 
Medical Malpractice
According to Johns Hopkins University, medical malpractice is now one of the leading causes of death in the US. Instances of medical malpractice can include but are not limited to:
Surgical errors
Misdiagnosis or late diagnosis
Early discharge
Birth injuries
Medication errors
Medical malpractice claims can be challenging and expensive to litigate. Proving medical negligence typically relies on the testimony of expert witnesses. 
Nursing Home Abuse
Unfortunately, seniors in nursing homes can be particularly vulnerable to various types of abuse and neglect, such as:
Physical abuse
Neglect of their daily needs
Emotional and verbal abuse
Sexual abuse
Financial abuse
If your loved one suffered injuries and financial losses due to negligent or deliberate conduct by nursing home staff, visitors, or other residents, you could have a case. Seniors deserve to feel safe and receive adequate assistance in their nursing homes. If your loved one suffered needlessly in their home in Illinois, take action today and find out if you can sue the nursing home. Our experienced personal injury lawyers can advise you of your next best steps to get justice for your elderly relative. 
Boating Accidents
Boating on Illinois' lakes is a popular pastime, especially during the hot summer months. However, boating accidents can and do occur for several negligent reasons such as:
Excessive speed
Boating under the influence of alcohol or drugs
Distractions
Violating state laws
If you or a loved one got injured in a boating accident due to another's negligence, you could have a personal injury case. 
Dog Bites and Animal Attacks
If a dog attacks and bites you, the owner could be liable for your injuries and property damage under Illinois law. You could pursue compensation by filing a personal injury lawsuit.
Defective Products 
You could have a personal injury case if you got hurt due to a defective consumer product or drug. Defective product claims can involve cars, toys, prescription and over-the-counter drugs, appliances, and many other products. Those hurt by a malfunctioning or defective product could have a case against a manufacturer, distributor, seller, or another party. 
Personal injuries can arise in many different circumstances. If you are unsure whether you have a case, Morgan & Morgan can assess your accident and determine whether you could file suit. Our Illinois personal injury lawyers can advise you, take charge of your claim, and fight for what you deserve. 
Negligence in Personal Injury Cases
Victims must prove that another party was at fault for the accident and injury to have a valid personal injury claim.  Proving negligence requires showing that:
The defendant had a duty to prevent or avoid causing harm to the victim
They breached their duty
The breach directly caused the victim's accident and injury
The victim suffered damages such as medical bills and others
Evidence used to prove negligence can include photographs of the accident and losses, witness statements, police accident reports, and other types of evidence.
Compensations You Could Receive
Accidents can cause long term anguish and high costs, especially when the victim suffered a catastrophic or permanent injury. Steep medical bills, loss of income over weeks or months, and other expenses can cause significant financial hardship for the victim and their family. However, if another is responsible for your accident, you could be entitled to a range of damages, including: 
Economic Damages
Medical bills and future healthcare expenses 
Rehabilitation such as physiotherapy treatments
Over-the-counter and prescription medications
Loss of income and loss of future earning capacity
Property damage
Out-of-pocket expenses
Costs of household assistance or a home health aide
Non-Economic Damages
Depending on the facts of your case and injuries, non-economic damages may be available in addition to economic damages and can include awards for: 
Physical pain 
Emotional anguish
Reduced life quality
Loss of a limb 
Loss of a sense such as eyesight or hearing
Disfigurement and scarring 
Permanent disability
How the Illinois Statute of Limitations Can Impact Your Case
It is crucial to note that individuals in Illinois have to file their personal injury cases within a specific timeframe. Generally, victims have two years to file suit, as per 735 Illinois Compiled Statutes section 5/13-202. The two-year limit starts to run down on the date of the injury. For wrongful death cases, the time starts ticking on the date of the victim's death. 
However, the time limit to file a suit can also vary depending on the liable party in your case. If you have a case against a government body, for example, you have to file a claim within one year. Seeking legal advice as soon as possible after an accident can be essential for protecting your legal rights. A personal injury lawyer from our firm can help you understand the best timing for filing your lawsuit.
How Much Is My Personal Injury Case Worth?
We understand that victims who have astronomical medical bills and other costs after an accident are keen to find out how much they could be entitled to. However, no two personal injury cases are the same. There could be multiple factors at play that can help determine the value of your case, for example: 
Your medical bills 
Your lost income and expected future loss of income
Your long-term prognosis
Whether you can return to your job or work at all in the future
Your estimated time to recover
Whether you have permanent disabilities
Who is liable for your accident and damages
What Should I Do After an Accident?
Knowing what to do after an accident can help to protect your rights to legal recourse and compensation. Good steps to take after you got injured can include:
Take photos of the accident scene and your injuries
Visit a doctor and follow your care plan
Collect the contact details of witnesses
Contact an Illinois personal injury lawyer
Should I Negotiate with an Insurance Company?
If an insurance adjuster contacts you to offer a settlement, beware. They may seem pleasant and friendly, but adjusters are on the side of the insurance company and will most likely be looking for an opportunity to minimize or deny your settlement. An attorney can protect you from an insurance company trying to take advantage of you. If you have a personal injury attorney, protect your legal rights by letting them handle all communication and negotiation with the insurance company.
Will My Case Go to Trial?
Most personal injury cases are settled outside of the courtroom and never make it to trial. However, if you file a lawsuit, a trial is always a possibility, even if unlikely. Cases that are more likely to go to trial are those where fault for the accident is disputed or when a  large amount of damages is at stake. 
The better your case against a defendant, the more likely you will be able to recover an out-of-court settlement. However, in some cases, going to trial is the only way to get what you deserve, especially if an insurance company will not agree to a fair settlement come hell or high water. An attorney can prepare you for what to expect and present your case strongly at trial.
How Long Does a Personal Injury Case Take?
Unfortunately, it is next to impossible to know how long your case might take. An uncomplicated case can potentially be resolved in a matter of weeks, especially if the parties quickly agree on an out-of-court settlement. 
However, in other cases, personal injury litigation can continue for a year or even longer. As a rule of thumb, the more complex your case and the higher your damages, the longer you could expect your case to take. An attorney can negotiate directly with an insurance company or at-fault party to resolve your case as quickly as possible.
How Can an Attorney Help Me?
Morgan & Morgan's dedicated personal injury attorneys can fight for compensation on your behalf while you are free to heal. We can handle all legal aspects of your case, including but not limited to:  
Meeting with you to analyze and understand your case fully  
Explaining your legal rights and available options for pursuing damages
Determining the best timing for your lawsuit
Liaising with your medical providers to gather medical reports and physician statements 
Gathering evidence proving negligence of the at-fault party
Presenting your case strongly in settlement negotiations or at trial 
Our most important task will be proving that the at-fault party was responsible for causing your injuries and damages and fight vigorously for the best possible outcome of your case.
Contact Morgan & Morgan Today
It is natural to feel overwhelmed and concerned about the future after getting hurt in an accident. When you have a lot on your plate, thinking about filing a lawsuit can add to the stress. Handling a personal injury claim can be challenging and time-consuming. It also requires considerable legal knowledge. However, you do not have to go through this on your own. 
Having an experienced and tenacious Illinois personal injury lawyer from our firm in your corner can give you peace of mind and leave you free to focus on what matters most: getting your life and health back on track. Moreover, when we take your case, you don't pay a dime upfront. We work on a "no-win-no-fee" basis and don't get paid unless you win and recover compensation. 
Morgan & Morgan never settles for less. We have recovered more than $15 billion for our clients in over 30 years. If you suffered injuries in an avoidable accident, please reach out to us today. We can review your accident, determine if you have a case, and help you move forward with a lawsuit. Fill in our online form now and schedule a free and no-obligation consultation to find out more.