All Offices
Personal Injury Lawyers in Ohio
Based on 1267 reviews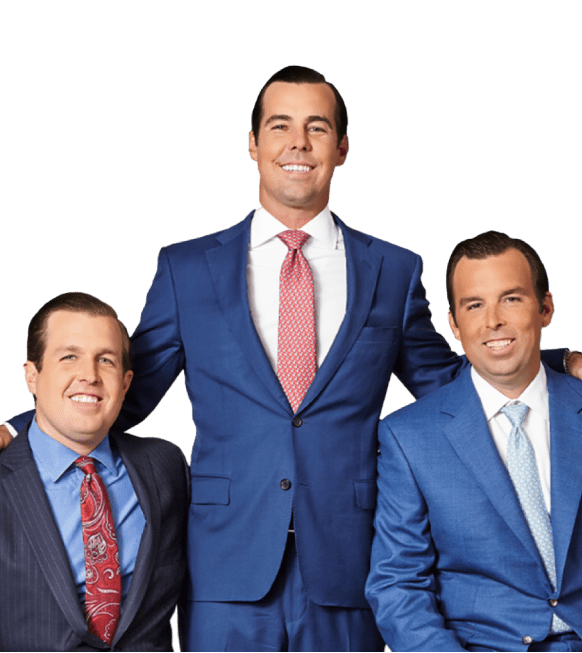 Ohio Personal Injury Lawyer
Getting injured due to another person's negligence can be traumatic, stressful, and painful. Whether it's due to an automobile accident, medical malpractice, wrongful death, defective products, or other kind of accident, this kind of injury is usually life-changing both physically, mentally, emotionally, and financially.
In addition, the recovery process usually takes time and is expensive, depending on the nature of the injury. For instance, you may have to pay huge medical bills and attend therapy sessions simultaneously, hoping to get your life back on track after the unfortunate incident. 
The whole situation can be overwhelming, which is why you need a personal injury lawyer in Ohio. A seasoned Ohio personal injury attorney will ensure you receive maximum compensation for your injuries. 
Our attorneys at Morgan & Morgan have been working tirelessly for over 30 years, helping people like you get the best possible compensation for personal injury claims. We have the legal capacity and resources to handle all kinds of personal injury claims, as discussed below.
Motor Vehicle Accidents
Typically, cases involving motor vehicle accidents are the most common when it comes to personal injury claims. Such cases usually have a lifelong impact on the victim and require long-term medical care before full recovery. 
Slip and Fall
Slip and falls, also known as trip and falls, involve cases where an individual slips and falls at another person's premises, such as a business, and suffers injuries as a result. 
Dog Attack 
Suppose a dog owner fails to control their dog (or any other pet), and it ends up biting or injuring you. In that case, you can contact a personal injury lawyer to help you receive compensation for the injuries.
Medical Malpractice
If you lose a loved one or suffer injuries due to negligence by medical personnel, we can help you get the compensation you deserve. 
Workplace Accidents
You may be entitled to compensation if you're involved in an accident at your workplace. Such accidents may include electrocution, getting struck by objects, slips and falls, overexertion, among others. 
Wrongful Death
If you've lost a loved one due to someone else's negligence, you may be entitled to compensation. For example, some wrongful death instances may involve car accidents, crashes at the workplace, or death at a nursing home. 
Defective Products
Suppose you've suffered injury from using a particular product due to the product itself being defective, a misleading user manual, or anything in between. In that case, it's time to get in touch with an experienced personal injury lawyer from Morgan & Morgan because you may be entitled to compensation.
Scroll down for more
How it works
It's easy to get started.
The Fee Is Free™. Only pay if we win.
Results may vary depending on your particular facts and legal circumstances.
Step 1

Submit
your claim

With a free case evaluation, submitting your case is easy with Morgan & Morgan.

Step 2

We take
action

Our dedicated team gets to work investigating your claim.

Step 3

We fight
for you

If we take on the case, our team fights to get you the results you deserve.
Practice Areas
Legal representation for a wide range of practice areas
We fight to get you what you deserve.
Results may vary depending on your particular facts and legal circumstances.
15 Billion +

recovered over 35 years

800+

attorneys at Morgan and Morgan

5,000

daily calls

110,000+

total verdicts and settlements
Client success
stories that inspire and drive change
Explore over 55,000 5-star reviews and 800 client testimonials to discover why people trust Morgan & Morgan.
Results may vary depending on your particular facts and legal circumstances.
---
FAQ
Get answers to commonly asked questions about our legal services and learn how we may assist you with your case.
The Benefits of Hiring A OH Personal Injury Lawyer
So why exactly do you need an Ohio personal injury lawyer if you can represent yourself in or out of court? Here's why. 
An Ohio personal injury attorney can:
Help negotiate the best compensation with insurance claims adjusters.
Gather important evidence to prove that the other party is responsible for your injury or that of your beloved one. 
Coordinate with medical staff, witnesses, and other parties to build a case against the negligent party.
Analyze the statute of limitations governing your specific claim.
Reduce the stress related to the back and forth negotiations with insurance companies or individuals regarding your claim.
Increase your chances of winning the case. 
Provide legal advice, including alternative ways to settle the lawsuit.
Represent you in court if the need arises.
What to Do if You're Injured Because of Someone Else's Negligence
The first step to take after an accident or injury of any sort caused by a reckless individual is to report the accident and injuries you've incurred to the local law enforcement authorities. This helps establish that the accident occurred. 
Next, document the accident scene if possible. You may take photos or videos of the scene and the injuries incurred to help establish how the accident occurred and identify the party responsible.
However, you should only do this if the nature of your injuries doesn't require immediate medical attention. You can skip this step if you've suffered serious injuries or if circumstances don't allow it.
Seeking medical assistance is the most important step after an injury. This is because a medical facility will confirm the injuries you suffered from the accident. Always seek medical attention even if the injuries don't seem serious, and ensure you follow the physician's advice and treatment plan. 
If you don't seek medical assistance due to injuries sustained and then file a personal injury claim, the other party can dispute this by arguing that your injuries were not as serious as you claim. 
Lastly, contact a reputable personal injury law firm like Morgan & Morgan to file a personal injury claim. Our attorneys will discuss the legal options available and advise you on what action to take against the other party. 
It's also important to contact us as soon as possible—otherwise, you may be barred from claiming your injury because of Ohio's applicable statute of limitations.  
In Ohio, you're required to file a personal injury claim within two years of the date that the injury occurred. However, this does not apply to injuries caused by a defective medical device or hazardous chemicals. 
Suppose the statute of limitation expires before you file a personal injury claim. In that case, the court can decide to dismiss your claim permanently, meaning you can't seek compensation from the negligent party even if they're guilty.
How to Prove Negligence in a Personal Injury Claim
In any personal injury claim, the victim or injured party must prove that the other party is responsible. Here are some of the elements that need to be established in a personal injury case:
Duty
If you're the injured person, you'll need to prove that the other party was careless and, as a result, their conduct resulted in your injury. 
Breach
Also, if you're the injured person, you'll need to prove that the wrongdoer breached their responsibility towards you through their actions. 
Damages
If you suffered an injury due to another party's negligence, you'd need to prove to the court or negligent party that you deserve compensation for the damages caused. The damages may include:
Lost income.
Poor quality of life due to the accident.
Medical expenses.
Emotional and psychological pain or anything in between. 
Causation
You'll also need to prove the injuries inflicted upon you due to the other party's negligent actions. But, most importantly, there should be no other intervening cause of the injuries other than the negligent actions of another party.
What Does the Compensation From a Personal Injury Settlement Cover?
Personal injury claims are primarily filed to seek compensation for the injuries suffered by the victim. The whole point of compensation is to ensure that the victim or injured person doesn't bear the financial burden deriving from the injury caused by the negligent party.
Compensation can either be tied to the costs incurred in the aftermath of an injury (economic compensation) or non-economic, depending on the circumstances of the accident.
Additionally, compensation for damages you've incurred because of someone else's actions or omissions can cover the following:
Medical Expenses
If involved in a personal injury accident requiring medical care, a Morgan & Morgan personal injury lawyer can assess the costs and request the responsible party to cover such expenses. Such expenses may include past, current, and future medical expenses such as hospital bills, medication costs, personal care assistance, and so on. 
Lost Income
You're entitled to compensation if your injuries made it difficult or impossible for you to get back to work, resulting in lost wages. For example, you are entitled to compensation for the days spent in hospital and had to take time off from work. 
Pain and Suffering
This type of compensation is awarded based on the pain and suffering you endured due to the injury. Therefore, the longer the duration of recovery, the higher the compensation. 
For this reason, your Ohio injury lawyer should gather sufficient evidence before claiming this type of compensation. Even so, there are still cases where the jury awards the injured party compensation for pain and suffering based on subjective factors such as the credibility of the injured party's testimony. 
Wrongful Death
A wrongful death lawsuit is usually filed by survivors or families of a person or persons killed in an accident due to another party's misconduct. Therefore, the jury can award this type of compensation to the survivors or families to help them cope with the loss of a loved one.
This type of compensation can also help ease the financial burden left behind by the deceased, such as lost income, bills, and funeral expenses. 
Property Damage
You're entitled to compensation if the party responsible for your injuries also damaged your property. 
However, the court may decide not to compensate you for any loss but award you punitive damages. Punitive damages are awarded to punish the negligent party for their wrongful conduct and to serve as a warning to others. 
How Much Does Morgan & Morgan Charge?
We represent our clients on a contingency basis, meaning you won't pay anything until you win the case. If the verdict goes against you, we'll cover the costs and attorney time, and you won't have to pay us a dime.
What Are Compensatory Damages?
This is the amount of money you're entitled to if you or your loved one has been injured because of someone else's actions.
Can Morgan & Morgan Lawyers Determine How Much a Case Is Worth Before It Begins?
Our lawyers can estimate the value of a case based on factors such as the nature of the injury, medical treatment, circumstances of the accident, insurance coverage, among other factors. But, unfortunately, there's no set formula to determine the cost of injuries; hence, the value of personal injury cases tends to fluctuate from one case to another.
Hire a Top Personal Injury Lawyer in Ohio
At Morgan & Morgan, we help personal injury victims receive the compensation they deserve. 
When you work with us, we'll thoroughly investigate the nature of your injuries and gather sufficient evidence to prove the other party guilty. Then, after establishing the negligent party's legal liability, the next step is to ensure you're fully compensated.
We can do this by aggressively negotiating with insurance representatives or defense lawyers to receive fair and total compensation. If such negotiations don't work, our experienced attorneys will take the case to court.
Morgan & Morgan is America's largest injury law firm with over 900 qualified attorneys ready to fight for your rights and compensation.
We've been fighting for the rights of personal injury victims in Ohio for over 30 years, and it'll be a pleasure adding you to our list of happy clients. 
They say numbers don't lie - we have one of the highest success rates in the industry, having secured over $ 15 billion as compensation for our clients. To put this into perspective, in 2013, we helped secure $47.5 million for one of our clients as compensation following a car accident. 
In total, we've secured over $120 million as compensation for car accident claims, $38 million for medical malpractice, and over $1.2 billion for class action lawsuits. 
So if you're looking for a reliable and seasoned personal injury lawyer in Ohio to fight for your rights in or out of court, Morgan & Morgan injury law firm is one phone call away.
Scroll down for more
Load More