All Offices
Personal Injury Lawyers in Connecticut
Based on 1267 reviews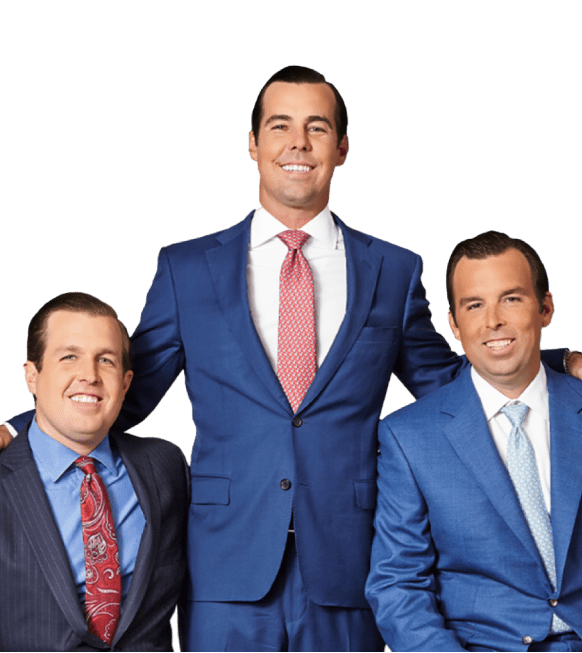 Connecticut Personal Injury Lawyer
At Morgan & Morgan, we provide high-quality legal representation for injury victims in Connecticut and all across America. Since our founding more than 30 years ago, we've won upwards of $15 billion for people just like you.
Although we're bigger now than we once were, our firm has remained committed to what's made us successful: Treating every client like family. From start to finish, you can count on us to handle your case with the care and attention it deserves.
No matter the cause of your injury – car crash, slip and fall, motorcycle accident, or something else – the attorneys in our Connecticut offices are here to help. Schedule a free, no-risk case evaluation today.
Estamos aquí en Connecticut: Vivimos y trabajamos en Connecticut. Nuestro sitio de web en Español, abogados.com, ayuda la población latina de Connecticut. Complete una evaluación de caso gratis hoy.
Severe accidents are already traumatic enough for many families, but it's even more devastating when coupled with negligence. Understanding why someone would be reckless and cause others harm is difficult, but getting compensation for your damages and injuries is equally challenging. 
Knowing what rights you and your loved ones have under state law is no easy task without the proper guidance. If an insurer or liable party is already pressuring you to settle, you might also be struggling to determine if the offer is fair. Any choices you make during the moments during and after getting hurt can have unintended consequences that haunt you for the long term. This is why it's crucial you speak with a personal injury lawyer in Connecticut as soon as possible. 
With a skilled attorney by your side, your needs will be made the top priority in your case, not the insurer's bottom line. But, finding a legal professional that best suits your circumstances can be a job in itself. Read on for tips and advice when choosing a personal injury lawyer to represent your case in Connecticut.
How to Begin Your Search for a Personal Injury Lawyer in Connecticut
One of the most common search terms used to find an attorney after suffering an accident is "accident attorney near me" or "personal injury lawyer in Connecticut." Unfortunately, this will overload your search results with legal professionals from every practice area you can imagine. You need representation specific to your situation. If a drunk driver t-boned you, you want a car accident lawyer. If a chainsaw you were using had a defective part that led to you being disfigured, you want a product liability lawyer. 
All of these attorneys fall under the umbrella of personal injury, though, but you want someone familiar with your specific type of injury and accident situation. So, how do you determine if a lawyer is a good fit for your case?
Below are some tips to consider when searching for a qualified personal injury lawyer in Connecticut:
Find a Personal Injury Lawyer That is Eager to Represent Your Case 
Just because an attorney says yes to taking your case doesn't mean they want to. Just like doctors, legal professionals tend to practice in just a few areas of law. They may know everything about car accident cases, but they may not handle your case with as much care if they prefer product liability or medical malpractice claims. This could lead to an inadequate compensation award later and possibly mistakes being made when presenting your evidence. 
Another reason a personal injury lawyer in Connecticut might be hesitant to represent you is they don't feel your case is worth the effort because the payout isn't big enough for their needs. Regardless of the reason why, if a prospective attorney isn't eager to take on your cause, you should go elsewhere. The worst mistake you can make is settling for anyone willing to handle your legal matter. 
Even though you need to be aware of filing deadlines for your claim or lawsuit, you should be able to take time and do your research before hiring an attorney. Hiring the right counsel will ensure that your client experience is satisfactory, your case is appropriately handled, and the compensation you receive is maximized.
Reach Out to Your Previous Attorneys
One of the fastest ways to get your claim moving is to reach out to previous attorneys you've worked with. Even if they aren't specifically personal injury attorneys, they have an extensive network of colleagues and can refer you to the right professional. If they did handle a previous injury case for you, even better! They are likely already familiar with your family and work situation. This means they can genuinely understand the seriousness of your condition after being hurt by a negligent party. 
Ask Your Friends and Family for Referrals
Another way to be sure you are finding quality personal injury attorneys in Connecticut to add to your shortlist is through referrals from friends, family, and acquaintances. Many of the people we know have been in similar situations and can provide invaluable insight from their own experiences. This includes referring you to the legal professionals they relied on to help them recover their damages. 
You can learn a lot from firsthand information about how a personal injury lawyer treats someone you know and get an idea about the cost of service. Of course, this shouldn't be the only information you rely on when finding an attorney for your case, but it's a great and reliable start! 
Review Attorney Websites and Legal Review Sites
Everything has been put on the internet, including client reviews of personal injury attorneys in Connecticut. Sites like Avvo and FindLaw are just two of many online platforms that provide consumers with information about lawyers in their area. Some of the information you can find includes: 
When the attorney was licensed

What jurisdictions they can practice in

Types of cases they represent

Rating by previous clients

Any disciplinary actions taken against the attorney or firm
You should also check out the law firm's website directly. They may provide fee information as well as any additional services they offer to make them more accessible. For example, some practices will provide home and hospital visits to immobile clients because of their injuries.
Plan on Going to Consultations 
Finally, make sure to schedule a consultation with personal injury lawyers you're seriously interested in hiring. For cases involving negligence, the initial meeting is usually complimentary. However, it would be best if you took advantage of this time to "interview" your future attorney thoroughly. If you can't get direct answers regarding costs, availability, or their record with cases like yours, you should probably consider another practice for your case.
Morgan & Morgan understands how the attorney you choose can impact your overall well-being now and in the future. Our personal injury lawyers in Connecticut take your best interests to heart and won't settle for less than your case is worth. With over three decades of experience in this area of law, we have helped recover over $15 billion in verdicts and settlements. So if you or a loved one are struggling to make an insurer or liable party pay for their negligence, contact us right away to schedule a free consultation.
Additional Things to Consider When Searching for a Connecticut Personal Injury Lawyer
You probably have a long list of potential attorneys and have no idea how to narrow it down to just a single choice. However, there are a few questions you can ask during your consultation that can help you differentiate between a quality personal injury attorney and one that just wants to make a quick settlement: 
Is the attorney you spoke with going to represent your case or pass it off to someone else? 
How many cases have they successfully represented that are similar to your own? 
Have they defended personal injury cases in the past? Were they successful?
How many years have they practiced this area of law in Connecticut? 
What challenges do they see in your personal injury case?
Finding an attorney with significant personal injury practice experience can be a challenge if they are part of a boutique law firm or dabble in many areas of law. You want someone that primarily represents your case type because they know all the challenges and strategies necessary to beat the insurers at their games. Even more important is you need results, and they should be eager to share their successes with you. 
Another area to cover is how they expect to get paid. This could make or break your decision to hire. Most personal injury lawyers in Connecticut use contingency fees to handle the expense of their services. Meaning that unless you win your case, they don't get paid. Contingency fees are a huge motivator for these attorneys to maximize their compensation awards. Why? Because you both agree to a predetermined percentage of your damages as payment before working on your case. So, the more they win, the more money you get, as do they. 
With that said, if their proposed percentage seems unreasonable and they won't negotiate a lower amount, you may opt to go elsewhere with more favorable terms. Additionally, you should also find out if they will charge you other fees and expenses on top of their cut, which could include:
Filing fees
Postage
Phone calls
Travel time
Costs for expert witnesses
Documentation request fees
These are sometimes expected as a separate payment from your settlement on top of the amount already being received. Discuss this before signing any contracts if you want these costs included in their portion of your compensation. 
While smaller law firms are nice because you are almost guaranteed personalized treatment, don't assume the type of service you'll get on the size of a practice. No one wants their claim lost in the hustle and bustle of a busy firm's schedule. On the other hand, larger firms like Morgan & Morgan not only have the manpower and resources for cases of any size, but we treat all of our clients like family. This sets our personal injury lawyers in Connecticut apart from other legal networks and organizations. We make your well-being our top priority and never leave you in the dark about your case's progress. 
Scroll down for more
How it works
It's easy to get started.
The Fee Is Free™. Only pay if we win.
Results may vary depending on your particular facts and legal circumstances.
Step 1

Submit
your claim

With a free case evaluation, submitting your case is easy with Morgan & Morgan.

Step 2

We take
action

Our dedicated team gets to work investigating your claim.

Step 3

We fight
for you

If we take on the case, our team fights to get you the results you deserve.
Practice Areas
Legal representation for a wide range of practice areas
We fight to get you what you deserve.
Results may vary depending on your particular facts and legal circumstances.
15 Billion +

recovered over 35 years

800+

attorneys at Morgan and Morgan

5,000

daily calls

110,000+

total verdicts and settlements
Client success
stories that inspire and drive change
Explore over 55,000 5-star reviews and 800 client testimonials to discover why people trust Morgan & Morgan.
Results may vary depending on your particular facts and legal circumstances.
---
FAQ
Get answers to commonly asked questions about our legal services and learn how we may assist you with your case.
How much is my personal injury case worth?
This is a question we frequently receive and never have an accurate answer for. Numerous elements will impact the value of your personal injury claim, including: Severity of your injuries Doctor's prognosis of your recovery Amount of damages suffered If you are partially liable or not Even the jury's opinion of you! What we can tell you for sure is that even after our fees, you will still recover significantly more than if you had handled your claim alone.
How much do Morgan & Morgan personal injury lawyers in Connecticut charge for their services?
Morgan & Morgan operates on a contingency fee basis. This is a benefit to you because we won't get paid until you win your case. This fee is a previously agreed-upon percentage of a settlement or verdict we obtain for you.
Can you take my personal injury case to trial if necessary?
Absolutely! Morgan & Morgan only wants the best possible outcome for your personal injury case. We will take your claim to court if we are dealing with an uncooperative insurer or believe that a jury would award you significantly more compensation than a settlement. With over $15 billion in verdicts and settlements won, you can trust that we know what it takes to position your case as favorably as possible in the courtroom.
Rely on Top Accident Attorneys in Connecticut
When a negligent person or business causes harm to those, they owe a duty of care. Morgan & Morgan is here to bring you justice and compensation for the damages they cause. This means that we ensure any settlement offer you receive or lawsuit we file will address the full scope of harm you suffered by their egregious actions. 
If you or someone you care about is struggling to get needed compensation, trust our legal team to recover it on their behalf. We frequently help our Connecticut clients obtain the following damages in their personal injury claims:
Lost income, including lost earning capacity
Medical bills and transportation costs
Disfigurement
Loss of enjoyment
Pain and suffering
Mental anguish
Burial costs
Wrongful death
Our personal injury lawyers in Connecticut genuinely understand that your world has been turned upside down since being hurt. Trust us to fight for your right to compensation and get justice for the trauma you've endured. With one of our skilled attorneys working on your behalf, we can maximize any awards you receive and ensure that the insurance companies stop trying to take advantage of your stressful situation. 
Please fill out our brief contact form to find out more about our free consultation offer.  
Scroll down for more
Load More