The Fee Is Free™. Only pay if we win.
America's Largest Injury Law Firm
Protecting Families Since 1988
$15 Billion+ Won
800+ Lawyers Nationwide
Free Case Evaluation
Tell us about your situation so we can get started fighting for you. We tailor each case to meet our clients' needs.
Results may vary depending on your particular facts and legal circumstances.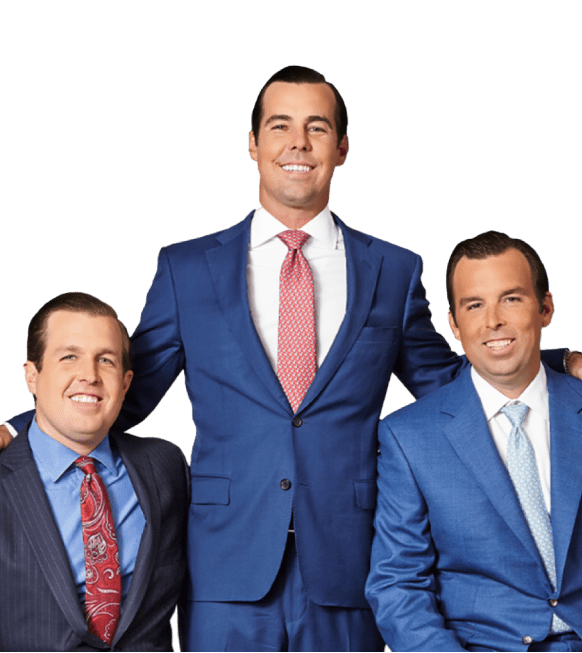 The attorneys featured above are licensed in Florida. For a full list of attorneys in your state please visit our attorney page.
Ohio Cerebral Palsy Lawyer
There are few personal injuries that are more devastating to parents than birth injuries. During the nine months of gestation, parents plan and look toward a bright future with their new child. To have their hopes and dreams dashed in an instant because of the negligence of a medical professional is emotionally traumatic. The fallout is a lifetime of limitations, medical expenses, and opportunities lost. 
When your child suffers a birth injury such as cerebral palsy, an Ohio cerebral palsy lawyer at Morgan and Morgan Law Firm can offer tremendous help. We understand the importance of protecting your legal rights and working to make sure you get compensated for the negligent actions of a medical professional. While you are coming to terms with your child's injury, we will work to make sure vital evidence is secured, witness testimony is collected, and court deadlines are met.
From a legal perspective, there are two types of claims when a birth injury occurs. The first is on behalf of the injured infant for medical malpractice against the practitioner who harmed them. The second is on behalf of the parents for the loss of affection, love, and care from their new child. When a birth injury happens, it's critical to get legal help as soon as possible, even if the extent of the injuries is not yet known. 
Scroll down for more
Recent verdicts & settlements
Results may vary depending on your particular facts and legal circumstances.
Scroll down for more
Results may vary depending on your particular facts and legal circumstances.
How it works
It's easy to get started.
The Fee Is Free™. Only pay if we win.
Results may vary depending on your particular facts and legal circumstances.
Step 1

Submit
your claim

With a free case evaluation, submitting your case is easy with Morgan & Morgan.

Step 2

We take
action

Our dedicated team gets to work investigating your claim.

Step 3

We fight
for you

If we take on the case, our team fights to get you the results you deserve.
---
Client success
stories that inspire and drive change
Explore over 122,576 5-star reviews and 800 client testimonials to discover why people trust Morgan & Morgan.
Results may vary depending on your particular facts and legal circumstances. Based on Select nationwide reviews
FAQ
Get answers to commonly asked questions about our legal services and learn how we may assist you with your case.
Morgan & Morgan
What Is the Main Cause of Cerebral Palsy?

Typically, cerebral palsy is caused by some problem that affects the baby's brain while it is growing in the mother's womb. It can be developmental brain malformation or neurological damage. Common causes are as follows:

An injury to the unborn baby's head
A stroke where the blood supply to a baby's brain is cut off or where there is bleeding in the baby's brain
An infection the mother caught, such as chickenpox or rubella

Problems that occur during or after birth can include:

A stroke
Brain infections such as meningitis
Head injuries
A near-drowning or choking that results in cutting off the brain's oxygen supply
The brain not getting enough oxygen during a problematic birth

There are some things that can cause an increased risk of a baby being born with cerebral palsy, which include:

Premature birth, mainly if the baby is born at 32 weeks or earlier
Low birthweight
The baby is part of multiple births, such as twins

How Can a Medical Professional Be Responsible for Causing My Child's Cerebral Palsy?

When a medical professional is negligent in their duty of care toward their pregnant patient, they can be responsible for a birth injury such as cerebral palsy. Damage to a developing brain can affect important motor areas which control the baby's muscles and body movements. Here are some medical mistakes that may contribute to cerebral palsy:

A traumatic injury during a difficult labor and delivery - The birthing process can be traumatic for a baby, leading to cerebral palsy. If a patient has difficulty bearing her child, an obstetrician may need to use a vacuum extractor or forceps to pull the baby's head out of the birth canal. If the obstetrician makes an error by improperly using these instruments or using excessive force, it may cause damage to the baby's brain. Likewise, if a baby is born breech, it may be deprived of oxygen long enough to cause a brain injury. 

Jaundice in the newborn - A baby with a high bilirubin level in the blood will result in jaundice. Bilirubin is a yellow pigment created as a normal process of the body to get rid of old red blood cells by breaking them down in the liver. While in the mother's body, the mother's liver does this job. After birth, the baby's liver takes over. However, very high levels of bilirubin can damage a baby's brain. If jaundice isn't diagnosed and treated appropriately by a medical professional after the baby's birth, it can lead to cerebral palsy. Any baby showing signs of jaundice should have their bilirubin levels taken immediately with a blood test. When the baby is 24 hours of age and doesn't appear to have jaundice, a medical professional should still test bilirubin levels.

Prior to birth, a medical professional should check for Rh incompatibility. Rh incompatibility is a blood condition that causes the mother's body to produce antibodies that destroy the baby's own blood cells. If this necessary test isn't performed, the baby may develop a severe form of jaundice and, if left untreated, may cause cerebral palsy. 

Failing to provide proper prenatal care - If a pregnant woman doesn't get the proper prenatal care, abnormalities that should have been detected and treated could cause damage to the fetus.

Prescribing medications that have adverse effects - A medical mistake could cause a child's cerebral palsy if the medication reduces the oxygen flow and nutrients to a baby's developing brain.

Failing to react to a uterine rupture - A doctor may not be wholly responsible for a uterine rupture since there are many factors out of their control, such as congenital uterine abnormalities. However, suppose the doctor failed to warn a mother who had previously had a Cesarean section of the risk and the uterine ruptures. In that case, the baby could suffer brain damage from asphyxia due to bleeding. Additionally, if a doctor fails to monitor the mother during labor and misses vital signs indicating a uterine rupture, this may be considered negligent. 

Failing to react to a baby's abnormal heart rate - When a baby's heart rate is abnormal, this may indicate that the baby's brain isn't receiving enough blood. A doctor's duty of care is to monitor vital signs during delivery that would show the baby is in distress.

Failing to react to an umbilical cord complication - If there is an umbilical cord complication during pregnancy or labor, a doctor will need to address the issue right away because the baby's oxygen supply may be in danger. A doctor may need to move the baby or perform an emergency Cesarean section.

Failing to diagnose and treat an expectant mother's infection - Some infections have been linked to cerebral palsy such as chickenpox and the West Nile virus, but any infection that causes a fever can cause the mother's body to produce proteins called cytokines. These proteins can cause the baby's brain to become inflamed and result in cerebral palsy.

Failing to treat preeclampsia - Preeclampsia can cause a birth injury such as cerebral palsy if left untreated or improperly treated. It's crucial for medical professionals to recognize the signs of preeclampsia so they can closely monitor the pregnancy and take steps to protect the mother and child. Failure to do so can result in severe injury to the baby. 

Failing to recognize an intracranial hemorrhage - Babies born with bleeding between the brain and the skull or bleeding within the brain are susceptible to brain damage. Premature babies are at high risk, so a mother in danger of premature birth should be given medication to assist the baby. When a baby is born prematurely, medical professionals should do CT scans to check for bleeding. Failure to perform tests or recognize the symptoms of intracranial hemorrhaging could be signs of negligence. 

Failure to properly resuscitate a newborn - Premature babies are most at risk for requiring resuscitation at birth because the process of the lungs getting prepared for independent breathing is interrupted. Doctors should recognize risk factors and prepare to intervene at the first sign of newborn distress. Quick intervention is crucial to prevent harm to a newborn.

What Are the Symptoms of Cerebral Palsy?

Some children with cerebral palsy won't exhibit symptoms for months or even years, making it difficult to ascertain whether a medical professional was responsible for the birth injury. Cerebral palsy's main symptoms are movement, development, and coordination issues. Possible indications may include the baby not reaching developmental milestones like being able to sit up or stand by 18 months. Other indicators include weak arms or legs, uncontrolled movements, hand tremors, muscle spasms, hypotonia, and walking on tiptoes. 

It may be that one side of the body or the whole body will be affected. Other symptoms can include:

Difficulty swallowing, feeding and drooling
Issues with speaking and communicating
Seizures or fits
Constipation
Hearing loss
Eye problems such as reduced vision, uncontrolled eye movements, or a squint
Problems falling asleep or staying asleep
Hips that dislocate easily
Learning disabilities
Scoliosis
Urinary incontinence
Gastro-oesophageal reflux disease

How Can I Sue for Medical Malpractice in Ohio?

Only a rigorous review of medical records can uncover evidence that a doctor or delivery team was the likely cause of your child's birth injury. Our Ohio cerebral palsy lawyers can conduct this review. Medical malpractice that causes birth injuries is a highly complex area of the law. You need the help of someone who understands Ohio law and the intricacies of a medical malpractice lawsuit. 

Ohio's medical malpractice statute of limitations is complicated on its own, and the fact that cerebral palsy may not become evident for some years after birth adds another layer of complexity. Generally, you have to file a lawsuit within one year after the injury occurred. However, Ohio courts have held that this one-year deadline begins when the injury is discovered or should have reasonably been discovered or when the doctor-patient relationship has ended. The maximum amount of time you have is four years, regardless. For this reason, it's critical to contact our lawyers at Morgan and Morgan as soon as you suspect your child's cerebral palsy was caused by medical negligence. 

Ohio also has an "Affidavit of Merit" requirement for all medical malpractice claims. This means that you will need to have a medical expert witness who will testify under oath that they:

Reviewed all of the plaintiff's medical records
Have knowledge of the medical standard of care that applies to the plaintiff's treatment
Believe the medical standard of care was not met
Believe the plaintiff was injured because the medical standard of care was not met

Without an Affidavit of Merit, a medical malpractice claim will likely be dismissed. Fortunately, Morgan and Morgan Law Firm has an extensive network of expert medical witnesses that may be able to help your claim. 

What Is the Cap on Medical Malpractice Damages in Ohio?

As with many states, there are caps on the amount of compensation that can be recovered in a medical malpractice lawsuit. To understand how these caps work, you have to understand there are two categories of damages. These are economical and non-economic damages. Economic damages are medical expenses, lost income, and other financial losses that stem from medical malpractice. Noneconomic damages are compensation for pain and suffering, loss of enjoyment of life, mental anguish, and distress.

Fortunately, Ohio only puts a cap on noneconomic damages. Noneconomic damages cannot exceed the greater of $250,000 or three times the plaintiff's economic damages. The overall maximum cannot exceed $350,000 except in cases where medical malpractice causes specific permanent or catastrophic injuries, in which case the maximum is $1 million. 

Contact Morgan and Morgan for a Birth Injury

If you believe medical malpractice is at the root of your child's cerebral palsy, we believe we can help. When expectant mothers don't receive the proper care needed during pregnancy or delivery, negligent medical professionals should be held accountable. Don't hesitate to get in touch with us today for a free case evaluation. We understand that nothing can be done to reverse the damage. However, with a successful case, you may have the financial means to provide your child with the best future possible. 
Scroll down for more
Load More