Types of Workers' Compensation Policies
Types of Workers' Compensation Policies
The Fee Is Free™. Only pay if we win.
America's Largest Injury Law Firm
Protecting Families Since 1988
$15 Billion+ Won
800+ Lawyers Nationwide
Free Case Evaluation
Tell us about your situation so we can get started fighting for you. We tailor each case to meet our clients' needs.
Results may vary depending on your particular facts and legal circumstances.
Porter Ranch Gas Leak
After SoCalGas's negligent oversight led to a leak of 5.7 billion cubic feet of gas in 2015, Morgan & Morgan recovered $1.8 billion for the 30,000 affected residents of Porter Ranch.
Jacob T. Rodgers v. City of Gainesville D/B/A Gainesville Regional Utilities
Summary 
In one of the first personal injury trials since the end of the Pandemic, Morgan & Morgan recovered $120 million for a client that was paralyzed by a city utility vehicle.
Estate of Frank Townsend v. RJ Reynolds, et al.
Summary 
After a family lost someone to lung cancer, our compassionate attorneys took their case and recovered $91 million in the fight against Big Tobacco.
Morgan Stanley Data Security Litigation
Summary 
Morgan & Morgan reached a $60 million class action settlement on behalf of those who had their data compromised by behemoth, Morgan Stanley.
Stephen Davis v. Levon Clark, Ricardo Williams, Marty Grifka and Derek Pak
McAdams v. Monier Lifetile, LLC
Case Summary
Morgan & Morgan's attorneys reached a $44 million settlement in a class-action lawsuit against Monier, an organization that made false claims about their faulty roofing tile products.
Coleman v. Martinez
Case Summary
After a delayed C-section caused a newborn to suffer a brain injury during childbirth, Morgan & Morgan recovered $38 million for the affected family.
Gold v. Lumber Liquidators
Case Summary 
Our team represented clients who sought to recover damages from Lumbar Liquidators after the company provided faulty flooring materials, resulting in a $28 million settlement on their behalf.
Clemmons v. ECORE et. al, Philadelphia County
Case Summary
Our team secured a $26,202,500 verdict—an enormous victory and a strong message to trucking companies who fail to take the proper precautions when maneuvering dangerous vehicles on our roads.
Brink v. Ruiz
After a long fight for justice, Morgan & Morgan finally obtained a successful, confidential settlement for Dustin Brink with the Defendants' insurance company.
Results may vary depending on your particular facts and legal circumstances.
Jacob T. Rodgers v. City of Gainesville D/B/A Gainesville Regional Utilities
Estate of Frank Townsend v. RJ Reynolds, et al.
Morgan Stanley Data Security Litigation
Stephen Davis v. Levon Clark, Ricardo Williams, Marty Grifka and Derek Pak
McAdams v. Monier Lifetile, LLC
Gold v. Lumber Liquidators
Clemmons v. ECORE et. al, Philadelphia County
Results may vary depending on your particular facts and legal circumstances.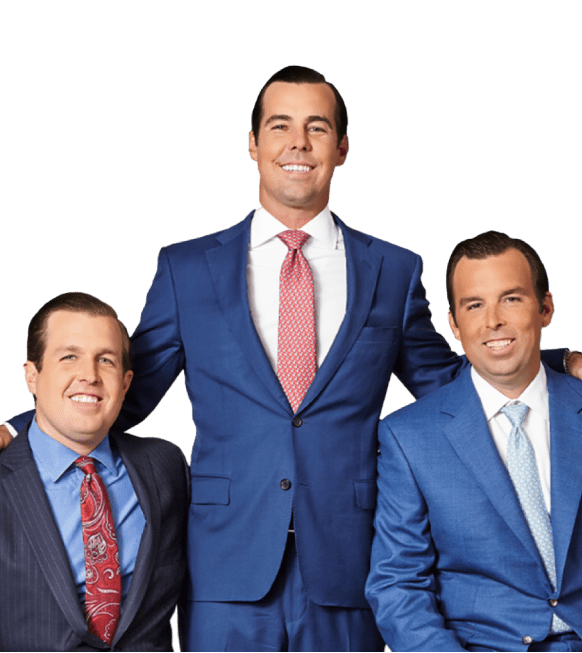 Types of Workers' Compensation Policies
Workers' compensation is commonly known as workers' comp, which are government-mandated programs that are put in place to provide a safety net should a worker become injured or develop an illness during the course of their work duties, and there numerous types of workers' compensation policies. Essentially, workers' comp is an insurance program that provides benefits like medical care, wage replacement, and at times, vocational retraining for workers who become ill or sustain an injury as a direct result of work.
 
For the most part, states are in charge of workers' compensation programs unless the federal government employs the worker. Even so, some federal and state laws overlap. Texas is the only state that does not require employers to carry workers' comp insurance. However, if an employer opts out of the program, they can be held liable for damages in a personal injury lawsuit.
 
Workers' comp benefits should not be confused with unemployment or disability benefits as those are separate programs. Workers that run into issues getting the benefits they deserve after a workplace incident might need the guidance of a workers' compensation lawyer. Morgan and Morgan have been powerful advocates for workers in the United States for more than 30 years and are tireless advocates for people who have been injured.
 
To best ensure you get the compensation that you need and deserve, reach out to Morgan and Morgan today for a free, no-obligation case evaluation.
Understanding Workers' Compensation Insurance
Workers' compensation insurance is essential to any employer's benefits package. It's also a legal requirement for most and covers all kinds of employees, with a few exceptions. By carrying workers' compensation insurance, employers are protected from having to pay injured workers out of pocket for medical bills and lost wages.  
 
In exchange for these benefits, workers give up their right to sue an employer for work-related injuries, including damages for pain and suffering and emotional losses. While this may not seem fair at face value, workers' compensation is a no-fault system.
 
In a no-fault system, workers don't have to worry if they were partially or even totally responsible for their accident because they had a momentary lapse of judgment or weren't paying attention. That is with some exceptions. For example, if a worker purposefully injures themselves or is under the influence of drugs, they would be prohibited from collecting workers' comp benefits. Conversely, if an employer deliberately caused an injury to a worker or was grossly negligent, they may be held liable for damages that result through a lawsuit.
 
Prior to states adopting these kinds of policies, a worker could take their employer to court but had an uphill battle because they had to prove the employer's negligence was the cause of the injury. Employers could put up a variety of defenses that were hard to overcome. These common defenses were known as the "unholy trinity of defenses" and included the following:
 
Contributory negligence - If an injured worker were in any way responsible for their accident, the doctrine of contributory negligence absolved the employer from any liability. It did not matter how hazardous the conditions were or whether safety protocols were nonexistent. Any fault that could be attributed to the injured worker was grounds to deny them compensation.  
 
The "fellow servant" rule -  This defense erased an employer's liability if a coworker had anything to do with another employee's injury.
 
The assumption of risk - This doctrine could negate almost any instance of injury on the job because employees understood that it was possible to get injured through their work. While employers were responsible for upholding the safety standards of the day, they were significantly lacking in modern terms.
 
Fortunately for almost all present-day workers, the dark days are over, and you have a good chance of eligibility to collect wage benefits and have your medical treatment paid for by your employer should you sustain an injury on-the-job.
Scroll down for more
How it works
It's easy to get started.
The Fee Is Free™. Only pay if we win.
Results may vary depending on your particular facts and legal circumstances.
Step 1

Submit
your claim

With a free case evaluation, submitting your case is easy with Morgan & Morgan.

Step 2

We take
action

Our dedicated team gets to work investigating your claim.

Step 3

We fight
for you

If we take on the case, our team fights to get you the results you deserve.
Client success
stories that inspire and drive change
Explore over 55,000 5-star reviews and 800 client testimonials to discover why people trust Morgan & Morgan.
Results may vary depending on your particular facts and legal circumstances.
FAQ
Get answers to commonly asked questions about our legal services and learn how we may assist you with your case.
Morgan & Morgan
What Are the Four Types of Benefits Provided by Most States Under Workers' Compensation Laws?

Most insurance companies and state fund workers' comp plans offer the same benefits to all policyholders. However, there may be some variations depending on the state where you reside. Here are examples of the standard benefits available:
 
Medical treatment - Injured workers can file a claim for medical care benefits that can help them pay for the following:

Doctor's appointments
Emergency room or hospital visits
Ambulance fees
Necessary surgery
Medications
Therapy and rehabilitation
Medical devices that assist in recovery

You may need ongoing care depending on the extent of your injuries, which should be covered. Still, there are some exclusions, so be careful to understand what is covered before seeking care using the following alternative options:

Acupuncture
Homeopathic medicine
Naturopathic treatment

Although the following treatments can hardly be considered "alternative," you may need the help of a workers' compensation lawyer if you're denied coverage for anything below:

Surgery
Extensive testing
Pain management
Psychiatric care
Home modifications to accommodate your disability
Specialized medical devices beyond standard models
Experimental treatments

It's important to note that some states may require you to use approved medical care providers. These policies are dictated by your employer's insurance provider and state laws. If you have any questions regarding which doctors and treatments are covered by workers' compensation benefits, be sure to speak to your employer.
 
Disability - Serious injuries may result in some form of disability which generally falls into the following categories:

Temporary total disability means you're unable to work for a period of time while you recover, but you will recover and be able to return to work without limitation.
Temporary partial disability means you're able to continue working but at a diminished capacity while you recover. For example, if you sprain your back after a slip and fall, you might be ordered to work half days until you recover fully.
Permanent total disability means your injury is severe enough that you will never be able to return to your former job duties.
Permanent partial disability means you'll be able to return to work but never work in the same capacity as you did prior to your injury.

Rehabilitation - Workers' comp benefits should cover your ongoing care, including physical therapy and vocational rehabilitation to help you learn new skills that can accommodate your injury. Vocational rehabilitation can pay for your training in a new role and cover any fees for certifications.
You'll also get an analysis to understand what sorts of skills you currently have that could be transferred to a different type of job. This kind of training is typically covered for up to two years. Meanwhile, you can still collect wage replacement benefits and continue ongoing health care that is necessary.
 
Death and funeral services - If you've lost a loved one due to a workplace accident or illness, as a beneficiary, you're entitled to collect payments to cover the cost of their final expenses and receive ongoing income for lost wages. Funeral and burial expenses are typically capped at a certain amount. Beneficiaries usually include the deceased's spouse, children, and elderly parents. Children over the age of 18 with disabilities can usually collect as well.
 
Wage replacement - The exact amount you can get for wage replacement will depend on where you live and the severity of your injury. Generally, you can expect to receive about ⅔ of your average weekly pay replaced, but there are maximum allowable payments.

What Are the Requirements for Long-Term Disability?

Suppose you've suffered a work-related illness or injury that's left you with a long-term medical issue. In that case, you may get permanent disability benefits, but you will need to go through a lengthy process to show that your medical issue isn't likely to change or improve. It will need to keep you from working or is a barrier to your ability to maintain gainful employment. You must meet all the basic eligibility requirements, such as:

Your employer carries workers' compensation insurance.
You are an eligible employee (exemptions may include household, seasonal, and volunteer workers, for example).
You have filed a workers' compensation claim, followed the procedures, and met deadline requirements by your state.

 Additionally, you'll be required to follow your state's rules concerning which medical professionals you can use and their decision about the nature and extent of your disability.

What Are the Requirements for Wage Replacement?

Requirements vary by state, but generally, you will need to have missed more than seven days of work to get reimbursed for lost wages. As mentioned previously, you will not receive the full value of your lost wages, but the wages are not taxed, so you should get close to the same amount you usually get for a paycheck.
 
If you are able to return to work but need to work fewer hours or in a role where you receive less pay, you should be able to get compensated for the difference. Likewise, if you previously were able to work a lot of overtime, the difference should be included in your wage replacement.
 
Your loss of earnings may have to meet a threshold before you receive wage replacement. For example, if you can work but in a different capacity that pays slightly less, you might not qualify. Finally, if your doctor approves you for light duty and you choose not to accept this work, you will lose your right to receive wage replacement benefits.

When Should I Hire a Workers' Compensation Lawyer?

Ideally, any injury caused through your employment will be minor, and you'll quickly recover and return to work as good as new. But not every workplace accident goes this well. Here are common reasons why a worker might consider hiring a workers' compensation lawyer:
 
You have a preexisting condition - If you have a medical history that shows previous injuries or an underlying health condition, this may give your employer's insurance carrier an excuse to deny your benefits. However, a preexisting condition should not preclude you from coverage if the workplace incident aggravated or worsened it.
 
The employer contests that you were injured on the job - A dispute might arise if your employer will not accept that the injury is related to work duties. A highly competent workers' compensation attorney can work to demonstrate the link between your injury and employment.
 
Benefits are denied or held up - An astonishing number of workers' comp claimants give up after their initial claim is denied. However, you have rights and options to pursue the benefits you deserve. Your Morgan and Morgan legal advocate can help you obtain the medical documents needed to have your claim validated.
 
You have a permanent or long-term disability - Medical costs and lost wages can be substantial with a serious injury. When this is the case, you may have a hard time getting the quality medical care you need, and your employer's insurance provider will likely fight to reduce their losses to your detriment. Our attorneys can work to ensure you get the medical coverage you need and the wage benefits that you are owed.
 
Your employer disagrees with a medical determination or is disputing a decision made by your state's workers' compensation board - Your employer has a right to contest decisions. Still, they don't have a right to avoid honoring their responsibility toward you. A workers' compensation lawyer can work to apply legal measures to force their hand.
 
You're required to get an independent medical examination after receiving long-term benefits - It's not unusual for your employer to question your eligibility for benefits after paying for them for a long time. Many times, another examination is a tactic to reduce or discontinue benefits. Morgan and Morgan can work to ensure an unfair decision doesn't impact your benefits.
 
If you're researching the legal aspects of a workers' compensation claim, you may already realize you need help. We can give you personalized answers because we know this is a challenging process, and it's hard to find explanations in non-specialists' terms. If we accept your case and are unable to help you secure the benefits you need, you won't owe us any fees—none whatsoever.
 
Contact us today for a free, no-obligation case evaluation to get started.
Scroll down for more
Load More