The Fee Is Free™. Only pay if we win.
America's Largest Injury Law Firm
Protecting Families Since 1988
$15 Billion+ Won
800+ Lawyers Nationwide
Free Case Evaluation
Tell us about your situation so we can get started fighting for you. We tailor each case to meet our clients' needs.
Results may vary depending on your particular facts and legal circumstances.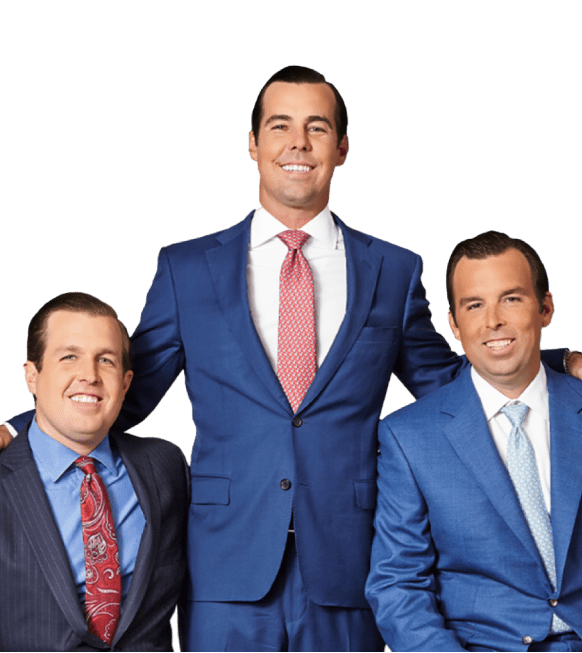 Workers Compensation Lawyers
Proud sponsor of the New York Yankees.
If you work in construction, you know how physically demanding and dangerous the industry can be. However, working at a New York City construction site can be even more hazardous than elsewhere in the nation. According to a 2022 report from the New York Committee for Occupational Safety and Health (NYCOSH), the fatality rate of construction workers in the city exceeds the national average. The report further shows that New York City job sites often lack adequate safety procedures, putting construction workers at unnecessary risk of injury and death.
The ten most common construction accidents in NYC are all largely avoidable. When employers fail to implement safety standards, they save time and money at the expense of workers' health and safety. Morgan & Morgan knows this is wrong. We are here to fight for the working people, not the powerful. If you or a loved one got hurt due to an unethical employer failing to keep you safe, our labor attorneys could help you get compensated. Contact us now to find out more in a free case review. 
The Fatal Four Construction Accidents
While accidents and injuries can happen in any work environment, construction sites are generally more hazardous than most other job sites. Chaotic sites, long and exhausting work days, and heavy machinery can all contribute to accidents and injuries. Injuries and fatalities are more likely to happen when employers and subcontractors fail to adhere to industry safety laws and regulations.
According to the Occupational Health and Safety Administration (OSHA), about one in five workers' deaths occurred in construction in 2019. The agency identified the following four types of accidents as causing the most fatalities:
Falls
Getting struck by an object
Electrocutions
Caught in or caught between
However, construction workers can face a variety of hazards, such as exposure to toxic chemicals, inclement weather, trench collapses, and others. Read on to find out more about the ten most common construction accidents in NYC. 
Scroll down for more
Recent verdicts & settlements
Results may vary depending on your particular facts and legal circumstances.
How it works
It's easy to get started.
The Fee Is Free™. Only pay if we win.
Results may vary depending on your particular facts and legal circumstances.
Step 1

Submit
your claim

With a free case evaluation, submitting your case is easy with Morgan & Morgan.

Step 2

We take
action

Our dedicated team gets to work investigating your claim.

Step 3

We fight
for you

If we take on the case, our team fights to get you the results you deserve.
---
Client success
stories that inspire and drive change
Explore over 55,000 5-star reviews and 800 client testimonials to discover why people trust Morgan & Morgan.
Results may vary depending on your particular facts and legal circumstances.
FAQ
Get answers to commonly asked questions about our legal services and learn how we may assist you with your case.
Morgan & Morgan
What Are The Ten Most Common Accidents on NYC Construction Sites?

1. Falls

OSHA says that falls are the number one cause of construction workers' deaths in the country. In 2020 alone, 351 construction workers suffered fatal falls. The agency states that fall deaths are largely preventable.

Fall accidents on building sites can include slips and trips, falls from a great height, and falling into trenches. Unsafe conditions that contribute to deadly falls can consist of:

Improperly constructed scaffolding
Unprotected holes and ledges
Cluttered walkways 
Defective equipment such as ladders and swing stages
Unguarded elevator shafts
Unmarked excavations and trenches

While a slip or trip on even ground may not cause significant injuries, a worker falling from a roof or into a trench could be permanently disabled or die from their injuries. Falls are always a threat to construction workers. However, employers are responsible for mitigating the risk of fall accidents.

2. Getting Struck by an Object

According to OSHA, being struck by objects is one of the leading causes of worker deaths in the construction industry. Falling objects can pose considerable hazards, especially on high-rise construction sites, frequently seen in NYC. Workers on roofs or higher elevations could drop their tools, putting others at risk of falling objects. Heavy wind can scatter building materials and debris on those below. Construction workers are often struck by:

Heavy equipment and vehicles
Falling or flying objects and debris
Concrete or masonry walls 

Employers are responsible for providing a reasonably safe working environment. Therefore, they have to take safety measures that help protect workers from getting struck by objects and machinery. 

3. Electrocution

Workers and electricians on construction sites can be at particular risk of experiencing electric shocks when working with or near high voltage equipment. Construction work often occurs near overhead and underground power lines and close to power sources. Job site accidents leading to electrocutions include:  

Direct contact with an overhead power line
Making contact with electrical current while working with machinery, tools, and appliances
Touching live wires or transformers

Electrocution can prove deadly for a construction worker. Those who survive may see their lives forever altered by injuries such as permanent heart and brain damage, internal burns, and others. Adhering to safety standards can help reduce the threat of electrocution for construction workers. 

4. Caught Between Objects or Machinery

"Caught in" or "caught between" are among OSHA's four most deadly construction incidents. Caught between objects and equipment can include getting crushed, pinned, squeezed, and compressed between or under objects and equipment. Examples of caught between accidents include:

Getting a limb caught in moving machinery
Getting trapped under construction rubble
Being pinned down and crushed by tipped-over equipment

For a worker, getting caught between can have devastating consequences such as permanently disabling crush injuries, head and brain injuries, and death. Many caught-between accidents could be prevented by employers ensuring workers are trained, wear protective equipment, and adhere to safety practices. 

5. Collapsing Trenches

Trenches and excavations are required on construction sites for numerous purposes, including the foundations of buildings and laying pipes for services. Working in trenches can be particularly hazardous. According to the US Department of Labor (DOL), trench collapses are some of the construction industry's most dangerous incidents, causing 130 preventable worker deaths between 2011-2016. 

Most trench accidents can be avoided by employers who practice the recommended safety procedures, such as:

Boxing in a trench or shoring up the walls 
Keeping materials and objects at least two feet away from the edge of a trench 
Keeping excavations free of standing water
Ensuring a safe means for workers to enter and exit 
Providing protective clothing and helmets for workers

6. Vehicle Accidents

Heavy vehicles such as bulldozers, cranes, steamrollers, and trucks are standard on most construction sites. Construction workers face many vehicle-related dangers on site, such as collisions, getting hit or pinned by a vehicle, and others. Maintaining the rules of the highway code on construction sites can be challenging. However, employers should take certain precautions to help avoid accidents with vehicles, such as:

 

Carry out risk assessments
Ensure that all drivers are qualified for the vehicle they operate
Establish rules and signage for construction site traffic
Ensure workers and drivers receive safety training

Vehicles must be fitted with hazard lights, horns, and sirens to help alert workers. Employers should also provide warning signs regarding construction traffic crossing the site.

7. Fires and Explosions

According to the Center for Construction Research and Training (CPWR), an average of 36 construction workers die annually due to fires and explosions. Fires and explosions can occur due to numerous activities and hazards on construction sites, such as electrical work, welding, leaking gasses, open solvents, and others. Injuries from fires and explosions can be severe, with debilitating burns, eye injuries, and other significant damage. Workers injured in a fire may be permanently impaired and unable to work again. Some workers lose their lives in explosions and fires.

Employers are responsible for developing a fire protection program and must carry out regular and complete risk assessments to minimize the possibility of fire accidents. Site supervisors should turn off unattended electricity and gas when possible, and all workers should receive basic fire safety training. 

8. Overexertion

Overexertion can play a considerable role in construction accidents and injuries. Moreover, repeated heavy lifting and repetitive movements put workers at risk of debilitating overexertion injuries and diseases. Repetitive strain and overexertion injuries are not normally fatal. However, such injuries can lead to permanent limitations that may force workers to retrain in a different field or consider early retirement. Employers should take concrete steps to limit the effects of overexertion, such as:

Training workers in safe lifting techniques
Ensuring safety protocols are followed
Addressing work methods' ergonomic concerns 

9. Exposure to Toxic Substances

Countless construction workers in NYC are exposed to dangerous chemicals and toxic substances daily. Toxic chemicals can harm workers' health, causing injury, irritation, and allergic reactions. Inhalation, skin contact, or ingestion of toxins could cause lung disease, neurological damage, and even terminal illness such as mesothelioma. Toxic substances that workers may encounter include: 

Paints and solvents
Asbestos
Lead
Asphalt
Carbon monoxide
Pesticides
Industrial cleaning products
Formaldehyde
Mercury
Lead 

We know how damaging some substances and chemicals, such as asbestos and lead, can be to health. However, with other chemicals, the long-term effects on workers' health are not yet fully known. 

According to OSHA, an employer using hazardous chemicals must have safety data sheets and labels for exposed workers. In addition, employers must train construction workers to handle chemicals safely. Employers are also responsible for providing appropriate personal protection equipment, such as respirators.

10. Elevator Accidents

High-rises dominate the landscape in New York and other major US cities. However, building high-rises entail particular dangers for construction workers who often have to work at great heights and in dangerous situations. Working around elevator shafts can be particularly hazardous. According to the Center for Construction Research and Training (CPWR), elevator-related deaths in construction doubled from 2003 to 2016. Most deaths occurred due to falling to a lower level, sometimes 30 feet or more. 

Several workers were killed or injured in accidents involving elevators at NYC construction sites in recent years. One worker was killed and another severely injured when a freight elevator plunged several stories on a Bronx building site in May 2019. In April of 2022, a worker died when falling into an elevator shaft during the construction of a high-rise in Queens.

How Can You Receive Benefits and Compensation After a Construction Accident?

If you were significantly injured at a construction site in NYC, you could have various options for getting what you need to manage your life and support your loved ones. 

Filing a Workers' Compensation Claim

Most workers in NYC qualify for workers' compensation when they suffer a work injury. Even if the injury was your fault, you could be entitled to workers' compensation. Benefits can include:  

Costs of medical care
Wage replacement payments
Vocational benefits
Death benefits for the surviving family of a fatally injured worker

Workers' comp claims should be straightforward and unbureaucratic. In reality, however, workers are having their claims rejected or minimized. If you are struggling to get the benefits you deserve, our dedicated labor attorneys can help. We can support you during the appeals process and fight vigorously for what you deserve. 

Filing a Personal Injury Lawsuit

Although the option of filing a personal injury lawsuit may not be open to all injured workers, it can be a great way to get justice and compensation for those hurt due to another party's negligence. Holding the responsible party, such as an equipment manufacturer or subcontractor, accountable can allow you to receive compensation in addition to workers' comp benefits. Damages you could qualify for can include:

Pain and suffering
Emotional distress
Reduced life quality
Medical expenses
Income loss and loss of future income
Disability

Our dedicated NYC construction accident attorneys can assess your construction accident case and clarify your options, which could include suing the responsible party for damages. 

Morgan & Morgan Is Here for You

The grim reality is that construction sites in NYC are not always up to code, to the detriment of construction workers' safety. Almost all incidents falling under the ten most common construction accidents in NYC are avoidable. However, if you experienced a significant or disabling injury in a construction accident, you could have several avenues for recovering compensation. We are here to help you discover your options for getting justice. 

Our experienced attorneys know how to fight for what injured workers and the families of deceased workers deserve. We have recovered tens of millions of dollars for clients injured at work. Morgan & Morgan never settles for less because we want our clients to receive the full value of their claims. Our attorneys are experienced litigators that do not shy away from holding influential developers and employers in NYC accountable. Contact Morgan & Morgan today to determine your options with a free case evaluation.
Scroll down for more
Load More