Shortened/display title
Maryland Personal Injury Attorneys
$15 Billion+ Won

•

800+ Lawyers Nationwide

•

The Fee is FreeTM, Only Pay If We Win

•

America's Largest Injury Law Firm

•

Protecting Families Since 1988

•
Local Personal Injury Lawyers Who Care
We know how devastating it can be to suffer an injury because of someone else's negligence or recklessness. Whether you were involved in a car accident, a slip and fall, or were injured in some other type of accident that was someone else's fault, we can help. We have lawyers throughout the country, so no matter where you're located, we can connect you with an experienced personal injury lawyer. We take all of our cases on a contingency fee basis, so you never have to worry about paying anything upfront.
As America's largest personal injury firm, we have all of the necessary resources to take on the largest companies and corporations in America if necessary. There is no one that we are afraid to go up against. Our primary goal is to ensure that you and your loved ones get all of the compensation you are entitled to. We want to make sure that the party responsible for your injury is held accountable in every way possible. Contact Morgan & Morgan today for a free and confidential case evaluation so we can connect you with a personal injury lawyer in Maryland.
Proving a Personal Injury Case in Maryland
In order to be successful when you take your personal injury case to court in Maryland, you generally have to prove that the person responsible for your injury was negligent and that they are legally responsible to provide you with compensation. Your personal injury lawyer in Maryland must prove the following elements in court:
The Defendant Owed You A Duty
The Defendant Breached That Duty
You Suffered Injuries/Other Damages
The Defendant's Breach Was The Proximate Cause Of Your Damages
If you're trying to prove that someone was negligent and responsible for the injuries you suffered in a car accident case, for example, you would need to prove all of the above elements. In Maryland, the simple act of being an insured driver on the road automatically satisfies the first element. All drivers in Maryland have a duty to drive safely and follow the traffic laws in order to avoid injuring other drivers. Therefore, all drivers have a duty to reasonably protect other drivers on the road whenever they get behind the wheel.
Proving that the other driver breached this duty can sometimes be very simple, such as if the driver was texting and driving or was under the influence of alcohol or drugs. In other circumstances, it can be more difficult to prove a breach. If there aren't any witnesses or video footage that can help determine who was at fault for the accident, more investigation might need to be done. For example, if you hire a personal injury lawyer in Maryland, it might be necessary for them to consult with an expert who can reconstruct the scene of the accident and determine who was at fault.
If you're able to get over the hurdle of proving that there was a breach, it's usually a bit easier to prove that you suffered actual injuries and that the injuries were a result of the car accident. Anytime you're in an accident, it's a good idea to go to the hospital right away. Even if you don't think you have any serious trauma, you might be suffering internal injuries that you aren't aware of. It's helpful to have all of this documented in the event that you decide to move forward with a lawsuit in the future.
At Morgan & Morgan, we provide high-quality legal representation for injury victims in Maryland and all across America. Since our founding more than 30 years ago, we've won upwards of $15 billion for people just like you.
Although we're bigger now than we once were, our firm has remained committed to what's made us successful: Treating every client like family. From start to finish, you can count on us to handle your case with the care and attention it deserves.
No matter the cause of your injury – car crash, slip and fall, motorcycle accident, or something else – the attorneys in our Maryland offices are here to help. Schedule a free, no-risk case evaluation today.
Estamos aquí en Maryland: Vivimos y trabajamos en Maryland. Nuestro sitio de web en Español, abogados.com, ayuda la población latina de Maryland. Complete una evaluación de caso gratis hoy.
Free Case Evaluation
Tell us about your situation so we can get started fighting for you. We tailor each case to meet our clients' needs.
The Fee is FreeTM Only Pay If We Win.
Submit a Free Case Evaluation
You can find out if you qualify immediately.
Get a Call From Us
Our specialists will walk you through your case and collect all the right information to win your case.
Let Us Get to Work
Our specialized attorneys will handle every step of your case from start to finish. You don't pay until we win.
Hear From Our Clients
We've helped over 300,000 families across the United States. See what they have to say.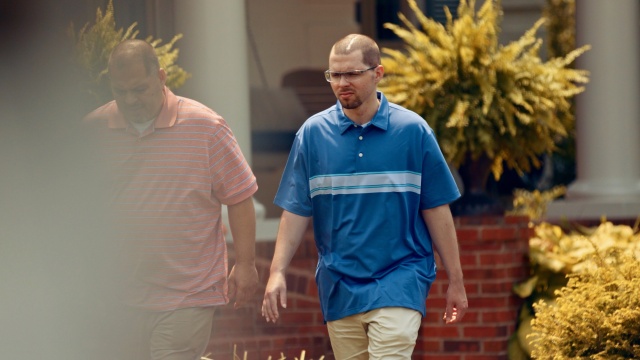 Our Personal Injury Lawyers
Have Over 55,000
5-Star
Reviews
They were caring and concerned about my case. They fought harder then I had intercepted. Communicated in many ways to make sure I understood. Thank you.
Georgia
Workers' Compensation
The staff was amazing, they treated me with the utmost respect and professionalism. Kept me informed every step of the way about my case. Always asked how I was doing and was prompt with responding to any of my questions or concerns. They are a great team!
Antonia
Premises Liability
Morgan and Morgan is truly the best law firm! PERIOD! You could consider yourself blessed when they take your case. Immediately, you can breathe. Anxiety goes from a 10 to 0! I needed them 3 TIMES! I wish I didn't have to hire an attorney but my family and I were blessed. We won every single time! Insurance companies truly know that they will take it to court! I got settlements for all 3 lawsuits. Never stepped a foot into a courtroom. Thank you so much Morgan & Morgan!
The entire Morgan & Morgan team, including my case manager Michelle Hill, have been a blessing! From the first phone call I made to them, they have been extremely compassionate, very helpful, and 100% professional. I would recommend Morgan & Morgan to anyone because THEY CARE!
Results may vary depending on your particular facts and legal circumstances.
See More
See Our Nationwide Results
We've won over $15 Billion for our clients in cases of all types. Let us work hard for you.
120,000,000
Car Accident
28,450,105
Medical Malpractice
820,000
Unpaid Overtime
91,000,000
Tobacco
3,140,804
Slip & Fall
8,800,000
Premises Liability
1,331,245
Social Security
1,800,000
Civil Rights
Why Should I Speak With a Personal Injury Lawyer in Maryland?
Anytime you're involved in an accident and suffer injuries, it's a good idea to talk to a lawyer to see if you have a valid legal claim. Serious injuries can be extremely expensive to treat. Hospital costs add up, as do physical therapy or other rehabilitative treatment costs. If someone else is responsible for your injury, it's only fair that they pay. A lawyer can help you determine all of this. If they decide that you do have a claim, they will help you with all of the other steps along the way. They will file all of the necessary paperwork you need in order to begin your case, and they will also investigate the incident for you and obtain evidence. An experienced lawyer will interview witnesses, find experts to testify on your behalf, and more. Personal injury cases can be complicated, so it's usually not a good idea to try to handle it on your own.
What Is the Statute of Limitations?
In Maryland, you must file a lawsuit for most personal injury claims within 3 years of the date of the injury. If you file after that time period expires, your case will likely be dismissed, and you will be unable to claim compensation that you'd otherwise be entitled to had you filed on time. 
Discovery of Harm Rule
While most of the time the statute of limitations is three years, sometimes the deadline can be extended. If you've been injured in an accident due to someone else's negligence, or you've suffered injuries as a result of medical malpractice, sometimes the statute of limitations doesn't actually start running until you become aware of the injuries or the negligence that caused your injuries. 
The statute of limitations is one of the most important aspects of a case because if you miss the deadline, your case will almost never be successful. It's always a good idea to contact an experienced personal injury lawyer in Maryland right away so they can ensure you don't miss any important dates.
Is There a Limit to the Compensation I Can Recover?
In Maryland, there is a limit to the amount of compensation you can recover in personal injury cases. For non-economic damages, such as pain and suffering, the cap is $890,000 as of 2021. Most years, this amount increases slightly to account for inflation. 
For economic damages, such as medical expenses and lost wages, there is no damages cap. This means the jury can award as much as they think is appropriate to cover these expenses. 
How Long Will My Case Take?
All cases are different. Some of the most straightforward cases could end up being settled within a few months, and some of the more complex cases that go to trial could last for a few years. When you have a consultation with a personal injury lawyer in Maryland, you should ask them to share their thoughts about how long they think the case might take. While no lawyer is going to be able to give you a definitive answer, most lawyers will be able to let you know how long cases generally take.
Can I Afford a Personal Injury Lawyer?
Many people are hesitant to hire a personal injury attorney or even consult with one because they're worried about the cost. Fortunately, most reputable personal injury attorneys and firms take cases on a contingency fee basis, meaning they don't get paid anything unless they win or settle your case. At Morgan & Morgan, this is how we operate as well. We offer everyone a free and confidential case evaluation where we can discuss your case and what we think your chances of success are. If we decide to take your case and you decide to hire us, you'll never pay us up front or out of your own pocket. We collect our fee from the money you are awarded during the trial or from a settlement. This means you never have to worry about the cost of a personal injury lawyer in Maryland.
What if It Was Partially My Fault?
Maryland personal injury claims are governed by a rule called contributory negligence. This is one of the strictest rules regarding a plaintiff's fault in an accident. If you are in any way responsible for the accident, even if it's as little as one percent your fault, you will be barred from recovering any money whatsoever. For example, if you are in a car accident that was almost entirely someone else's fault, but you were driving a few miles per hour over the speed limit, you will be barred from recovering any money if the court determines that you were even one percent at fault based on the fact that you were going over the posted speed limit.
Are All Personal Injury Cases Based on Negligence?
Most personal injury cases in Maryland are based on a negligence framework. There are some exceptions, however. The most common exception is dog bites. If a dog is unleashed, the owner of the dog is liable for any damage the dog causes, even if the owner of the dog was in no way negligent. This is known as strict liability.
What Is Assumption of Risk?
In Maryland, there are some circumstances where you won't be able to collect any compensation, even if someone else's negligence was the cause of injuries you suffered. Under Maryland law, if you had a full understanding and knowledge of an existing danger and voluntarily exposed yourself to that danger, you have assumed the risk, and cannot hold the other party liable for any injuries or damages you suffer. This can apply to a variety of different scenarios, but it's a defense used very often in slip and fall cases. For example, a defendant might argue that you knew their sidewalk was icy and you chose to walk on the ice anyway. Therefore, you assumed the risk and cannot hold anyone responsible for the injury.
Morgan & Morgan Is the Firm for You
Morgan & Morgan has been handling all types of personal injury cases for decades. When you hire us, you can be confident that you are hiring lawyers who are experienced in negotiation and who know their way around the courtroom. At Morgan & Morgan, we have won more than $15 billion dollars for our clients. Anytime you hire us, the defendant and their attorneys will know you're serious. Since we work on a contingency fee basis, we are confident in our ability to win the cases we take. You don't pay unless we win, so you know we will work as hard as possible to get you a good settlement or take your case to trial if necessary. Contact Morgan & Morgan for a free case evaluation today and to get connected to an experienced personal injury lawyer in Maryland.