Rock Quarry Blasting Home Damage Lawsuits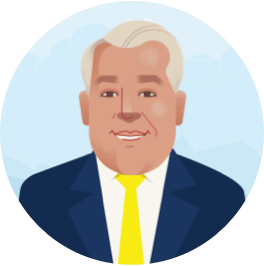 Find out if you are eligible for a blasting damages lawsuit
Take our
free
quiz so we can figure out the best way to help you
Begin quiz
You probably already know your home or business has a problem. Cracks in the walls, foundation, or roof of your property, showing up after seemingly years of enduring limestone blasting from nearby quarries. Neighborhoods across Florida have complained for years about property damage they've sustained from nearby blasts. (Florida has several quarries: Miami, 2 FEC, Krome, Pennsuco, White Rock, Lake 6, and the Atlantic Civil/SDI Quarry.)
You might have even hit a wall trying to file a claim with your insurance company. Maybe you even had to pay for repairs on your own. A 2017 change to Florida building code, however, means insurance companies should not be denying claims related to quarry blasting damage. They're just denying the claims because they think they can get away with it.
Morgan & Morgan Insurance Recovery Group won't let them get away with it, though. Property owners are filing quarry blasting lawsuits with us and we're helping them pursue compensation from their insurers.
Contact us today and we'll evaluate your case, for free. If we take your case, you won't have to pay anything unless we win for you. And even then, your insurer might have to cover attorneys' fees.
Why Your Home Could Be in the Danger Zone
But, you don't have to be close to sustain significant damage. Homes and businesses can be damaged even if they are miles away from the blast sites. The explosives used to blast rock aren't supposed to be strong enough to damage surrounding properties, but people living near quarries all over Florida disagree.
Quarries weren't always located close to homes. However, as neighborhoods grew or builders added new suburbs, they got closer to the quarries. The quarries were originally quite far from neighborhoods. In some cases, homes and businesses are as close as 1,000 feet from a quarry.
Quarry mining for rock in Florida is a billion-dollar business. Miami-Dade has at least nine quarries that have active blasting permits. Most are located in the "Lake Belt" region of the county. That area produces almost half of the 153 million tons of limestone that is used in Florida each year, according to the Miami Herald.
Even as quarries and private property have crept closer to each other, it's important to remember that homes and businesses can be damaged miles away from blast sites. With that in mind, here are the affected zip codes, based on public data:
Miami Quarry:
33172
33178
33182
33192
33194
33126
33165
33174
33175
33184
33199
33222
33265
33283
2 FEC Quarry:
Krome Quarry:
33193
33196
33183
33185
33186
Pennsuco Quarry:
33016
33018
33178
33012
33014
33194
33195
White Rock Quarry:
33018
33015
33016
33027
33029
33178
Lake 6 Quarry:
33016
33018
33178
33002
33012
33014
33015
33194
Atlantic Civil / SDI Quarry:
33030
33031
33032
33133
33034
33035
33039
Are There Quarry Blasting Regulations?
The Florida Division of State Fire Marshal requires all quarries to adhere to particular blasting limits. If a quarry's blasting exceeds these limits, the State Fire Marshal can penalize the quarries. Authorities use a seismograph to measure ground vibrations to ensure compliance.
The State Fire Marshal and the quarries have said blasting isn't causing the damage to nearby homes when the blast is within the legal limit, based on the results of a commissioned study. Insurance companies might try to use these results to deny valid claims, but don't be intimidated.
This report and others that have come up with similar results fail to take into account the cyclical nature of blasting and its cumulative effect. That means the insurance company may still be liable for blasting damage and our quarry blasting lawyers might even be able to use these reports against the insurers.
Proving Quarry Blasting Caused Damage to Your Home or Business
When the quarries are blasted with explosives to break up the rock, some energy from the blasts escapes into the atmosphere. This generates air-blasts or vibrations. Repeated exposure to these vibrations creates damage to structures near the quarry. Additionally, some energy from the blast vibrates through surface soil and limestone. These ground vibrations could also cause damage to structures near the quarry.
If you've already made a claim or have done some research, you may be wondering how you can prove the damage to your home or business was caused by quarry blasting. We at Morgan & Morgan Insurance Recovery Group have a team of experts who will go to your home or business to examine the damage. This is provided at no cost to you. Our experts will be able to determine the cause of the cracking.
Additionally, records from the seismographs that quarries use to measure ground movement could help us in a quarry blasting lawsuit.
Compensation from Quarry Blasting Lawsuits
Most insurance policies for homes and businesses have coverage for damage caused by blasting. Even if you filed a claim and it has been denied, you should let us review the denial—again, we do that for free. If the insurance company is correct, we will tell you. However, if the insurance company was wrong in denying you or low-balling your coverage, we will let you know and then outline a plan of action to help you get reimbursement for damages you may have paid for or payment for damages that have not been repaired.
Even if the insurance company's engineer stated the blasting did not cause the damage to your home or business, we may find that the blasting was the cause, and we can use the engineering report against the insurance company.
All the quarry blasting lawsuit cases we've won started with a "No" from the insurance companies. Let us help you for free. Contact us today.
Client Testimonial Videos
Dawn G.
Social Security Disability
Georgia J.
General Injury
Thomas T.
Cast Iron Pipes
Kathy S.
Medical Malpractice
Former Client
Auto Accident
Salvador R.
Auto Accident
Monty W.
Workers' Compensation
Lafayette H.
Veterans Disability
Mike and Lynette R.
Hurricane Insurance
Robert S.
Social Security
Madeline A.
Hurricane Insurance
Alfred H.
Veterans Disability
Free Rock Quarry Blasting Home Damage Lawsuits Case Review
Share your experience and we will call you
or Call Now