All Offices
Personal Injury Lawyers in Wyoming
Based on 1388 reviews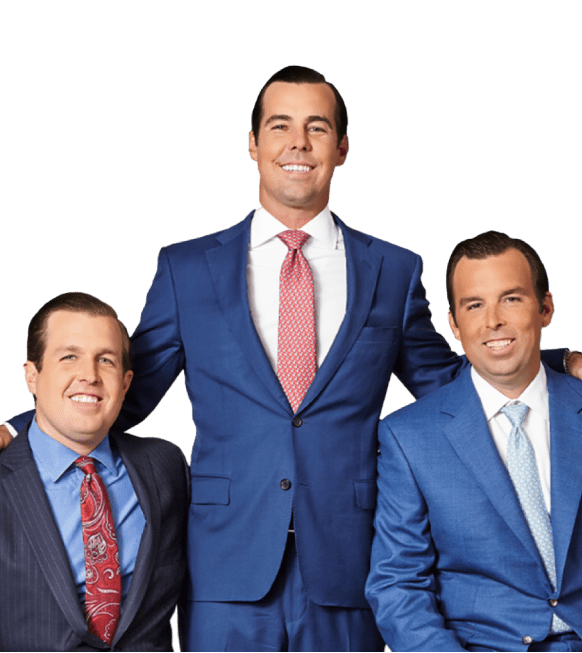 Wyoming Personal Injury Lawyer
Suffering an injury because of someone else's negligence or carelessness can be devastating. Not only can it be physically traumatizing, but it can have lasting psychological effects as well. 
At Morgan & Morgan, we've made it our goal to help as many people as possible with their personal injury cases. We have countless experienced and dedicated personal injury lawyers in Wyoming. We will work diligently from start to finish and make it as stress-free as possible for you. If you hire us and have questions about the status of your case or any other issues you are concerned with, we are always here to update you. Morgan & Morgan is the largest personal injury firm in America, and we have recovered more than $15 billion dollars for our clients throughout our career. 
We understand that hiring a lawyer can be a challenging and intimidating process. We also realize that lawsuits might not be the first thing on your mind after a serious accident. You deserve time to process the situation emotionally, but it's also crucial to start thinking about legal claims as soon as you feel healthy enough to do so. If you were in an accident, you're probably racking up medical bills and other expenses. If the accident was someone else's fault, you deserve to have these expenses taken care of. Morgan & Morgan is here to help you recover the compensation you deserve. Contact us today for a free and confidential case evaluation. 
Estamos aquí en Wyoming: Vivimos y trabajamos en Wyoming. Nuestro sitio de web en Español, abogados.com, ayuda la población latina de Wyoming. Complete una evaluación de caso gratis hoy.
Scroll down for more
How it works
It's easy to get started.
The Fee Is Free™. Only pay if we win.
Results may vary depending on your particular facts and legal circumstances.
Step 1

Submit
your claim

With a free case evaluation, submitting your case is easy with Morgan & Morgan.

Step 2

We take
action

Our dedicated team gets to work investigating your claim.

Step 3

We fight
for you

If we take on the case, our team fights to get you the results you deserve.
Practice Areas
Legal representation for a wide range of practice areas
We fight to get you what you deserve.
Results may vary depending on your particular facts and legal circumstances.
15 Billion +

recovered over 35 years

800+

attorneys at Morgan and Morgan

5,000

daily calls

110,000+

total verdicts and settlements
Client success
stories that inspire and drive change
Explore over 55,000 5-star reviews and 800 client testimonials to discover why people trust Morgan & Morgan.
Results may vary depending on your particular facts and legal circumstances.
---
FAQ
Get answers to commonly asked questions about our legal services and learn how we may assist you with your case.
What a Personal Injury Lawyer in Wyoming Can Do for You
If you or a loved one has suffered an injury as a result of someone else's negligence or recklessness, a personal injury lawyer can help. There are a lot of steps that have to be taken to initiate and successfully resolve your case, so you want to make sure you have an experienced and dedicated personal injury lawyer in Wyoming. The following are some of the steps that a lawyer will take for you after you contact them regarding your lawsuit: 
1. Initiate the Lawsuit 
The first step to any lawsuit is to actually initiate it. This is where it's essential to have the help of an experienced personal injury lawyer in Wyoming. Your attorney will fill out all of the necessary paperwork and submit it to the court. The summons and complaint are the papers that need to be filed at first to get the ball rolling. The summons is what makes the defendant show up for the case – you are summoning them to appear. The complaint is a legal document that outlines what you're accusing the defendant of. 
2. Deliver the Summons and Complaint
The next step is for the summons and complaint to be delivered to the defendant. Anytime a lawsuit is filed against someone, they have the right to be informed of the lawsuit. Otherwise, they wouldn't know when to appear and they wouldn't be able to defend themselves properly. If this notice is not properly delivered, the defendant will not be held responsible if they fail to appear in court. 
3. Discovery & Investigation
Once the lawsuit has been initiated, the discovery process will start. This is where your lawyer will start investigating the case and requesting documents from the defendant and others. For example, in a car crash case, your lawyer will likely request insurance documents. The defendant is also entitled to see the information you and your lawyer intend to introduce at the trial. You will have to turn over medical records, for example. They may also depose doctors and other witnesses.
Your lawyer will also start looking for any other witnesses and evidence that might help your case. This could be finding video footage from a store near the accident, or they might even speak to an accident reconstruction expert to try and determine whose fault the accident was.
4. Settlement Discussions
The vast majority of personal injury cases do not go to trial. Rather, they are settled out of court. This means that the defendant agrees to pay a certain amount of money to the plaintiff, and then the case is over. Your lawyer and the defendant's attorney will have settlement discussions in order to try and come to an agreement about an amount that is acceptable to everyone. 
5. Trial
If they are unable to come to an agreement, your personal injury lawyer in Wyoming will take the case to trial. During trial, your lawyer and the defendant's lawyer will present evidence and call witnesses to the stand. The judge or jury will then make a determination about the case based upon the information and evidence that is presented by both sides. 
What Is the Statute of Limitations?
In the state of Wyoming, you must file a personal injury lawsuit within four years of the date of the incident in most cases. The lawsuit does not have to be resolved within those four years, it just has to be initiated. If you fail to file your claim before the four years is up, the defendant will almost certainly file a motion to dismiss the case. The judge will agree and throw the case out, cancelling any claims you might have. You will not be able to recover any compensation. While four years might sound like a long time, it can pass by quickly. You should always speak with a personal injury lawyer as soon as possible after an accident. 
If your claim is against the government, the rules for bringing a lawsuit are quite different. A notice of claim must be served on the government entity rather than immediately filing a claim in court. This puts the government on notice that you suffered an injury and intend to file a lawsuit. You must file that suit in civil court within one year of filing your notice of claim or you won't be able to pursue your case.
What if It Was Partially My Fault?
Personal injury cases in Wyoming are governed by pure comparative fault. This means that you can still recover compensation even if you were partially at fault for the accident or your injuries. However, if you were 50 percent or more at fault, you will be barred from recovering anything. If you are found to be less than 50 percent at fault, your monetary award is reduced by the percentage that you're found to be responsible. For example, if you were awarded $100,000 and the court found that you were 40 percent responsible, you would receive $60,000. If the court determined that you were 51 percent responsible, you wouldn't be able to recover anything.
What Damages Can I Recover?
In Wyoming, you can recover economic damages and non-economic damages. Economic damages refer to the injuries you suffered that can be easily quantified monetarily. For example, medical expenses, lost income, and damage to your property would be considered economic damage. Non-economic damages are those injuries you suffered that can't be put into monetary terms as easily. The most common example of non-economic damages is pain and suffering. In Wyoming, there is no limit on the amount of economic or non-economic damages that you can recover.  An experienced personal injury lawyer in Wyoming can help make sure you receive the compensation you're entitled to.
Can the Defendant Force Me to Submit to a Medical Exam?
In most personal injury cases, the defendant can force you to submit to an independent medical examination (IME). The exam is supposed to be conducted by an unbiased doctor/medical professional. Unfortunately, this doesn't always happen. Most of the time, the defense hires their own medical professional to examine the plaintiff. While they will certainly say they are unbiased, it's still someone who is technically working for and being paid by the defendant. The purpose of the IME is so the defendant can make sure the plaintiff actually suffered injuries. It's also a way to determine how much compensation the plaintiff should be entitled to, if any. It's clear, then, why the defense would want to use a doctor of their choosing. 
You should always speak with a personal injury lawyer in Wyoming before submitting to any type of medical examination. Even though you're the person who initiated the case, you're still on trial as well, in a sense. Anything you say or do can be used against you in the trial. If you originally exaggerated your injuries and then admitted this to the doctor during your medical exam, that information can be used to try to convince the jury that you're a liar during the trial. It's always important to be pleasant and truthful—and always speak with your lawyer to ensure you aren't saying anything that could hurt your case.
Morgan & Morgan Is Here to Help
If you or a loved one has suffered an injury as a result of someone else's negligence or reckless behavior, Morgan & Morgan can help. When you hire us, you can be certain that we will take your case seriously. We take all of our cases on a contingency fee basis, which means we don't get paid unless we win or settle your case. If we take your case, you know we will work as hard as possible to provide you with a positive outcome, and you'll never have to worry about paying us money that you don't have on hand. We have lawyers all throughout the United States, so no matter where you reside, we can connect you with an experienced personal injury lawyer in Wyoming. In one of the most difficult moments of your life, you want to make sure you hire a firm that really cares and who will truly fight for the justice you deserve. Morgan & Morgan will do that for you. Contact us today for a free and confidential case evaluation.
Scroll down for more
Load More