Best Reckless Driving Lawyers in Virginia
The Fee Is Free™. Only pay if we win.
America's Largest Injury Law Firm
Protecting Families Since 1988
$15 Billion+ Won
800+ Lawyers Nationwide
Free Case Evaluation
Tell us about your situation so we can get started fighting for you. We tailor each case to meet our clients' needs.
Results may vary depending on your particular facts and legal circumstances.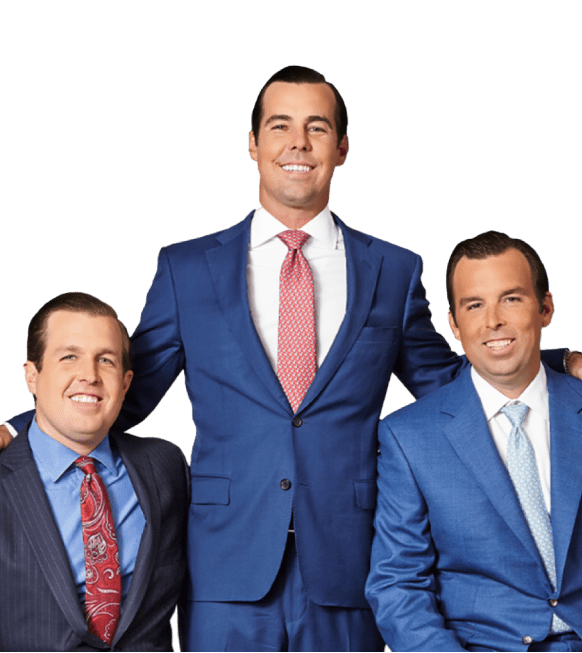 Best Reckless Driving Lawyers in Virginia
If you or a loved one have been injured by a reckless driver in Virginia, Morgan and Morgan is ready to offer you the legal guidance you need to recover meaningful compensation. We believe that people who cause others harm through negligent actions should be held accountable, and we've been carrying out the hard work to achieve this since 1985. Our track record of success has helped our clients collectively recover more than $15 billion in compensation over the past 35+ years in operation. We would be proud if you gave us the opportunity to add you to our list of success stories.
We understand how important it is for you and your family to get the financial means to pay for medical expenses and other losses because another person made the poor decision to drive dangerously. That's why you're searching for the best reckless driving lawyers in Virginia. Let's review some of your legal options and other factors that will impact an insurance settlement or lawsuit.
Scroll down for more
Recent verdicts & settlements
Results may vary depending on your particular facts and legal circumstances.
Scroll down for more
Results may vary depending on your particular facts and legal circumstances.
How it works
It's easy to get started.
The Fee Is Free™. Only pay if we win.
Results may vary depending on your particular facts and legal circumstances.
Step 1

Submit
your claim

With a free case evaluation, submitting your case is easy with Morgan & Morgan.

Step 2

We take
action

Our dedicated team gets to work investigating your claim.

Step 3

We fight
for you

If we take on the case, our team fights to get you the results you deserve.
---
Client success
stories that inspire and drive change
Explore over 122,576 5-star reviews and 800 client testimonials to discover why people trust Morgan & Morgan.
Results may vary depending on your particular facts and legal circumstances. Based on Select nationwide reviews
FAQ
Get answers to commonly asked questions about our legal services and learn how we may assist you with your case.
Morgan & Morgan
Should I Use A Lawyer for an Accident Caused by a Reckless Driver?

You may be convinced that the other party was driving recklessly, leading to your accident. Therefore, they should pay for all the expenses and losses you incurred, right? However, you still have to deal with the other party's insurance company, which is invested in making sure they pay you as little as possible or even nothing at all.

Insurance companies have a bag full of tricks and tactics they use to lessen their liability. They operate this way because they are in the business of making money, not paying it out. While many of these tactics are legal (but devious), some insurers take it too far and run afoul of the law. While you should be aware of the underhanded schemes they sometimes employ, if an insurer engages in some behaviors, you may be able to bring a lawsuit against them for those actions on top of the compensation for the car accident.

What Tricks Do Insurers Use to Not Pay Out on Auto Accident Claims?

You might find yourself dealing with an insurance company that uses some of the following notorious tricks to wiggle out of paying you fairly for your claim against a reckless driver in Virginia. Still, it's essential to understand that you have rights, and we'll be here to help protect your interests and put them into effect.  

Delaying the claim process - Delaying is probably the most common way insurance companies play games with claimants. They might be slow to respond to questions, and when they do, they always seem to need just a little more information from you before they can give you a timeline. While they may thank you for your patience and apologize, what they're really doing is waiting until you lose yours. By delaying, they know that medical and other bills will pile up. Soon, you'll be getting calls from debt collectors harassing you for payment. Desperate people are less likely to fight for what's fair, and they know this. When they have you over a barrel, it's easier to manipulate you into accepting a quicker (but unreasonable) settlement just to get the collections agencies off your back. However, when you work with Morgan and Morgan, your attorney may be able to negotiate with debtors and have payments deferred until your claim is settled. You shouldn't have to put up with harassment because of someone else's negligence.

Another reason they drag the settlement process out is they hope you'll decide that it's more trouble than it's worth and abandon the claim. While your health insurance may have covered the initial medical bills, that doesn't mean they won't come after you for reimbursement later. If you abandon your claim, you might get stuck paying for your medical treatment out of pocket. We don't think that's right. When you are represented by the best reckless driving lawyers in Virginia, we put the insurance companies on notice that the usual tactics won't be tolerated.

Pretending to be on your side - Don't fall for this ruse. An insurance adjuster may use "check-up" calls to pretend they sympathize with your situation. However, this is a ploy to get you to let your guard down. Everything you say to an insurance representative can be used against you to invalidate your claim, and they are trained to do this. When you say things like, "I'm feeling better," or "I finally slept through the night," they can use this information to conclude that you're not as hurt as you have claimed to be.

It's a dirty trick, we know. However, you should always assume that when you're talking to an insurance adjuster, they are trying to trip you up and get you to make statements that can negatively impact your ability to get full compensation. You won't have to worry about making mistakes if you have Morgan and Morgan on your side. Our lawyers assume all responsibility for communication with the insurance companies. They will be a faithful ally that looks out for you.

Offering a speedy and simple settlement - Most people would be delighted to get a quick settlement with little hassle. However, if the settlement comes too quickly, you should consider why. Does it encompass all your future medical bills? Have you taken the time to calculate all the damages you're entitled to receive? Do you even know everything you're allowed to claim, such as transportation to and from doctor's appointments, extra hours with the babysitter, and the installation of handrails in your home because of mobility problems? The list can go on.

Most likely, if they are keen to settle quickly, they know you're entitled to a lot more than they are offering. However, they are absolved of further liability when you accept a settlement and sign the paperwork. Once you discover you'll need future surgeries, it will be too late, and you'll end up footing the bill yourself, or worse, not getting the care you need.

Whenever you're offered a quick settlement, it's best if you have a lawyer review it before signing your rights away. You may be entitled to substantially more than what is being offered.

Taking statements out of context - It's crucial to be very careful of what you say to an insurance representative. They have no obligation to inform you of your rights or help you get a better settlement. In fact, the whole business model is built around paying you as little as possible. That's why they may twist your words and use them against you. For example, suppose they ask you what you were doing before the crash. You might reply that you were "late leaving the house to get your kids to school when the crash happened." They might take this to infer you were likely speeding. Suppose you say, "the other driver came out of nowhere." They could interpret this as you weren't paying proper attention or were distracted by something else.

Both of the above scenarios could be used to argue that you were partially to blame for the accident, which presents a significant problem. Virginia recognizes "pure contributory negligence," which means if you're found to have any responsibility in the accident, you're barred from seeking compensation, even if the other driver was cited for reckless driving. It's a pretty rigid law, so Virginia car accident victims should be very wary of making statements to an insurance representative without legal counsel.

Warning you against hiring a lawyer - Of course, they don't want you to hire a lawyer. It's much easier (for them) to negotiate with claimants when they don't understand their rights or the actual value of their claim. They may say things like, "your case is pretty straightforward," "attorneys are so expensive," or our favorite, "a lawyer will only drag the process out." However, the reality is far different. When you have the best reckless driving lawyers in Virginia in your corner, the claims process is truly more streamlined. Your settlement will likely be substantially more, and the costs associated with using legal help are negligible, considering the difference in the amount of money you'd receive compared to negotiating on your own.  

We speed up the process because insurance companies know they can't play games. We're only paid when we recover compensation for you, and the amount you get is typically much more when a lawyer represents you. That's a fact that even insurance companies recognize. That's why they are so set against you getting a pesky lawyer involved.

However, when it comes to their own interests, they will absolutely use company lawyers, usually a whole team of them, against you.

How to Make a Claim Against a Reckless Driver in Virginia?

Reckless drivers in Virginia rightfully face criminal violations. Despite this, their insurers will take steps to reduce the payment for injuries they cause others. Even if the other driver didn't get a citation for their driving behavior, that doesn't mean you don't have a claim against them. Here are general descriptions of reckless driving under Virginia law:

Overtaking or passing an emergency vehicle operating its sirens or lights
Operating a vehicle "not properly under control" or with bad or improperly adjusted brakes
Passing or overtaking a vehicle approaching a grade or crest or on a curve
Driving a vehicle with a load that obstructs the driver's view or prevents proper control
Passing two vehicles abreast while headed in the same direction
Driving two abreast in a single lane going the same direction
Passing or overtaking at a railroad crossing
Failure to stop for school buses
Failure to use adequate and prompt signaling while turning, slowing down, or stopping
Driving too fast for the conditions (weather or traffic)
Going 20 mph over the speed limit or more than 80 mph
Failing to stop from a side road before entering a highway
Racing two or more cars on public highways, roads, or parking lots

While a reckless driver may not have been cited at the scene of the accident, that doesn't mean they have no accountability for the accident. Responding officers may not have access to nearby surveillance camera footage, or witnesses could come forward with dashcam footage evidence later that could show how the other driver was driving recklessly before hitting you. It's essential to have a legal expert investigate all possible means of evidence that will strengthen your case.

How Long Do I Have To File a Lawsuit Against a Reckless Driver in Virginia?

In Virginia, you have just two years from the date of the accident to file a lawsuit. However, the deadline may be extended should you have suffered incapacitating injuries or were a minor at the time of the accident. Furthermore, if the other driver "disappeared" after the accident, you may be able to get an extension. Still, it's best to begin legal action as quickly as possible if you intend to recover compensation.

Get in Touch With the Best Reckless Driving Lawyers in Virginia

When you're ready to recover meaningful compensation, working with Morgan and Morgan is your best chance at success. Our compassionate lawyers understand the significant toll serious accidents take on the victims and their families. We know how much pressure you're under with bills accumulating and no way to pay them. Likewise, you deserve to get the kind of medical care you need to heal properly and move on with your life.

When you work with Morgan and Morgan, you don't simply have expert legal counsel. You also benefit from the kind of resources we offer our clients. We have relationships with a broad network of professionals that can provide their skills to strengthen your case, like investigators, accident reconstructionists, and expert medical witnesses. Likewise, your lawyer will have a team of support staff to assist in building the best case possible. No one works on important client matters alone at Morgan and Morgan. That's because we want the best possible outcome for our clients. Contact us today for a free case evaluation.
Scroll down for more
Load More