Roundup Lawsuit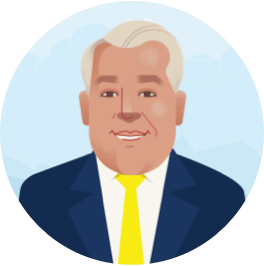 Find out if you are eligible for a Roundup lawsuit
Take our
free
quiz to see if you qualify for a case.
Begin quiz
Monsanto's Roundup, the most commonly used weed killer in history, has been linked to cancer. Suffering Roundup users are filing lawsuits against Monsanto, alleging they got non-Hodgkin's lymphoma from the weedkiller. But despite major trial losses, the company maintains that glyphosate, the active ingredient in Roundup, is not a human carcinogen.
Monsanto's Roundup herbicide is the most used weed-killer in the world. It is mostly made with glyphosate, the most-used agricultural chemical ever. Some 300 million pounds of glyphosate are used on crops worldwide each year.
The safety of Roundup is questionable at best. The International Agency for Research on Cancer (IARC), a division of the World Health Organization (WHO), says that the chemical is "probably carcinogenic."
Roundup has been linked to lymphatic cancers like non-Hodgkin's lymphoma among agricultural laborers and gardeners. Monsanto faces thousands of lawsuits in federal and state courts over the herbicide. Three cases have gone to trial, with juries returning verdicts of $289 million, $80 million, and $2 billion against Monsanto.
If you or a loved one contracted non-Hodgkin's lymphoma after using Roundup, please contact us for a free, no-obligation legal consultation. You pay nothing unless we recover money for you.
The Troubling Chemical in Roundup
The main ingredient in Roundup is glyphosate, the most heavily used agricultural chemical in the history of the world. It is sprayed on nearly every acre of corn, cotton, and soybeans grown in the United States. Many people have also used Roundup on their lawn or garden. The IARC in 2015 announced that the chemical is "probably carcinogenic to humans." It based its conclusion on tests that showed glyphosate causes DNA and chromosomal damage in human cells, which can lead to cancer.
93% of People Might Have Glyphosate in Their Bodies
The increase in glyphosate use makes the chemical almost impossible to avoid, even for those who don't directly handle Roundup. Traces of glyphosate have been found in oatmeal, honey, wine, and even baby food.
What's more, even those who try to minimize their exposure by purchasing organic products are still at risk. Runoff from Roundup crops feed glyphosate into neighboring streams and rivers; animals, too, have been discovered to carry traces of glyphosate, making it a difficult chemical to contain.
In a study conducted by the Detox Project, 93 percent of volunteer test participants had traces of glyphosate in their bodies. Even scarier, children reported higher percentages of the chemical on average.
Complaints About the Weed Killer
Several farmers, landscapers, and home users who developed non-Hodgkin lymphoma have come forward with their suspicions that the cancer was caused by exposure to Roundup. Non-Hodgkin lymphoma results in the body producing too many abnormal lymphocytes, a type of white blood cell.
Signs and Symptoms of non-Hodgkin Lymphoma
Common symptoms of this form of cancer include:
Enlarged lymph nodes

Swollen belly

Abdominal pain

Chest pain or pressure

Shortness of breath or cough

Fever

Weight loss

Anemia

Night sweats or chills

Chronic fatigue

Nausea or vomiting

Loss of appetite

Skin rash

Headaches

Difficulty with movement
If you have experienced any of these symptoms after exposure to Roundup, visit your doctor immediately.
FAQs
Roundup Lawsuit Frequently Asked Questions
Now that Roundup is the subject of thousands of lawsuits alleging links to non-Hodgkin lymphoma, many people are understandably concerned that their health is also at risk from glyphosate. Here, we provide answers to some of the biggest Roundup questions, and we encourage you to
contact us
for a free legal consultation.
Does Roundup Cause Cancer?
Scientific studies show an association between glyphosate and increased cancer risk, including a
review
published this year that found a 41% higher lifetime risk of non-Hodgkin lymphoma for workers using the chemical. The IARC has classified glyphosate as a "probable human carcinogen," while the state of California has added it to its list of cancer-causing substances. And so far, every time the question has been put before a jury, it has found that Roundup caused plaintiffs' non-Hodgkin lymphoma.
Bayer, which acquired Monsanto in 2018, maintains that glyphosate is not a human carcinogen. The Environmental Protection Agency (EPA) declared in 2017 that glyphosate is unlikely to cause cancer in humans. The agency
reaffirmed
 this position in April of 2019. But some have accused the EPA and Monsanto of having a cozy relationship that influenced the former's glyphosate stance.
Who Is at Risk?
Those most at risk of developing cancer as a result of Roundup exposure are farmworkers, landscapers, nursery employees, and others in occupations that require frequent use of herbicides like Roundup on crops. People treating their home gardens and lawns with Roundup are also at risk if they have done so regularly.
Could Other Roundup Ingredients Also Be Toxic?
Glyphosate has garnered the most attention concerning Roundup's formula, but research indicates that the product may be toxic to humans beyond that active ingredient. For example, testing by the U.S. National Toxicology Program found that weed killers that use glyphosate in combination with other ingredients are
"much more toxic"
than glyphosate in isolation.
Roundup plaintiffs' lawyers have successfully argued this point during the trial. Attorneys for Alberta and Alva Pilliod made the case that Roundup contains "highly more toxic" components that "have a synergistic effect with glyphosate." A toxicologist expert they called to testify said a Roundup chemical called polyoxyethylene tallow amine, or POEA, is about 40 times more toxic than glyphosate and that POEA is 50 times more toxic when the two are combined.
How Many Roundup Lawsuits Have Been Filed?
Bayer
announced
that as of July 11, 2019, it was targeted in 18,400 U.S. Roundup cancer lawsuits. That's a major increase since April when the number of cases stood at 13,400. The company admits it is facing a "challenging environment" that's affected the company's value. Bayer's CEO recently indicated that he would consider a settlement as the caseload rises and share prices drop. Analysts predict that a Roundup settlement could be worth $5 billion to $10 billion.
Have There Been Any Roundup Verdicts or Settlements?
Three Roundup cases have gone to trial, and all have resulted in significant compensation for plaintiffs. Each alleged that Roundup caused them to develop non-Hodgkin lymphoma.
Dewayne Johnson, exposed to Roundup as a groundskeeper, in 2018 was awarded $289 million. Edwin Hardeman, who sprayed the product on his property for more than 20 years, was awarded $80 million in 2019. The Pilliods used an estimated gallon of Roundup per week for more than 30 years on their land and were awarded $2 billion in 2019.
The judges overseeing these cases, however, significantly reduced the initial awards upon request by Bayer, finding that they violated its due-process rights. U.S. Supreme Court rulings limit how many punitive damages may be awarded to plaintiffs. Such damages are designed to punish defendants for egregious conduct. Roundup plaintiffs were also awarded money for economic losses such as medical bills and lost earnings, and noneconomic losses including pain and suffering.
Did Monsanto Know Roundup's Risks?
All signs point to yes. In one trial, for example, it was revealed that Monsanto had hired a toxicologist, Dr. Jim Parry, in the 1990s to champion glyphosate. When his findings revealed its health risks and he suggested further testing, the company distanced itself from him and did not reveal the results to anyone, not even the EPA. And in trial discovery, a series of internal documents known as the Monsanto Papers were unearthed showing a shocking lack of due diligence in Roundup testing as well as a PR strategy of attacking scientists who reported its dangers to health.
I Used Roundup in Small Amounts. Could I Still Get Cancer?
While data strongly suggests a correlation between high glyphosate exposure and non-Hodgkin lymphoma, less is understood about people who don't have high exposures.
Dr. Dennis Weisenburger, who testified on behalf of the Pilliods, said that using Roundup more than two days per year doubles the risk of developing non-Hodgkin lymphoma. According to him, the intensity of the exposure is more important than the length. Weisenburger said that Alberta Pilliod used Roundup about 279 times and her husband more than 700 times. Neither wore protective clothing since they believed it was safe. Johnson said he had an accident at work that left him drenched in glyphosate. After the incident, he developed a rash and then lesions. His dermatologist performed a biopsy on one of the growths, which revealed cancer.
Who Can File a Roundup Cancer Lawsuit Against Monsanto?
Anyone diagnosed with non-Hodgkin lymphoma after using Roundup may be eligible. Farmers, agricultural workers, gardeners, landscapers, groundskeepers, and others exposed to glyphosate at their jobs have sued Monsanto. So have people like Hardeman and the Pilliods, whose Roundup exposure occurred at home.
Is There a Time Limit for Filing a Roundup Lawsuit?
Each state has a statute of limitations that sets strict lawsuit filing deadlines. The time limit varies by state but is usually between two and four years from the time the injury occurred. For Roundup cases, the clock usually starts ticking when you receive a cancer diagnosis.
What if I Can't Afford a Lawyer?
Our attorneys handle Roundup cancer lawsuits on a contingency fee basis. That means we charge no fees unless and until we recover money for you. If we don't win, you pay no attorneys' fees. We're on the front line of holding Monsanto accountable. Members of our legal team, including famed environmental attorney
Robert F. Kennedy Jr.
, represented Johnson in his multimillion-dollar Roundup victory.
The first step is to share some basic information about your case. If you meet certain criteria, a lawyer will be in touch for a more in-depth discussion. Start your
free case review
now.
  *Results are not guaranteed. Past performance is not an indication of future success.*
Client Testimonial Videos
Dawn G.
Social Security Disability
Georgia J.
General Injury
Thomas T.
Cast Iron Pipes
Kathy S.
Medical Malpractice
Former Client
Auto Accident
Salvador R.
Auto Accident
Monty W.
Workers' Compensation
Lafayette H.
Veterans Disability
Mike and Lynette R.
Hurricane Insurance
Robert S.
Social Security
Madeline A.
Hurricane Insurance
Alfred H.
Veterans Disability