What Is the Hair Loss Suit Process?  
What Is the Hair Loss Suit Process?  
The Fee Is Free™. Only pay if we win.
America's Largest Injury Law Firm
Protecting Families Since 1988
$15 Billion+ Won
800+ Lawyers Nationwide
Free Case Evaluation
Tell us about your situation so we can get started fighting for you. We tailor each case to meet our clients' needs.
Results may vary depending on your particular facts and legal circumstances.
Porter Ranch Gas Leak
After SoCalGas's negligent oversight led to a leak of 5.7 billion cubic feet of gas in 2015, Morgan & Morgan recovered $1.8 billion for the 30,000 affected residents of Porter Ranch.
Jacob T. Rodgers v. City of Gainesville D/B/A Gainesville Regional Utilities
Summary 
In one of the first personal injury trials since the end of the Pandemic, Morgan & Morgan recovered $120 million for a client that was paralyzed by a city utility vehicle.
Estate of Frank Townsend v. RJ Reynolds, et al.
Summary 
After a family lost someone to lung cancer, our compassionate attorneys took their case and recovered $91 million in the fight against Big Tobacco.
Morgan Stanley Data Security Litigation
Summary 
Morgan & Morgan reached a $60 million class action settlement on behalf of those who had their data compromised by behemoth, Morgan Stanley.
Stephen Davis v. Levon Clark, Ricardo Williams, Marty Grifka and Derek Pak
McAdams v. Monier Lifetile, LLC
Case Summary
Morgan & Morgan's attorneys reached a $44 million settlement in a class-action lawsuit against Monier, an organization that made false claims about their faulty roofing tile products.
Coleman v. Martinez
Case Summary
After a delayed C-section caused a newborn to suffer a brain injury during childbirth, Morgan & Morgan recovered $38 million for the affected family.
Gold v. Lumber Liquidators
Case Summary 
Our team represented clients who sought to recover damages from Lumbar Liquidators after the company provided faulty flooring materials, resulting in a $28 million settlement on their behalf.
Clemmons v. ECORE et. al, Philadelphia County
Case Summary
Our team secured a $26,202,500 verdict—an enormous victory and a strong message to trucking companies who fail to take the proper precautions when maneuvering dangerous vehicles on our roads.
Brink v. Ruiz
After a long fight for justice, Morgan & Morgan finally obtained a successful, confidential settlement for Dustin Brink with the Defendants' insurance company.
Results may vary depending on your particular facts and legal circumstances.
Jacob T. Rodgers v. City of Gainesville D/B/A Gainesville Regional Utilities
Estate of Frank Townsend v. RJ Reynolds, et al.
Morgan Stanley Data Security Litigation
Stephen Davis v. Levon Clark, Ricardo Williams, Marty Grifka and Derek Pak
McAdams v. Monier Lifetile, LLC
Gold v. Lumber Liquidators
Clemmons v. ECORE et. al, Philadelphia County
Results may vary depending on your particular facts and legal circumstances.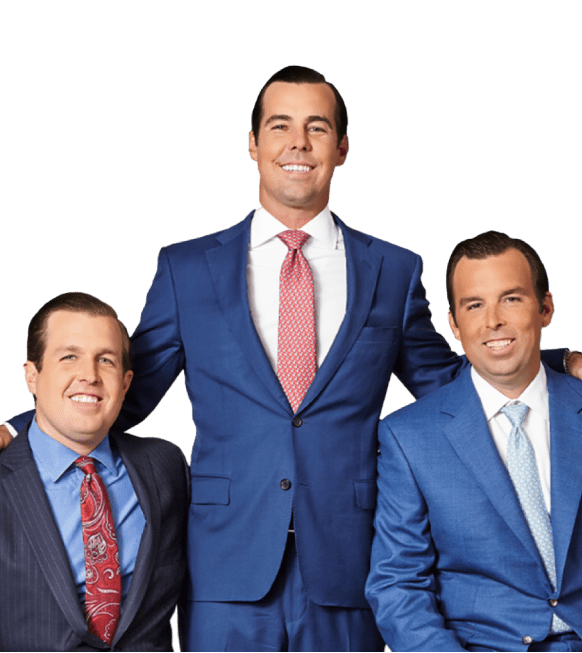 What Is the Hair Loss Suit Process?  
Whether you tried faulty shampoo recommended by your stylist or are fighting cancer through chemotherapy, suffering severe hair loss is devastating. Unfortunately, many companies often don't provide adequate warning of potential damage to your scalp and hair follicles, resulting in long-lasting baldness or permanent conditions like alopecia. 
When products you use don't work correctly and cause you harm, you may be able to seek justice through personal injury compensation. Individuals are currently suing companies like Taxotere and Johnson & Johnson, and many others, including class action suits for serious and permanent hair loss side effects. If you want to understand more about how the hair loss suit process works, then you have come to the right place. 
The Fundamentals of a Hair Loss Suit
Hair loss lawsuits fall under personal injury law, which uses negligence as the basis for compensation. In cases where defects are found in the manufacture or design, or even in advertisements and instructions, negligence doesn't matter. Though, if a company intentionally advertised a harmful product as safe or sold such goods knowing the potential harm caused, punitive damages might be granted.
If you believe that the manufacturer is responsible for the hair loss you suffered, know that the law and the personal injury attorneys at Morgan & Morgan are on your side. Below is a brief overview of how defective product lawsuits work when it comes to hair loss caused by consumer and/or medical products.
Types of Defective Product Lawsuits
As mentioned earlier, a few different types of defective product lawsuits might apply to your hair loss claim. Your case might also have multiple liable parties involved, so it's important to understand how your hair loss injuries were caused. 
Defective Manufacturing
Maybe a dye you used caused your hair to fall out and caused chemical burns to your scalp. It's a product you have relied on for years and never had this issue before. On the other hand, perhaps there was a defect in how the product was manufactured, and you purchased part of a bad batch. There are numerous ways a deficiency can occur when a product is made at the plant, and when poor quality control fails to detect the mistake, serious injuries happen when consumers use it. 
Remember, any defective product sold to consumers that causes harm can hold the producer liable for the damages caused by their faulty manufacturing process. Therefore, you trust these companies to conduct stringent quality control measures to ensure your safety so that you can use them with confidence. 
Defective Design
Poorly designed products, whether intentional or not, frequently lead to severely injured customers. Companies that update their formulas also have to carefully evaluate the effect of the chemicals involved on users. Just like with manufacturing, if a drug or shampoo design isn't safe, it shouldn't be sold until it is. 
Failure to Warn
For many individuals who have suffered permanent hair loss, their claims stem from the product manufacturer failing to provide accurate warnings about side effects, not listing all the ingredients in the product, or failing to give explicit instruction on how to use it.
Companies who make drugs and personal care products owe their consumers information about any dangers associated with use. This should include warnings about product use they may not even intend it to be used for. For example, we all have seen the notices not to use certain soaps and shampoos on some regions of our bodies. Manufacturers have to think of every possible way a customer might use their goods and warn them about the dangers of doing so.
As you can see, claims that involve drugs or hair care products could fall under any of these three categories. Therefore, knowing how these types of product liability claims differ is crucial when determining the best approach to presenting your claim to a jury.
Current Hair Loss Lawsuits
Taxotere Cancer Drugs
When you are faced with a serious cancer diagnosis, you want every treatment option available to help you win the battle. For many patients diagnosed with this disease, their doctors prescribe Taxotere, an anti-cancer chemotherapy drug. 
Thousands of cancer survivors have filed suit against the manufacturer Sanofi-Avenist and companies making the drug's generic form docetaxel. They are claiming that the risk of permanent hair loss was hidden from them and was illegally advertised as only causing this condition as a temporary side effect. Currently, no settlements have been announced, and litigation is still ongoing.
If you are a breast cancer survivor and now suffer from permanent hair loss after taking Taxotere as prescribed, you may be eligible to file a lawsuit for compensation. However, these cases are only being filed on an individual basis and not through a class action. Speak with the qualified permanent hair loss attorneys of Morgan & Morgan to learn more about how to start the suit process. We have decades of experience navigating the complex legal landscape of defective products and liability claims involving cancer drugs that cause alopecia. 
DMDMH in Hair Care Products
Hair care products that claim to provide smoother hair often include the chemical DMDMH, possibly causing hair loss and scalp damage. Morgan & Morgan has represented thousands of consumer product liability cases over the past 30 years and is ready to help you hold companies using this ingredient in their goods accountable. 
DMDMH is short for dimethylol dimethyl hydantoin, a type of preservative manufacturers have been using in their cosmetic products. Unfortunately, this substance is also categorized as a formaldehyde donor, a known human carcinogen that can slowly be released into the human skin when using these products over time.
If you are suffering from severe or permanent hair loss and used any of the following products, you may have grounds for a lawsuit: 
OGX products by Johnson & Johnson
Keratin Smooth and/or Color shampoos by TRESemme
Mane' N Tail shampoo
Suave Professionals hair care products
Dove Anti-Dandruff shampoo products
Selsun Blue shampoo products
Aussie hair care products
Other hair care goods with DMDM Hydantoin as an ingredient
It's crucial that you not only seek medical treatment right away but get in touch with a skilled hair loss lawsuit attorney at Morgan & Morgan right away. These cases are ongoing and complex, so it's crucial to avoid delays that could impact the outcome of your suit.
Five Steps to Build a Hair Loss Lawsuit
If you or someone you know has suffered severe or permanent hair loss because of products made by Taxotere or a hair care manufacturer, it's vital to take action. You may be unsure how you can start a hair loss lawsuit process, but there are five steps you can take right now to get started: 
1. Go to the Doctor 
The most important step is to seek treatment right away. Getting evaluated not only helps stop your physical suffering but can begin the critical process of documenting your hair loss injury. These records will prove invaluable to your case and help your attorney position your claim favorably with the court. 
2. Hire a Skilled Product Liability Attorney
One thing is for sure. When you decide to bring suit against big manufacturers like Johnson Johnson, they have a team of attorneys to defend them. The reality is without the help of an experienced hair loss lawyer by your side, the chances of you obtaining fair compensation are slim to none. You deserve compensatory damages for the cost of care required for your condition, as well as lost wages, mental anguish, pain and suffering, and more. 
Don't shortchange your case. Get representation right away.
3. Don't Pitch the Harmful Product
When you use a product that later turns out to be harmful, your instincts say to get it out of your home to avoid others using it. However, this is also the source of your injury and is significant evidence. Your attorney can advise you on how to store it or offer to take it themselves. Just don't give in to the impulse of throwing it away!
4. Show Proof of Your Purchase
If you can, try to find the receipt showing when and where you purchased the defective product. This is important for several reasons, including the chain of distribution. Even the store that sold it to you could bear some liability in your case. In addition, this information will be helpful when your lawyer investigates the circumstances surrounding your hair loss claim.
5. Keep a Recovery Journal 
While you may not have realized it was a product causing your hair loss at first, it's still important to keep a personal record of your recovery. Starting a journal to document your injury experience can help you, and your attorney understands how your condition has impacted you physically, emotionally, and financially. You can log a timeline of when you first noticed your hair damage and how it progressed too. This will ensure you don't forget any important details when presenting your case to a jury. 
Scroll down for more
How it works
It's easy to get started.
The Fee Is Free™. Only pay if we win.
Results may vary depending on your particular facts and legal circumstances.
Step 1

Submit
your claim

With a free case evaluation, submitting your case is easy with Morgan & Morgan.

Step 2

We take
action

Our dedicated team gets to work investigating your claim.

Step 3

We fight
for you

If we take on the case, our team fights to get you the results you deserve.
Client success
stories that inspire and drive change
Explore over 55,000 5-star reviews and 800 client testimonials to discover why people trust Morgan & Morgan.
Results may vary depending on your particular facts and legal circumstances.
FAQ
Get answers to commonly asked questions about our legal services and learn how we may assist you with your case.
FAQs
Who is liable for my hair loss?

In cases involving hair loss, whether through cancer drugs like Taxotere or the use of your favorite shampoo, everyone in the chain of distribution of that product is potentially liable. Keep in mind that the parties involved may have different levels of responsibility for your injuries, depending on the role they played. 

Do I have to prove the manufacturer was negligent to win my hair loss lawsuit?

In short, no. In defective product cases, victims aren't required to prove negligence. Instead, the manufacturer is presumed liable simply because the product is faulty or didn't give a fair warning of the dangers of use. This is because the company that produces it has access to the information showing it's defective, to begin with. It's not your job as a victim to prove what went wrong. 

At the end of the day, it's product manufacturers who are liable for putting harmful products on the market in the first place. 

Should I file a class-action lawsuit for my hair loss?

It depends on your case. You can file a product liability lawsuit on your own or with a group of others injured in the same way using the same goods you did. Typically, class actions are best when damages a plaintiff receives are nominal, and the legal costs would outweigh the award. When it comes to serious or unique injuries, filing a class-action lawsuit for hair loss isn't recommended.  

Trust the Leading Hair Loss Injury Firm in the Nation

Unexpectedly losing your hair because of a product you trust is a devastating experience that can lead to lifelong effects you are forced to endure. Whether you suffered permanent damage to your hair and scalp because of a hair care product containing DMDMH or fought cancer using chemotherapy drugs like Taxotere, your suffering is real and deserves compensation. 

At Morgan & Morgan, we genuinely understand the challenges this type of injury can present in your life. We've represented thousands of individuals in your situation and can help you start the hair loss suit process before the statute of limitations runs out for your case. But, you don't have to suffer this type of humiliation and injury alone. 

Our firm provides our services on a contingency fee basis to ensure that you have access to superior legal representation. This ensures you get the best legal advocacy available when pursuing a product liability claim against a large manufacturer like Johnson & Johnson or Taxotere. And, you don't pay a dime unless we win.

Since 1988 Morgan & Morgan has successfully represented and won over $15 billion in settlements and jury awards. Reach out to us right away to begin the process of building your case and get you the fair compensation you deserve for the hair loss injury you have suffered. Please fill out our brief contact form to find out more about our free consultation offer.  
Scroll down for more
Load More