The Fee Is Free™. Only pay if we win.
America's Largest Injury Law Firm
Protecting Families Since 1988
$15 Billion+ Won
800+ Lawyers Nationwide
Free Case Evaluation
Tell us about your situation so we can get started fighting for you. We tailor each case to meet our clients' needs.
Results may vary depending on your particular facts and legal circumstances.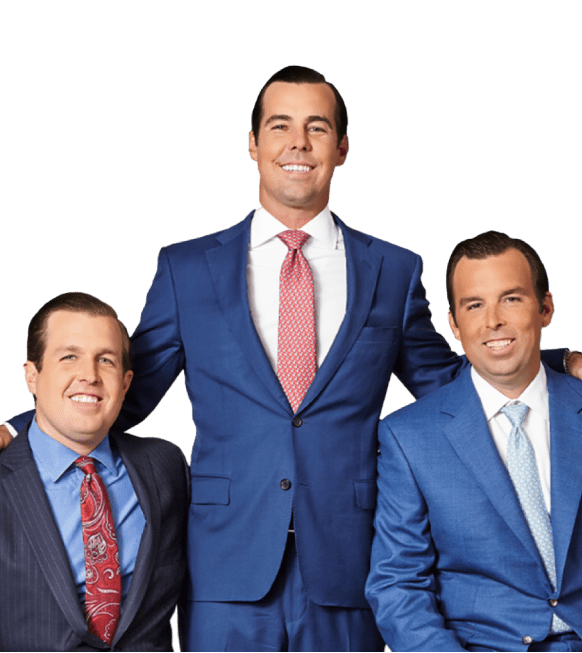 Car Insurance Claims Disputes Lawyers
It's frustrating when an insurance company denies your claim. But fortunately, a denied claim doesn't necessarily mean that the decision is final. You can always file an appeal with the help of an experienced insurance dispute attorney from Morgan & Morgan. Here's everything you need to know about disputing a car insurance decision in Miami, Florida. 
Common Reasons for Car Insurance Claim Denial
To understand why insurance companies deny some claims, you need to remember that insurance is a business like any other. Paying your insurance premiums on time won't convince your insurer to settle what they owe you when that time comes. Unfortunately, the sad truth is that insurance companies may not care that much about you when it's time to write you a check. 
They'll do everything to dispute your claim or even dismiss it altogether. This is because such companies make profits by limiting the amount of money paid to their clients as settlements.
Let's discuss some of the most common reasons insurance companies deny claims. 
Questionable Injuries 
As mentioned before, insurance companies will try to find any reason to dispute your claim or dismiss it. For example, if you suffer severe injuries, the insurer could claim that there's more to the injuries than the accident itself. As a result, they might blame it on a previous accident to free themselves from liability.
This explains why Morgan & Morgan car accident attorneys always recommend seeking immediate medical attention right after a car accident. Even if you don't feel any pain or discomfort after the accident, you still need to see a doctor. The doctor will conduct several tests to check whether you've suffered internal injuries due to the accident. Such tests can also determine whether you are at risk of developing health complications in the future due to the accident. 
Some of the most common hidden injuries a medical professional can help detect include: 
Neck injuries
Brain injuries
Back injuries
Soft tissue injuries
Internal damage 
Consulting a doctor after the accident also minimizes the chances of the car insurance company disputing the claim. But if they do, you'll have your medical records to prove the severity of your injuries. 
Disputed Liability
Insurance companies won't accept liability if you have insufficient facts about the accident. However, inadequate facts about an accident don't necessarily mean that your claim is fraudulent. For example, some accidents don't leave you enough time or energy to collect every vital detail needed to file a successful claim. In addition, depending on the severity of the injuries, you may be unconscious, making it impossible to recall everything you need to prove your case. 
Most insurance companies dispute liability when they realize that the claimant doesn't have legal counsel. This is because such companies know that without the help of an experienced car accident attorney, the accident victim will have a more challenging time trying to collect the evidence needed to prove the validity of their claim.
In addition, contradicting witness statements can be enough reason for insurance companies to dispute claims. As the victim, you'll need to investigate the accident to prove the other party's liability. But how do you investigate an accident if you're already dealing with so much pain? How do you prove the accident without any witnesses? That's not something you need to be concerned about; an experienced car accident attorney from Morgan & Morgan can help you collect important evidence about the accident, increasing your chances of winning. 
Skipped Payments  
The insurance company might dispute a claim if the insured fails to make payments to the insurer within the agreed timeframe. In that case, the insurance company might dispute the claim.
However, it's important to note that some insurance companies allow their insured to skip one payment within a specific period, usually a year. The skipped payment is then forwarded to another pay period.
For instance, if the insured wants to skip February's payment, they can inform the insurance company. The insurer will then allow them to skip the payment and forward it to a later date. If your insurance company has such a policy or something similar, it's crucial to notify them in writing when you want to skip a payment. If the insurance company agrees, make sure you obtain a copy of the agreement.
Limited Coverage
Florida is a no-fault insurance state. Therefore, when you get injured in a car accident in Miami or any other part of Florida, your insurer should compensate you. This is because all drivers in Florida must have Personal Injury Protection. This policy covers the insured's medical bills in the event of a car accident.
However, this type of coverage has a limit. Florida requires most drivers to have at least $10,000 worth of PIP coverage. So if your medical bills are higher than $10,000 (or the specific limit on your coverage), the other driver's insurance company will have to settle the remaining costs. In addition, if the other driver didn't have the right insurance or any insurance at all, it may be difficult, but not impossible, to sue them. 
Baseless Denials
Some rogue insurance companies might deny your claim without facts, hoping that you'll give up pursuing what you're entitled to as compensation. Such insurance companies do this, especially when they find out that you don't have legal counsel. They assume that you don't understand your rights and don't know how to seek legal help. 
It's also worth mentioning that Florida has the highest number of fraud-related and inflated PIP payments. As a result, many insurance companies deny claims without facts. 
Some insurers also rely on the common misconception that hiring a car accident attorney is expensive. In addition, they know that accident victims have to deal with a lot of pain and trauma after the accident and may not be able to seek legal counsel. 
Contrary to popular opinion, you don't need cash in hand to work with our experienced car accident attorneys. All you need is a valid claim against the other party. At Morgan & Morgan, we provide our services on a contingency basis despite being the country's largest personal injury law firm. We understand the physical, mental, and emotional pain of victims of car accidents and how insurance companies take advantage of such difficult times to avoid liability. For this reason, you don't pay us anything unless we win the case. 
Scroll down for more
Recent verdicts & settlements
How it works
It's easy to get started.
The Fee Is Free™. Only pay if we win.
Results may vary depending on your particular facts and legal circumstances.
Step 1

Submit
your claim

With a free case evaluation, submitting your case is easy with Morgan & Morgan.

Step 2

We take
action

Our dedicated team gets to work investigating your claim.

Step 3

We fight
for you

If we take on the case, our team fights to get you the results you deserve.
---
Client success
stories that inspire and drive change
Explore over 55,000 5-star reviews and 800 client testimonials to discover why people trust Morgan & Morgan.
Results may vary depending on your particular facts and legal circumstances.
FAQ
Get answers to commonly asked questions about our legal services and learn how we may assist you with your case.
Morgan & Morgan
How to Appeal a Car Insurance Decision in Miami

It's never advisable to appeal a car insurance decision without the help of a seasoned insurance dispute attorney. First, this is because car insurance laws are complex. Secondly, insurance companies know that if you don't have an attorney, they don't have anything to worry about. Instead, they'll simply deny your appeal once again. 

The internet is full of many DIY tutorials on appealing a car insurance decision, but they're not worth your time or effort if they don't involve an attorney. Here's how a Morgan & Morgan attorney can help with your appeal. 

Evaluating the Reason for Denial

Insurance companies can't just deny your claim without reason. When you hire a Morgan & Morgan insurance dispute lawyer, they'll review your claim and the cause for denial. As mentioned earlier, some insurance companies deny claims without facts. Some may even deny your claim because they hope you'll stop pursuing what you're entitled to. This tactic is quite common, especially for big claims. 

An experienced attorney understands different tactics insurance companies use to avoid liability. You can count on their experience to determine whether the insurance company's reason for denial is valid. If not valid, the attorney will advise you on the best way forward. 

Collecting Crucial Evidence

As mentioned before, some insurers deny claims because of insufficient evidence. But the fact that you don't have enough evidence to prove your claim doesn't mean that the claim is invalid. All you need is a seasoned attorney to help you gather substantial evidence to create a solid case.

Examples of crucial evidence that could help build a strong case against the other party include:

Photographs and videos
Medical records 
Expenses deriving from the car accident
Witness statements
Police reports and other related documents
Surveillance footages
Vehicle wreckage and debris

The type of evidence needed to prove the validity of a claim varies from one case to another. This explains why working with a personal injury law firm like Morgan & Morgan is always advisable. 

Unlike many injury law firms across Florida, our law firm has the resources needed to investigate denied insurance claims. Remember, some insurers dispute claims because they know that the claimant doesn't have the required resources to conduct investigations. So chances are, when you file an appeal without an attorney, they'll still deny your claim.

Similarly, if you hire just any personal injury law firm you come across, they might not have enough resources to investigate your claim. As a result, they'll most likely settle for less than what you deserve. Some law firms and attorneys do this to avoid spending time and resources (which they lack in the first place) investigating claims. 

But as a car accident victim, you understand the importance of securing fair compensation for your damages. This is because car accidents can change your life, leaving you in an endless cycle of debt thanks to expensive costs of treatment, in-home care, medical equipment, and other related expenses. 

This is why you need an attorney who understands your pain and is willing to do everything to ensure you receive the compensation you deserve. At Morgan & Morgan, we have a solid track record of helping our clients win their injury claims. Our lawyers are never afraid of confronting big insurance companies when fighting for your rights. As a result, we've confronted and successfully recovered compensation from some of the biggest bullies in the industry, something you don't get with many other personal injury law firms. 

To put things into perspective, we've helped our clients recover more than $15 billion as compensation for various injuries suffered due to negligence. For example, in 2020, we helped one of our clients recover $996,000 as compensation for an automobile accident. In 2021, Morgan & Morgan car accident attorneys also helped a client recover $9,510,000 following a car accident in Miami. 

Creating a Legal Strategy

Our insurance dispute attorneys know that insurance is a business like any other. So whenever these companies get a chance to save money, they'll always take it no matter how serious your injuries are. In fact, the more serious your injuries, the harder it is for insurance companies to write you a check. 

That's why our attorneys approach every claim with the seriousness it deserves. When you consult us for a free consultation, we will review your denied claim and establish whether the reason for denial was valid. If it is established that the insurance companies didn't have a good reason to deny the claim, we'll create a legal strategy to help you file a successful appeal. 

Dealing With the Insurance Company Directly

Most insurers won't take you seriously if you don't have legal representation. In most cases, after denying your claim, they'll even advise you to go to court if you'd like to dispute their decision. They do this knowing that you'll probably evaluate the costs of taking your claim to court and then settle for less than what you deserve or nothing at all.

However, as mentioned earlier, unless we win, you don't need to pay us anything when we decide to work on your case. In addition, you won't have to deal with the tactics of insurance companies. Instead, we'll represent you throughout the appeals process, whether in or out of court. When insurance companies discover that they're dealing with Morgan & Morgan personal injury attorneys, chances are they'll stop playing games with your claim.

When You Need an Insurance Dispute Attorney in Miami

If you or your loved one has been injured in a car accident in Miami, contact a Morgan & Morgan insurance dispute attorney at (305) 929-1900 today. Alternatively, you can fill out our free case evaluation form online, and one of our legal representatives will contact you with the next steps forward. 
Scroll down for more
Load More