The Fee Is Free™. Only pay if we win.
America's Largest Injury Law Firm
Protecting Families Since 1988
$15 Billion+ Won
800+ Lawyers Nationwide
Free Case Evaluation
Tell us about your situation so we can get started fighting for you. We tailor each case to meet our clients' needs.
Results may vary depending on your particular facts and legal circumstances.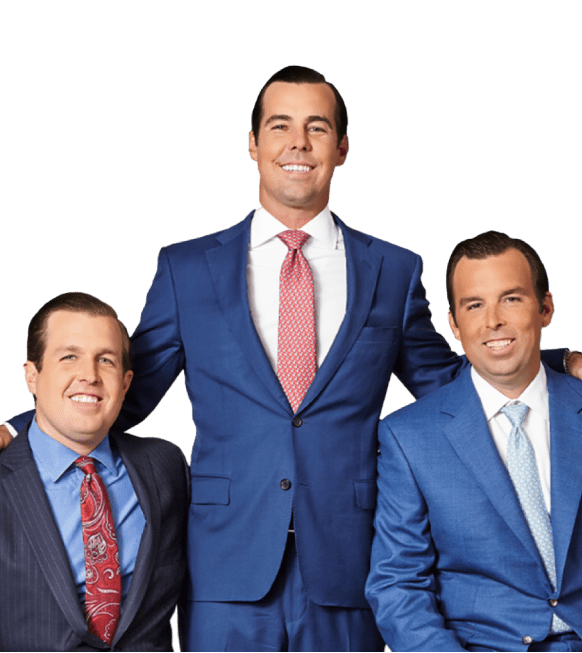 The attorneys featured above are licensed in Florida. For a full list of attorneys in your state please visit our attorney page.
Boston Car Accidents
Proud sponsor of the Boston Red Sox!
You can be the most careful driver on the road and still find yourself injured in an unexpected car wreck. Negligent drivers exist in any location, and if they make one wrong move, it can result in a pileup—one that leaves numerous drivers injured and causes exponential property damage. If you're involved in a car accident, no matter how minor, it's always a good idea to seek professional medical treatment to determine the extent of the damage, but this is often an expensive task that can damage your financial security. Unfortunately, many car accident victims rack up significant debt after their accident, but why should you be forced to endure the expense of an accident you didn't cause?
Much like other businesses, insurance companies must protect their profits to survive, but that doesn't mean they can do so by robbing their clients of the compensation that their contract outlines, especially when they've paid into it for so many years. In some cases, insurance companies have purposefully tried to diminish or deny the compensation of their clients to bolster their finances, which forces the victim to pay for their accident from their own pocket. To them, your situation is numbers in a file, but in reality, you're someone who needs the benefits from their insurance policy to stay above water. However, all car accident victims have one key line of defense against this unethical business tactic: an experienced and compassionate Boston car accident lawyer.
Car accident lawyers exist to help you mitigate the consequences of an unforeseen accident, and we at Morgan & Morgan have some of the best in the business. Our Boston Car Accident Lawyer office is backed by the resources of America's largest personal injury firm, allowing us to litigate for as long as it takes to recover the compensation our clients deserve. We have what it takes to get the best results, and our numerous multi-million dollar settlements can speak for themselves. With over 700+ trial-ready attorneys, a network of team members across the country, and decades of experience behind us, Morgan & Morgan can help you recover the compensation you're entitled to and get your life back on track.
Contact us today to get started.
How Does Auto Insurance Work in Boston?
Massachusetts is one of the twelve "no-fault" insurance states, meaning that car accident victims will file a claim with their insurance company rather than the provider of the at-fault party. Additionally, all motorists must hold a minimum of $8,000 worth of personal injury protection (PIP) coverage to serve as a buffer against all motor vehicle accidents as a whole. However, car accidents are expensive by nature, and you could sustain damage that's greater than the $8,000 limit. Some individuals choose to opt into more comprehensive coverage plans to supplement their PIP insurance, but most basic policies won't allow you to recover property damage you've sustained, such as vehicle repair expenses.
Massachusetts' "no-fault" auto insurance provision makes it simple to file a claim with your insurance provider to collect benefits. However, there have been cases of negligent insurance companies diminishing their customers' claims for unethical reasons. Insurance companies make money by collecting the premiums of their clients, and they lose money by paying out more money in claims than they receive in premiums. Unethical insurance companies might not leave this up to chance, and they'll actively try to diminish the claims they pay out to avoid the financial burden on their organization. Although they might believe their actions have no consequences, they're forcing innocent claimants to go into debt when they're trying to recover from a traumatic accident. 
If you find yourself in a similar situation, our attorneys are a phone call away. You've paid into your contract and held up your end of the bargain; they need to honor their commitment or face us in the courtroom.
What Does PIP Cover?
PIP insurance serves as a buffer for all Massachusetts residents against the consequences of an unforeseen accident. If you're involved in a car accident and sustained an injury, you should contact your insurance company about filing a PIP claim for benefits, such as:
Medical expenses: PIP covers $8,000 worth of medical expenses minus your deductible, which is set when you first sign on for a contract. Treatment covered by PIP includes surgeries, x-rays, and dental services that are required due to the injuries you sustained in your car wreck.
Lost wages: Your PIP coverage will cover up to 75% of your average weekly gross wages or the equivalent of the year before the accident. Once you receive the paperwork for filing your PIP claim, you'll outline your finances to display how much you should receive from the insurance company. If they try to diminish or deny these benefits, it's best to contact a car wreck attorney to recover the full value.
However, PIP insurance can only be paid out if you weren't acting negligently before or at the time of the crash. Drivers who are speeding, under the influence, avoiding arrest, or deliberately trying to injure themselves or others will not be covered by PIP, as their actions played a significant role in their accident. Motorcyclists are also not covered by PIP insurance, so these motorists will have to find alternate insurance plans if they wish to stay protected.
Can You Sue for a Car Accident in Boston?
Massachusetts law allows you to file a lawsuit against the negligent party in a car accident if you suffer at least $2,000 of medical expenses, sustain permanent/serious disfigurement, and the accident wasn't your fault. The lawsuit will allow you to recover all damages in excess of your PIP coverage, as well as other damages you wouldn't necessarily receive through a claim with your insurance company, such as pain and suffering. If your injuries are covered by PIP, you might not need a lawyer for your situation, but anyone who is eligible to file a lawsuit should have a trusted attorney by their side to help them navigate through the process.
Car accident lawsuits are already complicated, but Massachusetts law makes it difficult for anyone without an attorney to be successful in their litigation. Between the many complicated laws and the mountains of paperwork you'll have to file, it's easy to get overwhelmed, but your attorney can help you understand every aspect of your case and set you on the right path. Not only that, but their involvement can allow you to take a backseat to the legal battle and give you a moment to relax after such a traumatic ordeal.
How Can a Boston Car Accident Lawyer Help Me?
Morgan & Morgan's Boston office is staffed with car accident attorneys who go the extra mile for the clients who depend on them. We've had years of experience advocating for the rights of clients just like yourself, and we're prepared to offer you the same results that made us who we are today. Our attorneys will:
Investigate your case and determine liability: First, our attorneys will review the situation surrounding your accident and determine who is at fault. If it's determined that you're not responsible and your injuries surpass the threshold for a lawsuit, we can start establishing a foundation to move forward.
Gather evidence: We'll begin to collect any and all applicable information surrounding your case, such as eyewitness testimony, photo/video of the accident, and your medical records to prepare ourselves to negotiate. We'll also enlist the help of subject matter experts to back up your claims, allowing us to walk into the negotiation room as prepared as possible.
Negotiate with the at-fault party's insurance provider: The "no-fault" provision of Massachusetts' auto insurance law requires you to communicate with the at-fault party's insurance provider prior to filing a lawsuit. Your attorney will bring all the evidence they've collected to the negotiation table and attempt to settle the issue out of court. They'll discuss the impact the accident had on you, how the negligent party was responsible, and formally request compensation for the damage you sustained.
Prepare for Trial: If no agreement can be reached, our attorneys are always prepared to advocate for your rights in the courtroom. Other firms fear when negotiations fail in their cases, as they'll have to supply additional effort and resources to continue fighting for their client. On the other hand, Morgan & Morgan's attorneys relish the opportunity to litigate in the courtroom setting, making us an undeniable asset in your pursuit of rightful compensation.
What Can I Expect to Recover?
Each car accident case will differ depending on the circumstances surrounding the case. Some accidents are major and will result in significant bodily and property damage, whereas more minor accidents can be settled through your PIP insurance. If you're filing a PIP claim, you could be eligible to recover up to $8,000 worth of medical expenses and lost wages, but the lost wage recovery will depend on your occupation. However, PIP coverage is losing its strength as medical costs rise throughout the nation, and you might find yourself with injuries that require you to pay more than your coverage provides. For example, healthcare.gov states that the treatment for a broken leg costs $7,500 and will require a three-day hospital stay, totaling $30,000. In the end, you'll have a sizable bill for even minor injuries, which has more people filing car accident lawsuits than ever before.
Many people choose to elect additional coverage on top of their PIP policies to shield themselves from the expenses of an unforeseen car accident, but this is yet another expense that only some have the financial ability to pull off. If your accident left you with injuries that require treatment PIP won't cover, you do have the option of filing a personal injury claim. However, you can only do so if:
You sustain medical bills totaling over $8,000.
You suffer permanent and serious disfigurement, such as a fractured bone, loss of a limb, or substantial hearing/sight loss.
The other driver is more than 50% at fault for the accident.
If you meet the requirements to file a car accident lawsuit in Massachusetts, you can expect to recover the following:
Medical expenses (present and future)
Lost wages
Loss of earning capacity
Mental anguish
Repair costs
Funeral expenses (in the case of wrongful death)
Can I Afford a Boston Car Accident Lawyer?
Many other law firms will charge their client's inflated rates for their service when they haven't seen the inside of the courtroom in years. These firms make their money from cases that they lose, as they've already taken their fee from your pocket and can walk away from your case with a profit. In the end, you've paid more for a lesser service, which isn't fair when you're trying to recover the compensation you need to get back on your feet.
At Morgan & Morgan, we operate on a contingency that allows anyone to afford our proficient representation, regardless of their financial status. When you team up with us, you pay nothing out-of-pocket, and we're only paid when we win. Rather than burden you with fees, we take our fee from the favorable settlement or jury award. Not only does this contingency keep the costs low for you, but it also motivates everyone involved to reach one goal: getting you the best possible results for your case.
When Should I Contact a Boston Car Accident Lawyer?
If your accident was minor and the treatment for your injuries is fully covered by your PIP insurance, you might not need a lawyer for your situation. However, if you run into an issue with your insurance company paying the correct benefits, it's very beneficial to have an attorney by your side. Insurance companies make money by receiving more money in premiums than they send out for claims, so if they successfully manage to diminish your restitution, they're walking away from the situation with a profit. This unethical business practice has forced thousands of innocent individuals into paying for an accident they didn't cause from their own pocket, effectively robbing them of the compensation they paid into their contract to have.
Massachusetts auto law is one of the most complicated in the nation, so it's recommended to team up with a trusted attorney if you plan on filing a personal injury claim against a negligent driver. They'll be able to inform you of your eligibility, as it's often difficult to determine whether you've surpassed the necessary threshold for a lawsuit, and help you navigate through the mountains of paperwork. Additionally, they'll help ensure that your case is built on solid ground, allowing you to sit back and watch as your attorney works their magic in the negotiation room.
If you were involved in a car accident, it's recommended to contact an attorney as soon as you know that you'll have to file a personal injury claim or when you notice your insurance company diminishing your PIP payout. Although you might want to handle the legal process of your accident on your own, we can promise that the ordeal is much less stressful with the help of an attorney. It's easy to get lost, confused and stressed when trying to handle it independently, but with the help of an attorney, you give yourself the best possible chance of success starting when you make the first call.
What Boston Neighborhoods Does Morgan & Morgan Serve?
For the last three decades, Morgan & Morgan has fought For the People nationwide and helped thousands of victims find the justice they needed in their time of need, often recovering multi-million dollar settlements on their behalf. Our success has earned us the title of America's largest personal injury firm, but we've never sacrificed the aspects of our firm that made us who we are today. Our firm has offices nationwide, but our Boston location serves the following neighborhoods:
Arlington (02476)
Belmont (02478)
Boston (02108)
Braintree (02184)
Brookline (02445)
Cambridge (02139)
Chelsea (02150)
Dedham (02026)
Everett (02149)
Hingham (02043)
Hull (02045)
Jamaica Plain (02130)
Lexington (02420)
Lynn (01902)
Malden (02148)
Medford (02155)
Melrose (02176)
Milton (02186)
Nahant (01908)
Needham (02492)
Newton (02459)
Quincy (02169)
Reading (01867)
Revere (02151)
Saugus (01906)
Somerville (02143)
South Boston (02127)
South Peabody (01960)
Stoneham (02180)
Swampscott (01907)
Wakefield (01880)
Waltham (02452)
Watertown (02472)
Weymouth (02189)
Winchester (01890)
Winthrop (02152)
Woburn (01801)
Why Choose Morgan & Morgan?
There is no shortage of car accident attorneys online, but how do you know that you're making the right choice? It seems that many law firms claim to have the "best" attorneys, ones that will take your pre-trial offer and transform it into a million-dollar recovery. While those are great claims, not many firms can back them up except, of course, Morgan & Morgan. We say our settlements and verdicts speak for themselves because they truly do. Our clients come through our door with pre-trial offers that don't begin to compensate them for the harm they've endured, so we get to work, do our research, and do whatever it takes to help that client find some solace at the end of their case. We understand that if you aren't compensated, it can seriously change your way of life, potentially forcing you to go into serious debt just to pay off the consequences of an accident you didn't cause.
That's why we do what we do, and we have the resources to achieve any goal we set our minds to. Smaller firms can only litigate for so long before they're jeopardizing their business and putting themselves in a financially unstable position. On the other hand, larger firms do have the resources to advocate for your rights, but these firms often treat your case as a number rather than a situation with real people and real consequences. At Morgan & Morgan, you get the best of both worlds: compassionate attorneys and extensive resources to use at your disposal. 
Our firm was founded after John Morgan hired the wrong lawyer for his brother, causing them to get swept up in a whole ordeal of stress and frustration. Although that happened more than three decades ago, it's still one of the most important aspects of our firm today. We don't want to see someone go through what John Morgan had to do when trying to find help for his brother, so we work diligently every day to ensure that none of our clients regret the law firm they chose for their legal challenge, regardless of the size or severity of their case.
Contact Morgan & Morgan's Boston Car Accident Lawyers Today
In the most difficult moments of your life, Morgan & Morgan has your back. A car accident can bring your life to a screeching halt, and without compensation, you'll be left to pick up the pieces on your own. That's where we come in. Our team of Boston car accident lawyers have years of experience and the resources of America's largest personal injury firm behind them, meaning that they have the capability that other firms dream of having. While other firms will have to accept the first best offer of compensation, we're uniquely equipped to hold out for as long as it takes until you receive what you're entitled to. 
Our Boston office stands as an ally to all car accident victims in Massachusetts. If you were involved in a car wreck, our proficient and compassionate attorneys are ready for your call. We can help you navigate through the PIP process, and if you're thinking about filing a personal injury claim, we can help ensure that the lawsuit goes as smoothly as possible. Contact us today for more information on how to get started.
Scroll down for more
Recent verdicts & settlements
Results may vary depending on your particular facts and legal circumstances.
Scroll down for more
Results may vary depending on your particular facts and legal circumstances.
How it works
It's easy to get started.
The Fee Is Free™. Only pay if we win.
Results may vary depending on your particular facts and legal circumstances.
Step 1

Submit
your claim

With a free case evaluation, submitting your case is easy with Morgan & Morgan.

Step 2

We take
action

Our dedicated team gets to work investigating your claim.

Step 3

We fight
for you

If we take on the case, our team fights to get you the results you deserve.
---
Client success
stories that inspire and drive change
Explore over 122,576 5-star reviews and 800 client testimonials to discover why people trust Morgan & Morgan.
Results may vary depending on your particular facts and legal circumstances. Based on Select nationwide reviews
FAQ
Get answers to commonly asked questions about our legal services and learn how we may assist you with your case.