The Fee Is Free™. Only pay if we win.
America's Largest Injury Law Firm
Protecting Families Since 1988
$15 Billion+ Won
800+ Lawyers Nationwide
Free Case Evaluation
Tell us about your situation so we can get started fighting for you. We tailor each case to meet our clients' needs.
Results may vary depending on your particular facts and legal circumstances.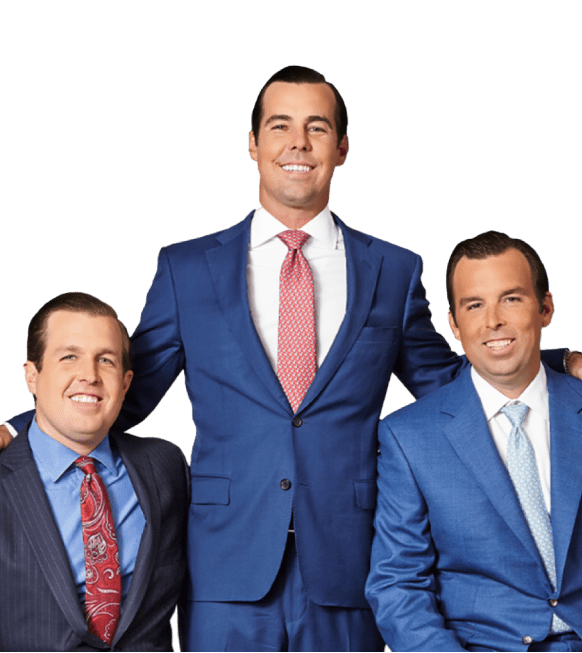 Columbus Car Accidents
The open road ahead of you can change rapidly, and one small mistake by a driver in the crowd can cause a symphony of screeching tires and metal-on-metal collisions, leaving you on the side of the road with a painful injury. Once you've removed yourself from the scene, you should seek medical attention to determine the extent of your physical harm, but this is often an expensive task that leaves you financially burdened and unable to return to the everyday life you lived before the accident. Between your medical bills, lost wages, and other expenses, it's easy to become overwhelmed with the stress of your accident, which is why it's so important to have a trusted car accident lawyer by your side as you navigate through the process.
You'll likely file an insurance claim with your provider to mitigate the financial strain of your accident, but how do you know the benefits you're recovering are true to your policy? In some cases, insurance organizations have intentionally diminished or denied their client's benefits for their own financial gain, with some individuals unaware they're receiving less than they deserve. In other situations, these providers will falsely deny benefits for those who genuinely need them, which has resulted in numerous individuals paying for a car accident they didn't cause from their pocket. You're just trying to recover from your accident, and to have a third party take advantage of your situation is an unacceptable offense.
At Morgan & Morgan, we understand that you need the full value of your compensation to escape from the consequences of an unforeseen accident. Our car accident lawyers are well-versed in all aspects of auto law, and if a third party attempts to interfere with your rightful compensation, we're prepared to fight tirelessly on your behalf. At the end of the day, you just want to recover and get back on your feet, but all the lingering issues of your accident can prevent you from doing so. Don't worry; Morgan & Morgan's Columbus office is only a phone call away if you feel overwhelmed, and we're uniquely equipped to handle any car accident case you bring through our doors.
We have what it takes to get the job done, and results can prove it. If you were harmed in an accident that wasn't your fault, our attorneys can act as a tool in your toolbox. Contact us today to get started.
Scroll down for more
Recent verdicts & settlements
Results may vary depending on your particular facts and legal circumstances.
Scroll down for more
Results may vary depending on your particular facts and legal circumstances.
How it works
It's easy to get started.
The Fee Is Free™. Only pay if we win.
Results may vary depending on your particular facts and legal circumstances.
Step 1

Submit
your claim

With a free case evaluation, submitting your case is easy with Morgan & Morgan.

Step 2

We take
action

Our dedicated team gets to work investigating your claim.

Step 3

We fight
for you

If we take on the case, our team fights to get you the results you deserve.
---
Client success
stories that inspire and drive change
Explore over 122,576 5-star reviews and 800 client testimonials to discover why people trust Morgan & Morgan.
Results may vary depending on your particular facts and legal circumstances. Based on Select nationwide reviews
FAQ
Get answers to commonly asked questions about our legal services and learn how we may assist you with your case.
Morgan & Morgan
What Should I Do After a Car Accident?

The first thing that all car accident victims should do is remove themselves from the scene and get to a safe distance. Your health and wellbeing are most important, so be sure to assess your physical damage as well while you wait for the authorities to arrive. Also, you should remember to never admit fault at the scene of the accident, as this can come up later on and cause problems with your compensation. Once the authorities arrive and handle the situation, it's time to get yourself to a medical professional for a comprehensive evaluation. 

The medical professional in charge of your care should maintain accurate and complete notes of all your injuries, making sure to inspect for internal damage as well. In some cases, car accident victims have chosen to forgo their medical evaluation because they felt it was unnecessary, only to find out later that they sustained major internal injuries that will cause pain and discomfort later in life. That's why it's recommended that anyone involved in an accident seek medical attention, as you never know what the outcome might be.

Now that you've removed yourself from the scene and received medical treatment, it's time for you to file an insurance claim with your provider. You should make sure to keep detailed records of all your purchase receipts and correspondence with your provider. This information will help your attorney understand your situation better, and if there's any unethical activity anywhere throughout the process, you'll have solid evidence of the behavior.

When Should I Contact a Car Accident Lawyer?

Although it's never required to retain an attorney for your car accident, their involvement does offer some key benefits that can ensure the process moves as smoothly as possible. When you're ready to file a claim with your insurance provider, you might notice that it's significantly more complicated than you originally thought, with mountains of paperwork and legal jargon standing between you and your recovery. Someone without legal experience can easily make a mistake on one of the required forms, and if no one is there to correct the error, it could result in a lower settlement for you and your family. An attorney can help you fill out all the necessary paperwork and make sure you understand every aspect of the process, always ensuring that everything is moving in the right direction.

If you choose to forgo an attorney for your insurance claim, you should definitely consider one if you plan on filing a car accident lawsuit against the negligent driver. Georgia isn't one of the thirteen "no-fault" insurance states, meaning that all motorists involved in car accidents will have to prove the other driver is at fault to recover compensation. While this may sound easy, it's actually very difficult, as you have to argue with the opposing party and display solid evidence that will convince them that they were at fault for the crash. Determining fault is a car accident lawyer's specialty, and they can help you prepare your case, negotiate, and fight the case in court if no agreement can be reached by either party. 

Insurance companies tend to see individuals without an attorney backing as weak, even if they aren't. They'll see your individuality as a vulnerability, and they may attempt to employ unethical business practices to bully you into accepting a lower settlement. However, if you team up with one of Morgan & Morgan's Columbus car accident attorneys, they'll know they can't offer a lowball settlement because we won't stand for them. Our firm has earned a reputation after relentlessly advocating for our clients over the last 35 years, one that insurance companies across the nation have come to notice. They know that if they offer a settlement that's less than you deserve, we'll see them in court, and we're always prepared for that scenario starting from the beginning of your case. 

What Can a Car Accident Lawyer Do for Me?

Our Columbus car accident lawyers are backed by the resources of America's largest personal injury firm, meaning that they have the capability to litigate for longer and with more intensity than other firms. We work with you from start to finish, always making sure that your interests are placed at the forefront of the case. When you bring your case to us, we will:

Investigate your case and determine fault: First, our attorneys will review the facts of your case and determine whether or not you're responsible for the accident. If it's clear that another driver was at fault, we'll begin to establish a foundation that gives your case the best possible chance of success.
Gather evidence: We'll collect all applicable evidence surrounding your case, including your medical records, police reports, and any photo/video of the accident scene or the crash itself. Additionally, our attorneys work closely with subject matter experts both in Georgia and across the country, and we can enlist their involvement to strengthen your case further. Their assistance, in combination with the expertise of your attorney, will help prove to the at-fault party that their actions resulted in serious harm for you, allowing you to recover the compensation you're entitled to with ease. 
Negotiate with the at-fault party: Our attorneys will negotiate with the at-fault party and attempt to reach a settlement agreement that will fully compensate you for the damage you sustained. We'll display each individual damage, explain how significantly they harmed you, and establish a dollar amount for each. If the other party doesn't agree to our terms, we'll do our best to advocate for you and your situation, but it is possible that the at-fault party will double down and refuse to come to an agreement. 
Prepare for trial: Although most car accident cases are resolved before they reach the courtroom through negotiations, some cases will need to be fought in the courtroom. Rather than agree on a settlement, the at-fault party will have to see us in the courtroom, where we'll advocate for your rightful compensation in the face of a jury. They can no longer refuse to settle, and when the jury deliberates in our favor, they'll be forced to pay you what you deserve, regardless of how they feel about the verdict.

Other firms may promise they can offer you the best results, but many haven't seen the inside of a courtroom in years. These firms may have your best interests in mind, but when push comes to shove, they simply don't have the resources to hold out for your compensation, which can force you into accepting a lower settlement when the law firm that represents you needs to give up. On the other hand, our attorneys relish the opportunity to advocate for our client's rights in the courtroom. We're prepared for your case to go to trial starting from day one, even if the possibility of that outcome is low. 
Morgan & Morgan
What Can I Expect to Recover?

The specific circumstances of your case will dictate what damages you're eligible to recover. More severe crashes will result in more compensation, whereas minor accidents usually incorporate the lower end of the compensation spectrum. However, even minor car accidents can yield multi-million dollar verdicts, and with the help of a proficient attorney, you can maximize your compensation. Here are a few damages that you can seek for recovery through your car accident lawsuit:

Medical expenses: Your attorney can advocate for you to receive the compensation necessary to cover any and all medical expenses resulting from your accident, including medications, surgeries, and the cost of your hospital stay. With the rising cost of medical care across the nation, it's become significantly more important to recover these damages, as proceeding without your rightful compensation can seriously damage your financial security. Your attorney will make sure to seek these damages from the at-fault party, ensuring that they understand how much they truly harmed you.
Lost wages: If your accident left you with an injury that restricts your ability to earn a paycheck, you could be eligible to recover lost wage benefits to offset your financial burden. This recovery is based on your income and will end when you're fully healed and ready to return to work.
Disability benefits: Some car accidents leave the victim with permanent injuries that will affect them for the rest of their life. If your accident left you disabled, your attorney can seek to recover disability benefits on your behalf, which can be used to afford the therapies, treatments, and rehabilitative services that you need to cope with your condition in the future.
Emotional/mental anguish: Most people will remember their car accident for the rest of their lives. In some cases, car accident victims have walked away from the crash with significant mental and emotional damage, making it difficult to get back on their feet and return to everyday life. If you find yourself in this situation, you should speak with your attorney about recovering these damages, as you wouldn't be suffering from the anguish if the at-fault party had acted rationally before the crash. 
Funeral benefits: Losing a loved one is never easy, especially if their life was taken in an accident that could have been prevented. Anyone who loses a loved one in an accident that wasn't their fault is entitled to compensation for the burial service, funeral, and any other expenses related to their passing. Although restitution can't reverse the damage, it can allow you to mitigate some of the financial consequences and enable you to move on from the traumatic situation.

Some of these damages, like emotional/mental anguish, are difficult to advocate for because the damage is primarily internal. A third party won't be able to comprehend the significance of your harm, so it's up to your attorney to convince the at-fault party that you should receive compensation for the damage. Fortunately, our Columbus attorneys are adept at advocating for this type of damage, as well as other difficult-to-prove categories of harm, such as pain and suffering. If you find yourself in a situation where you need a proficient attorney to fight for the compensation you deserve, you can't go wrong with Morgan & Morgan's Columbus office. 

Why Choose Morgan & Morgan?

With so many car accident law firms online, how do you know that the one you choose will result in the best possible outcome? One good indicator of future success is past accomplishments, and if you look at our settlements and verdicts, you'll see they speak for themselves. Over the last 35 years, Morgan & Morgan has fought For the People and helped our clients recover settlements that allow them to move on from whatever reason they came to us in the first place. We have the capability to help anyone who's bullied by a large organization, regardless of the size or complexity of their case. 

Our firm began after John Morgan hired the wrong lawyer for his brother, Tim, and embarked on a legal journey full of stress and frustration. The lawyer they hired rarely had Tim's interests in mind, and ever since then, we've made it our mission to fight to preserve our client's dignity across all types of litigation. Morgan & Morgan continues to be a family firm despite our size, and we've never let our success take away from the goals we had when we opened our doors over 35 years ago.

We don't burden you with legal fees, nor do we aim to capitalize off your situation; We just want to help you get back on your feet and hold the organization responsible for your harm accountable for their injustices. Other law firms might claim they have your best interests in mind, but when push comes to shove, they'll make decisions that protect their organization from harm rather than safeguard you from the consequences. Our firm has the necessary resources to hold out for any client until they receive their full and fair compensation amount, making us an undeniable ally in your pursuit of what you deserve.

Can I Afford an Attorney?

You may have heard the preconception that retaining an attorney is an expensive task that will eventually become more costly than the accident itself. Unfortunately, this stigma is true for many firms, but the organizations that embody this prejudice are the ones that make their money solely through their client's legal fees. If they never reach a settlement or verdict in your case, it won't matter to them, as they've already profited off you beginning from your initial consultation. Although they might claim to have your best interests at heart, many will take the path of least resistance rather than fighting for your compensation like it was their own.

At Morgan & Morgan, we've chosen to take the path less traveled and create a contingency that allows anyone to afford our skilled representation, regardless of their financial situation. When you team up with one of our Columbus car accident attorneys, you pay nothing out-of-pocket, and we're only paid when we win your case. Rather than further your financial burden with legal fees, we take our payment from the favorable settlement or jury award, allowing you to recover what you deserve with ease. Not only does our contingency keep the costs low on your end, but it also focuses everyone involved around one singular goal: getting you the best possible results in your car accident case. 

Is There a Time Limit to File an Auto Accident Lawsuit in Columbus?

Yes, there is a statute of limitations that dictates when you can file auto accident lawsuits in Georgia. According to the law, you have up to:

Six months after your accident to file an accident lawsuit against a city or county government.
Two years after the date of your crash to file a personal injury lawsuit against the at-fault party.
Four years to file a property damage lawsuit.

Although you might want to wait until after you're fully recovered to begin the legal process of your accident, it's best to file sooner rather than later to avoid any unforeseen circumstances down the line. If you choose to wait, you might miss out on key evidence that would benefit your case, which is why it's recommended to contact an attorney promptly after your accident.

What Columbus Neighborhoods Does Morgan & Morgan Serve?

Our firm has offices from coast to coast, but we serve the people of Columbus in the following neighborhoods:

Avondale
Baker Village
Bibb City
City Village
Willett
Vista Estates
Belvedere Park
Columbia Heights
Mount Pleasant
Dimon Wood
Forest Park
Crystal Valley
Englewood
Flat Rock
Sweetwater
Oakcrest
Glen Arden
Midland
Schatulga
Upatoi
Woodlawn Estates
Averett Woods
Briarwood
Clubview Heights
Dimon Circle
Dinglewood
East Carver Heights
East Highland
East Wynnton
Garrard Woods
Hilton Heights
Lindsay Creek-Boxwood
Overlook-Wynn's Hill
Peacock Woods
Radcliff
Village of Wynnton
Weracoba - St. Elmo A/K/A Lakebottom
Wildwood Circle - Hillcrest
Woodcrest
Wynnton Grove
Allendale
Caroline Park
Fortson
Glenns
Green Island Hills
Highland Pines
Nankipooh
Lyn Hills
Woodbriar
Benning Park
Carter Acres
Oakland Park
Pine Hill
Riverland Terrace
Vista Terrace

We're here For the People of Columbus, against the powerful.

Contact Morgan & Morgan's Columbus Car Accident Attorneys

In the most difficult moments of your life, you can trust that Morgan & Morgan has your back. Car accidents are traumatic experiences, ones that you might not recover from as fast as you'd like. You need time to focus on your recovery, but with a mountain of expenses looming over the horizon, it's difficult to find time to heal while you're trying to mitigate the financial consequences. Our car accident attorneys are well-versed in all aspects of car accident litigation, and our involvement can allow you some much-needed time to spend with loved ones and recover from your crash.

With over 800+ trial-ready attorneys, a network of team members across the nation, and resources that other firms can only dream of, Morgan & Morgan is uniquely capable of handling your car accident case. Contact us today to get started.
Scroll down for more
Load More