The Fee Is Free™. Only pay if we win.
America's Largest Injury Law Firm
Protecting Families Since 1988
$15 Billion+ Won
800+ Lawyers Nationwide
Free Case Evaluation
Tell us about your situation so we can get started fighting for you. We tailor each case to meet our clients' needs.
Results may vary depending on your particular facts and legal circumstances.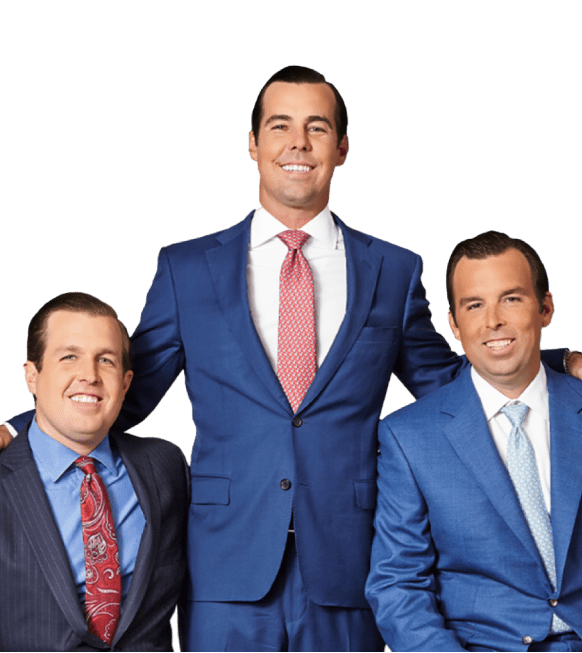 The attorneys featured above are licensed in Florida. For a full list of attorneys in your state please visit our attorney page.
Philadelphia Slip & Fall
Proud Sponsor of the Phillies.
If you slipped and fell on a wet, uneven or dimly lit surface, you may be able to file a lawsuit against the person or facility responsible for maintaining the area. Not every slip and fall accident will be grounds for a lawsuit, however, and only an experienced attorney can determine whether you may have a case.
At Morgan & Morgan, our slip and fall attorneys have been handling personal injury lawsuits for more than two decades and can help you determine whether a negligent property owner is legally responsible for your injuries.
If you were injured after you slipped or tripped and fell in Philadelphia, contact us today for a free case evaluation to learn more about how our attorneys may be able to help. You may be entitled to compensation for lost wages, medical bills, pain and suffering and other damages.
What Will My Lawyer Do?
Collect Evidence: First, our attorneys must determine whether you have a case. To have a valid case, you must have been injured by another's negligence. Landlords, homeowners and business owners are considered negligent when they fail to act as any other reasonable property owner would have acted in the same situation. A property owner could be considered negligent if he or she knew about or created a hazardous condition, such as a broken stairwell, but did not address the problem.
An Example of Negligence
Assume a landlord is showing a new tenant an apartment in Philadelphia. Although the previous tenant told the landlord that one of the steps in the stairwell was starting to break and posed a safety hazard, the landlord did not fix the step or warn the new tenant about it. As a result, the new tenant tripped and fell on the broken step and sustained serious back injuries that had to be treated with a hospital visit, chiropractic care, and pain medication.
In this example, a lawyer at Morgan & Morgan could file a lawsuit against the landlord alleging that he was negligent because he was told about the unsafe stairway, but did not fix the problem, which directly caused the new tenant's accident and injuries. Other examples of negligence may include failure to:
Properly light walkways and parking lots
Fix uneven surfaces
Warn customers about unexpected steps
Salt icy sidewalks
Install required building safety features, such as railings
Clean up or warn customers about wet floors
In handling your case, our attorneys may collect evidence including medical records, witness statements, and, if available, security footage and Philadelphia police reports to help support your claim that another person or entity was negligent in causing your accident.
File a Lawsuit: If we believe another person or entity was negligent in causing your slip and fall accident, our lawyers may draft a complaint, which is a legal document outlining the details of your case and the damages you are seeking. When your complaint is filed in court, your lawsuit has officially begun. In drafting your complaint, our attorneys may work with medical experts who can explain how the property owner's negligence led to your injuries and the type of medical care you may need in the future.
Evaluate Settlement Offers/Go to Trial: At any point, the person or entity you are suing may attempt to settle your case rather than fight it in court. In these situations, our lawyers will review and negotiate any proposed settlement offers. While most slip and fall cases settle, Morgan & Morgan is a trial law firm and our attorneys will not hesitate to court to get their clients the compensation they deserve.
How Much Does a Lawyer Cost?
The lawyers at Morgan & Morgan will only charge you if they successfully resolve your case. If so, they will collect a percentage of the final settlement or jury verdict.
How Much Can I Collect in a Lawsuit?
The amount of compensation you can recover in a slip and fall lawsuit will vary depending on a number of details specific to your case, including the extent of your injuries and whether you have any dependents. Furthermore, your own carelessness will be taken into consideration when determining how much you can receive.
In Pennsylvania, slip and fall victims may be entitled to compensation as long as they weren't more than 50 percent at fault for the accident. The attorneys at Morgan & Morgan have recovered millions on behalf of their clients. While each case is different, our firm previously recovered $6 million on behalf of a client who suffered severe brain damage after slipping and falling.
If you or a loved one was injured in a slip and fall accident, get in touch with our attorneys today. You may be entitled to compensation for future and past medical expenses, pain and suffering and lost wages.
Scroll down for more
Recent verdicts & settlements
Results may vary depending on your particular facts and legal circumstances.
Scroll down for more
Results may vary depending on your particular facts and legal circumstances.
How it works
It's easy to get started.
The Fee Is Free™. Only pay if we win.
Results may vary depending on your particular facts and legal circumstances.
Step 1

Submit
your claim

With a free case evaluation, submitting your case is easy with Morgan & Morgan.

Step 2

We take
action

Our dedicated team gets to work investigating your claim.

Step 3

We fight
for you

If we take on the case, our team fights to get you the results you deserve.
---
Client success
stories that inspire and drive change
Explore over 122,576 5-star reviews and 800 client testimonials to discover why people trust Morgan & Morgan.
Results may vary depending on your particular facts and legal circumstances. Based on Select nationwide reviews
FAQ
Get answers to commonly asked questions about our legal services and learn how we may assist you with your case.
Morgan & Morgan
What to Do After a Slip and Fall in Philadelphia?

If you slip and fall on another's property in Philadelphia, you could be entitled to compensation for healthcare costs, loss of wages, and other expenses. However, to qualify, you would have to prove your damages and the property owner's responsibility for your fall. Taking the following steps as soon as possible after your fall can protect your rights and help you prevail in a legal claim:

Seek Medical Assistance

If you did not receive medical assistance on the scene of your fall, see a doctor as soon as possible afterward. Although some symptoms may not seem severe initially, they could point to underlying injuries that could cause long-term problems. Seeking medical help will also document your injuries and provide you with a medical report which will be crucial for your legal claim.

Determine the Cause of Your Fall

Investigate the accident scene thoroughly if it is not immediately clear why you slipped or tripped and fell. Is the floor wet, or did you slip on debris? Perhaps you tripped over loose mats or cables on the ground? Record what caused your fall by taking photographs and videos of the accident scene and the hazard.

Collect Contact Details of Witnesses

Eyewitnesses, such as employees who saw your fall, can be critical for winning your case, as their statements could prove your claim. Many times, property owners allege that victims caused their accidents due to inattention or clumsiness. Therefore, try to gather the contact details of all witnesses before leaving the accident scene.

File an Accident Report

Businesses such as grocery stores and restaurants typically have an accident report template that you can fill in with essential details, such as your name and address, the time and date of the fall, and other vital information. Ask the responsible property owner for a copy for your records. The accident report and your medical records can be essential evidence for your legal case.

Contact Slip and Fall Lawyers in Philadelphia

Even if you are unsure whether you have a legal claim against a business owner or landlord, seek legal advice to learn about your legal rights. A slip and fall lawyer can assess your accident, determine whether you have a claim, and file a lawsuit on your behalf.

What Qualifies for a Slip and Fall Claim?

Not all falls qualify for a legal slip and fall case. For example, you would not have a case if there was no hazardous situation causing your slip and fall, and the accident happened due to inattention. However, if a careless business or property owner neglects to maintain their property adequately, causing your injury, you could sue them and recover damages.  

Common Hazards Causing Slips and Falls in Philadelphia

Slips and falls commonly occur due to negligent maintenance of a property. Some of the dangers causing falls can include:

Spills
Snow and ice
Poor lighting
Clutter
Recently waxed floors
Loose mats

According to Pennsylvania premises law, property owners have a duty of care to those who are lawfully on their premises, such as visitors, clients, and patrons. If a dangerous condition is present on the premises, the property owner or manager should post warning signs and fix the hazard as soon as possible. Failing to do so could mean that they are liable when someone suffers an injury.

Slip and Fall Accidents Can Happen Anywhere in Philadelphia

A fall can happen anywhere, whether at a family member's residence, grocery store, or hotel. However, common locations for slips, trips, and falls in Philadelphia can include the following:

Grocery and convenience stores
Sports and entertainment venues
Apartment complexes
Restaurants and bars
Parking lots and garages
Government offices
Hotels and motels
Hospitals and nursing homes

A significant fall injury can turn your life upside down, stall your career, cause financial hardship, and negatively affect your entire family. However, you should not have to pay for another's carelessness or recklessness. If you or a loved one got hurt, our slip and fall lawyers in Philadelphia could help you recover the damages you need to get your life back on track.

How About Compensable in Slip and Fall Injuries?

The Centers for Disease Control and Prevention (CDC) says that one in five falls leads to severe injuries such as fractures and head injuries. Adults aged 65 and over are particularly affected by fall injuries and may lose their independence or experience permanently reduced mobility. Common injuries in slip and fall cases can include the following:

Fractures
Sprains and strains
Knee damage
Head and brain injuries
Spinal cord damage and paralysis
Facial and dental injuries
Herniated discs and other back injuries

Some individuals suffer only minor or moderate injuries in a fall. However, even minor injuries such as sprains and strains can keep you away from work for weeks and cause considerable healthcare expenses. If someone else is responsible for your fall, you deserve adequate compensation for all your damages.

Determine whether you qualify for compensation by contacting a slip and fall lawyer in Philadelphia who can assess your fall and injuries and move forward with a claim on your behalf.

What Damages Could You Receive for a Slip and Fall Injury?

If someone else negligently caused your fall, they should pay for your damages, not you. Depending on the circumstances of the accident and the extent of injuries, victims could qualify for various compensation awards, including but not limited to:

Medical expenses
Wage loss
Out-of-pocket costs
Pain and suffering
Permanent disability
Loss of life enjoyment

If you want to determine what your slip and fall case is worth, we can help. Morgan & Morgan's slip and fall lawyers in Philadelphia can assess the full impact of your fall injuries on your home life, career, and future to arrive at a fair settlement amount. Knowing the full worth of your claim is critical for getting what you deserve.

I Slipped and Fell in a Philadelphia Government Building; Could I Sue?

You could sue the local government for damages if you slip and fall due to a hazard at a city or state-owned building. However, the legal process can be much more complex and entail stricter deadlines than an "ordinary" slip and fall claim against a business or private individual in Philadelphia.

First, you must send a written notice of your slip and fall claim to the applicable government agency within six months of your injury. Missing the six-month deadline typically means that your lawsuit will be dismissed. Also, note that damages will be capped at a certain amount if you win your case against a government body in Philadelphia. Consider working with a seasoned slip and fall attorney to give yourself the best chance of success with such a claim.

When Should I Contact a Philadelphia Slip and Fall Lawyer?

It is never too early to get legal advice when you get hurt. The sooner you get in touch with a slip and fall attorney, the sooner you can receive compensation and move on with your life. A lawyer can get to work immediately after your accident, gather time-sensitive evidence, and begin to build your case against the responsible party.

If you have some responsibility in the fall, your attorney will scour the evidence to try and minimize your liability and fight for maximum compensation. Most importantly, a slip and fall lawyer can protect your rights and negotiate with the insurance company or the at-fault party to obtain a fair settlement. If an insurer or property owner refuses to compensate you adequately, a lawyer can present your case powerfully at trial. 

The Insurer Called Me to Offer a Settlement; Should I Accept?

In almost all cases, the first settlement offer from an insurance company is too low to adequately compensate the injured individual for all their damages. As tempting as it might seem to sign on the dotted line and accept the offer, ensure that you are not leaving money on the table. Victims often underestimate what they are owed or do not know all the damages they qualify for, such as emotional distress, loss of life quality, and others.

After an insurer offers you a settlement, your next best step is to talk to our slip and fall lawyers in Philadelphia to assess the actual value of your claim. In all likelihood, the insurer is trying to take advantage of you and resolve a claim as cheaply and quickly as possible. Don't fall for it. Your damages could be several times an insurer's initial offer.

When Should I File a Slip and Fall Lawsuit in Philadelphia?

Pennsylvania Consolidated Statutes Title 42 section 5524 states that the statute of limitations for slip and fall claims in Philadelphia is generally two years. The time usually starts ticking on the day of your slip and fall accident and injury. If you miss this deadline, the court may dismiss your case, leaving you unable to recover compensation from the responsible person or business.

However, there are some rare exceptions to the two-year deadline, such as:

When an injured individual is under 18 at the time of their slip and fall, the clock may not begin to run down until they turn 18.
If the defendant left Pennsylvania for over four months before a lawsuit could be filed, the statute might be extended by the time the defendant was away.

Since there could be other circumstances that could lengthen or shorten the time you have available for filing a lawsuit, talk to our slip and fall lawyers in Philadelphia to determine the best timing for filing your case.

How Long Does a Slip and Fall Claim Take to Settle?

No two fall claims are the same. While some settle in a couple of months, others may drag on for years, especially when they go to trial. However, some factors that can influence the length of your claim include:

Both sides' willingness to settle
Whether liability is disputed
The severity of your injuries
The extent of your damages, such as medical bills and income losses

Claims with significant damages and severe injuries typically take longer to settle as a lot of money is at stake for both sides. However, having an experienced attorney by your side can help to speed up the legal process.

Don't make the mistake of trying to handle a potentially stressful slip and fall claim alone when you could have America's largest personal injury law firm in your corner. Morgan & Morgan can fight for compensation on your behalf, allowing you to prioritize your health.

We have helped families since 1988, winning over $15 billion in damages. Our dedicated Philadelphia slip and fall lawyers want you to win the compensation you need to rebuild your life after an accident. Contact us now for a free case review to discover your options.  
Scroll down for more
Load More